Apart from the entry-level car segment comprising the likes of Alto, Eon, Kwid, etc., almost every car model launched in our country nowadays comes with both diesel and petrol engines. While petrol cars used to be the most preferred choice for a long time, diesels – once considered to be a taxiwala's bastion – have eventually caught up.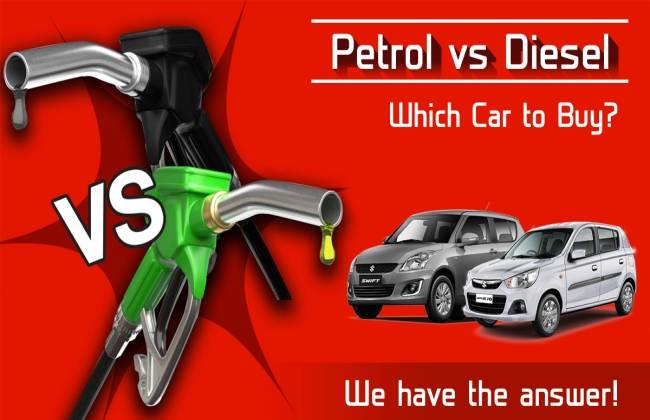 Diesel cars are now available in almost every type and diesel engines have taken a huge leap in terms of refinement and cubic capacity (cc) as well. In effect, diesel cars have become better, more affordable and give cut-throat competition to petrol siblings. So are diesels really that good nowadays that petrol cars can be given a skip? Let's consider the pointers below: Refinement This attribute of a car has a lot do with the car manufacturer. No two cars are the same and so is the case with refinement. But when we consider the overall refinement of diesel engines vis-a-vis petrol, the former certainly lacks a bit in terms of NVH (Noise Vibration and Harshness) levels. Then again, diesel cars higher up the segment are so refined that you only hear marginal engine clatter on the outside, while noise inside the cabin is comparable to a petrol car. You Decide – If you are really particular of NVH levels and can't stand the clattering noise, a diesel car will never please you. If you can live with a fair amount of noise or vibration, then a diesel car may not be a bad idea after all. Look up the CarDekho score to find out how much NVH a car makes to decide its suitability. Power Although the real test of a car's power for most of the Indian households is directly proportional to the people-carrying capacity of a car. In any case, both petrol and diesel cars have their own share of power attached to them. Mass market petrol cars are considered to manifest linear power delivery with great initial pick-up which means better response. The moment you press the accelerator pedal in lower gears, the car surges ahead but then it doesn't really inherit the pulling power after certain rpms. This results in better horse power or PS but low torque (Nm). On the contrary, a mass market diesel car (which generally comes fitted with a turbocharger) can showcase a great amount of pulling power which is credited to its increased torque figures (compared to a similar petrol car) resulting in a thrust of power. But, all of this happens when you pass certain rpms (revolutions per minute) on the tachometer. This means, there is a considerable amount of initial lag (often called as turbo lag) that you will face, which means despite pressing the accelerator flat, the car will take time to respond to your input. This will result in more torque (Nm) and less power (PS). You Decide- If you are more of an enthusiast and demand swift response from your car, then a petrol car makes more sense. Otherwise, if you really love that thrust of sudden power, despite the initial lag, then a diesel car is yours for the taking.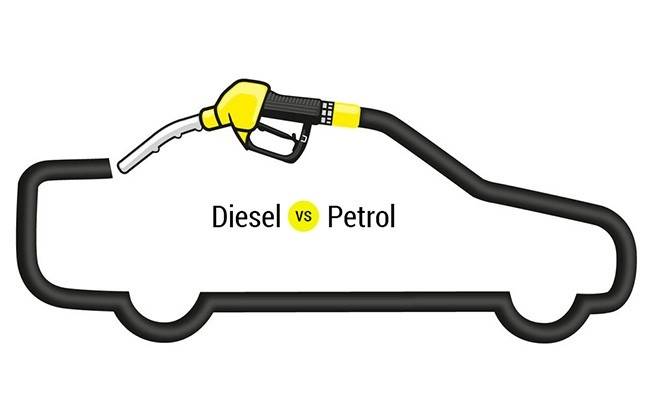 Mileage Diesel cars deliver better mileage numbers than their petrol counterparts; there is no debate on that. To add to it, price of diesel per litre is less than petrol (except in some states like Goa) despite the current rollercoaster price difference between both. on most fuel efficient petrol cars in India & fuel efficient diesel cars in India You Decide – Diesel is a clear winner here and perhaps mileage is its only USP. Service & Maintenance This is a key differentiating factor when it comes to buying a diesel or a petrol car. Purchasing a car is no rocket science but the real deal comes when it comes to maintenance and service costs. Both petrol and diesel cars have their own pros and cons. Let's take an example of a popular modern-day hatchback, Maruti Suzuki Swift, in both its petrol and diesel avatar: Maruti Suzuki Swift VXi Maruti Suzuki Swift VDi On road price: Rs. 6,03,936/- On road price: Rs. 7,40, 329/-
Price Difference: Rs. 1,36,393/- Now, with this price difference, you can fill 2,165 litres of petrol in your car (considering current Delhi petrol price of Rs. 63/litre). Assuming the average mileage to be 14 kmpl, you can drive a petrol Swift for 30,310km in this amount. Now, if your daily drive is around 50-60km a day, it will take you roughly 550 days to cover 30,310km. Hence, a petrol-powered Swift will run at least one-and-a-half years more for the amount you pay extra when going for a diesel. So, if your daily driving is not too long, a petrol car makes more sense. But, if you commute is over 80-100km a day, then buying a diesel will be more beneficial and economical. One also needs to consider the other important aspects of both petrol and diesel, i.e. service and maintenance. Service interval Maruti Suzuki Swift VXi* Maruti Suzuki Swift VDi* 10000km Rs 2100 Rs 3500 20000km Rs 4200 Rs 7500 30000km Rs 3300 Rs 7800 40000km Rs 6000 Rs 7500
*Tentative cost which includes labour charges Considering the service charges, running cost of a petrol Swift is approx. 40 paise per km over a period of 40000 km or 4 years (if average running is 10000 km per year), whereas, you will be spending around 65 paise per km over the same period on a diesel. Note - This does not include any wear and tear charges or other repairs done to the car. Now, let's compare the maintenance bit: Parts Swift VXi Swift VDi Oil Filter Rs. 100 Rs. 380 Fuel Filter Rs. 300 Rs. 1300 Gear Oil Rs. 700 Rs. 850 Clutch and Pressure plate Rs. 2200 Rs. 3500 Apart from some generic spares, diesel parts are a bit expensive when compared to its counterpart. The verdict After comparing all of the above segments, you can choose for yourself what suits you best. Diesel has its major advantage of low fuel cost and better mileage but when it comes to service and maintenance it will cost you more than petrol. This leads to a very logical answer – Don't just buy a car considering its great mileage and cheaper fuel price; buy a car after calculating the overall running cost and the tenure that you would want to keep it for. If you want to keep a car for long and drive more than 80-100km a day, diesel can be a valid option. Otherwise, if your running is quite less and you don't prefer keeping a car for more than 3-4 years, go for petrol. So, no matter what fuel type you go for, always remember to do these calculations first and double check your requirements before investing. After all, a car is a valuable purchase, so think and read before you buy!
Source : CarDekho