Volkswagen has officially revealed its Golf GTE Sport Hybrid Concept before introducing it at the Los Angeles International Auto Show. This concept car defines the look for future generations of Golf hatchback and merges the gap between road and motorsport vehicles. Powered by a 395-horsepower plug-in hybrid system, the car is capable of reaching over 280 km/h while managing a mileage of 50 km/l. This all wheel drive hybrid gets two electric motors along with a World Rally Championship turbocharged engine powering a lightweight carbon fiber construction.
ENGINE
The concept employs a 1.6-liter TSI engine which delivers 295 horsepower along with a maximum torque of 400 Nm. To assist the fuel powered powerhouse, there are two electric motors located at the front and rear of the car. The motor develops 113 horsepower each resulting in a total system output of a massive 670 Nm torque. The car is capable of running on electric juices but in the "GTE mode", all the three work together to accelerate this hybrid from 0-100 km/h in 4.3 seconds and go all the way up to 280 km/h.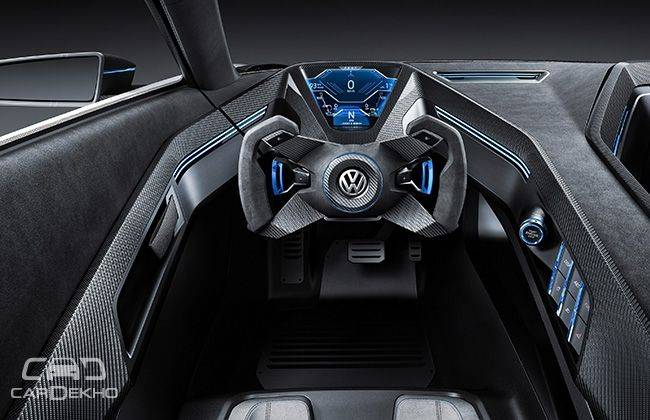 EXTERIOR
The design of the Golf GTE Sport illustrates how Golf GT models could develop in future. The car features a unique two-level C-pillars design which not only looks great but contributes to the aerodynamic downforce and cooling for the rear brakes. The body of the Golf GTE Sport is largely made of lightweight carbon-fiber. The car rides on 20-inch aluminum-alloy wheels fitted with 235/35 tires at the front and 275/30 tires at the rear.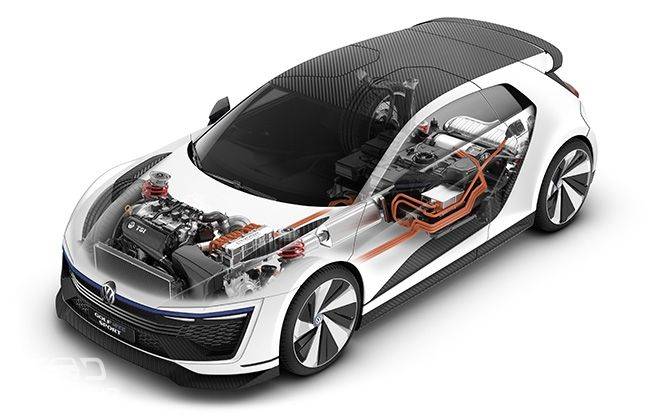 Golf GTE Sport Technical Data Body / Wheels Concept 2-door, 2-seater coupe Length x width x height 162.5 x 73.6 x 48.6 in Wheelbase 98.6 in Tires front / rear 235/35 R20 / 275/30 R20 Drive Drive system Plug-in hybrid Drivetrain All-wheel drive ("electric propshaft") Petrol engine 1.6 TSI, 295 hp / 400 Nm Electric motors 113 hp System power 395 hp System torque 670 Nm Gearbox 6-speed DSG Battery type Lithium-ion Performance / Fuel Economy Max speed 280 km/h 0-100 km/h 4.3 s Fuel consumption 50 km/l Electric range 50 km
Also Read: Volkswagen Beetle Dune Production Model Revealed VW Vento Made in India models Score 5-star Safety Rating in Latin NCAP [Video Inside] Volkswagen Recognizes Scandal Affected cars from Audi, Seat, Skoda and VW
Source : CarDekho