Volkswagen India has rolled out its 5,00,000th car - a Red Polo GT TSI with 7-speed DSG from its Pune Plant in Chakan. The German automaker started production at its Pune plant in March 2009 and since then, the automaker has manufactured 5,00,000 cars. The plant manufactures Polo, Vento and Skoda Rapid and Fabia till the end of 2013.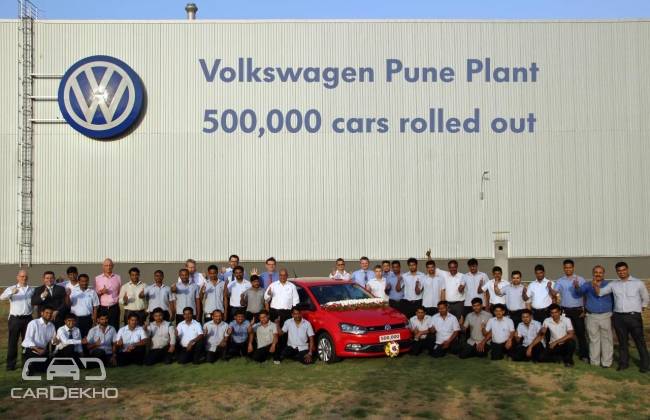 On the production of 5,00,000th car, Andreas Lauenroth, executive director – Technical, Volkswagen India said, "We have successfully achieved a new production milestone. It is a matter of pride for us and it also mirrors the positive customer feedback for the cars produced in our Pune Plant. More than this – each one of the 500,000 cars produced is also an ambassador of the high capabilities of our workforce. I would like to congratulate entire team of Volkswagen India on this historic achievement."
Spread over an area of 572 acres, the manufacturing unit has its own body shop, a paint shop and an assembly unit. Volkswagen's Pune plant has annual capacity of manufacturing 2,00,000 cars when run at full two-shift. The plant employs 3200 direct and indirect employees who work in two-shifts. On an average, about 430 cars are produced everyday and annually the plant manages to produce about 1,30,000 cars annually.
Recently, Volkswagen India has also appointed Andreas Lauermann as the new President & Managing Director of Volkswagen India with effect from July 1, 2015. Mr. Lauermann will succeed Mahesh Kodumudi, who will take over new role with Volkswagen Group of America with effect from 1st June 2015. In the coming months, Kodumudi will continue to act in an Advisory Role of Volkswagen Group India.
Source : Polo price - Volkswagen India Rolled Out 5,00,000th Car- The Red Polo GT TSI