In a move to achieve environment-friendly manufacturing, Volkswagen Pune Plant had initiated 'Think Blue. Factory' way back in the year 2012. The impact on environment due to the production of cars is measured by analyzing five key areas- 'Energy Consumption', 'CO2 Emissions', 'Water Consumption', 'Waste Generation' and 'VOC Emissions'. Fast forward it to 2015 and the plant has already achieved its set targets area in 'Waste Generation' and is close to achieving its objective in the areas of 'CO2 Emissions' and 'Energy Consumption'.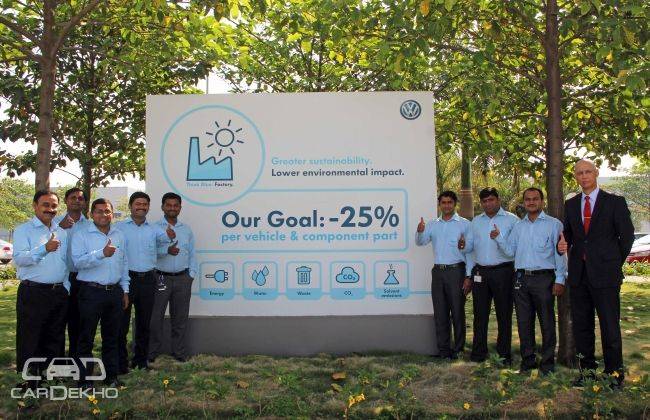 In the Waste Generation, the plant has been able to reduce waste by 30.5 per cent when compared to figures in 2011. Statistically, waste from 8.1 kg/car in 2011 is reduced to 5.63 kg/car by the end of 2014. The main reason behind the waste management is the plant process of recycling the paint sludge.
While in CO2 emissions and energy consumption, plant is able to reduce specific value by 21.2 per cent and 20.6 per cent respectively. Also with the eco friendly approach and 'High Speed, Low Volume' (HSLV) fans, the plant is able to save approximately 2,943 MWh/a out of the total 3,741 MWh/a saving.
In water consumption, a 14.4 per cent reduction is achieved through modifications made at the shower test area in Assembly and optimizing the process of PDI (pre-delivery inspection) car wash.
Mr. Andreas Lauenroth, Executive Director - Technical, Volkswagen India Private Limited, and Head of Volkswagen Plant in Chakan said, "At Volkswagen Pune Plant, 'Think Blue. Factory.' has become a part of our lifestyle. Within three years of adopting the programme, we have achieved a 17.3% reduction per car in the impact of manufacturing processes on the environment. We are well on track to accomplish our set target by 2018 to lower the environmental impact of our production processes." He further added, "At Volkswagen, we have a commitment towards environment just like we have towards engineering, innovation, quality and safety. We will continue striving hard towards this and not only reach our goals but will go on to surpass them."
Source : CarDekho