Quite recently, Volvo released a video displaying their FH truck being half as fast as the Koenigsegg One:1. A step ahead, Renault has just set up a new world record with its truck jumping over Lotus Formula One car. Like the one we witnessed in one of the Fast and the Furious flicks, a massive truck, with its trailer in tow, has managed to successfully jump a Formula One car, setting a new world record in the process.
As part of an advertising campaign dubbed Redefine Motorsports, the stunt was set up by Lotus F1 Team sponsor EMC. The truck jumped 83 feet and 7 inches, which is the longest ramp jump by a truck and trailer and has been registered in Guinness book of World Records.
The F1 car used was Lotus' racer from the last year's season, and the truck was from sourced from Renault, which supplies engines for the Lotus F1 Team. Interestingly, the man behind the wheel of the truck was Mike Ryan, the same stuntman responsible for the famous truck/motorcycle chase scene in Terminator 2. While the F1 car was driven by Martin Ivanov. Basically, this being more of a publicity stunt to increase EMC's awareness, a cloud computing and data management company that collaborates with the Lotus F1 Team.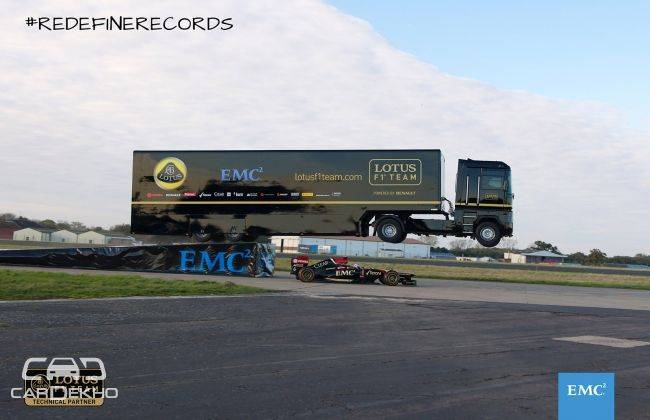 Source : CarDekho