Off-centered track battles aren't an alien concept, but pitching the Koenigsegg One: 1 - arguably the fastest car in the world right now, against a massive Volvo FH truck is a mismatch of epic proportions. I agree it sounds crazy, a bit idiotic actually, but yes- it has happened! The video shows Fifth Gear presenter Tiff Needell behind the wheel of a 540bhp-7,700 kilograms big Volvo FH, competing against the car that boasts one-to-one power-to-weight ratio i.e 1360 bhp moving 1360 kilograms.
We all would agree that it doesn't makes any sense, but through this video, Volvo wants to showcase the capabilities of its vehicle equipped with a newly-developed I-Shift Dual Clutch automatic transmission. And the video implores you to believe that its gearbox "just like the unit in the Koenigsegg," As the name suggests, it has two dry clutches unlike the regular single clutch. And the system can pre-select the next gear while driving in the current gear. So when this happens, the currently engaged clutch is released at the same instance when the previously idling clutch is being engaged. This setup provides quick gear changes without the normal shifting delays.
In the end, Tiff Needel concludes that "the truck is half as fast as the fastest One:1," as the Koenigsegg One:1 is quick enough to do two laps of the track in the time needed by the Volvo FH to complete one lap.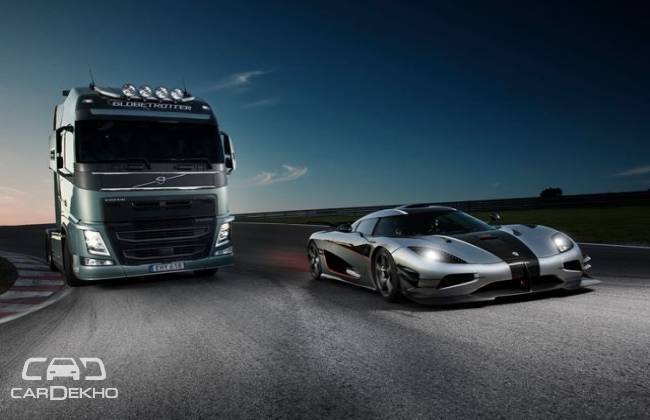 Volvo has been known for its out-of-the-box advertisement campaigns- the Volvo Trucks. They have been making such innovative and unusual ads form quite a while now, and their most recent one showed Jean-Claude Van Damme doing a leg-split on the top of two trucks rolling in reverse.
Source : CarDekho