International Automobile Federation (FIA) has awarded Venturi Automobiles and Centre for Automotive Research (Ohio State University) in recognition of their team setting a new FIA world speed record in an electric vehicle. The Venturi VBB-3, piloted by Roger Schroer, achieved an average speed of 342.170 kmph on the Bonneville Salts Flats in Utah. FIA has classified the VBB-3 in the category VIII Class 8, electric vehicle over 3.5 metric tons. The 36 feet long record setting Venturi VBB-3 was featured at the Venturi stand of the Paris Motor Show 2014.
On the presentation of the official certification to the team members, Jean Todt, FIA President stated, "I wish to congratulate Venturi Automobiles and its partners for setting this new world speed record for an electric vehicle. Considering the unprecedented conditions surrounding this achievement, this is a fantastic success. I am sure that in the future the team will be back for another attempt to reach the performance needed to beat the absolute record." Though the team set a new record, the initial target speed was to break the world absolute speed record for an electric vehicle of 495 kmph set in 2010 by the same team with the VBB-2.5. But due to summer's exceptionally rainy conditions, the worst in over 30 years flooded the tracks. Only part of the tracks could be used, precluding any attempt to break the world absolute speed record.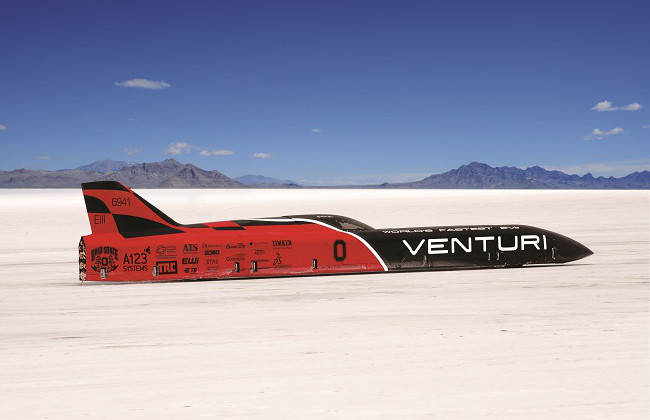 Gildo Pallanca Pastor, President Venturi, said on accepting the award, "I would like to thank the FIA and its President, Jean Todt, as this Trophy is a great honour. This summer the Venturi VBB-3 gave us a glimpse of its enormous potential. We will therefore be back in Bonneville in 2015, with the highly ambitious objective of surpassing 600 kmph as our priority. With its 3000 HP, the Venturi VBB-3 is the most powerful electric car in the world today. It must demonstrate that it can even be the fastest."
Source : CarDekho