Toyota Kirloskar Motor has taken part in the "FAME India Eco Drive" held at Delhi. It is a forerunner to the 2015 United Nations Climate Change Conference to be held in Paris from 30th November, 2015. Organized by the Ministry of Heavy Industries (MoHI), the drive is a public awareness campaign and aims to promote hybrid and electric vehicles under the "Faster Adoption and Manufacturing of Hybrid and Electric Vehicles" (FAME) scheme. It also highlights the need for energy conservation and the positive impact these vehicles have on the environment.
"India emerges as the 4th largest consumer of energy in the world following the US, China and Russia in energy accounting for 4.4% of global energy consumption. We feel privileged to be a part of the FAME Eco Drive to educate and encourage the use of full hybrid vehicles in India. Toyota Camry Hybrid is the first ever locally manufactured full hybrid vehicle with 48% more fuel efficiency and emits 25% lesser CO2 when compared to the car of the Same size in petrol variant. From fuel efficient vehicle to developing ground breaking technology, our focus is on environmentally sustainable solutions in everything we do and every vehicle we make. The recently notified demand incentives for buyers by the Govt, in the form of an upfront reduced purchase price of environment friendly vehicles will give a boost to the demand and encourage faster adoption of these vehicles in India," said Mr. T.S Jaishankar (Deputy MD for Toyota Kirloskar Motor) optimistically.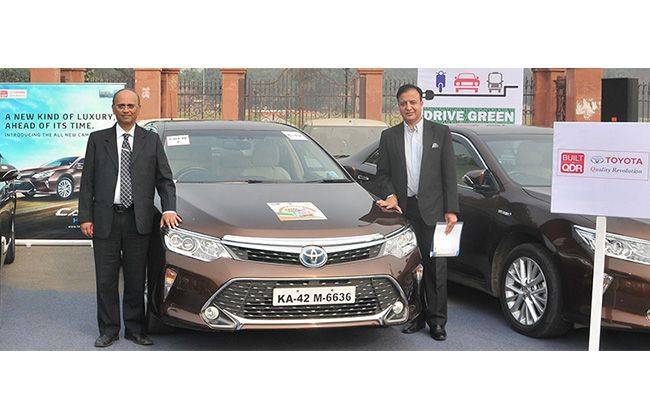 Mr. Ambuj Sharma, Additional Secretary to the MOHI, while asserting the need to adopt Hybrid/Electric Vehicles said, "With India's energy emissions rising at an alarming rate, it is imperative to encourage Hybrid/Electric Vehicles to reduce the carbon footprint and ensure a safer and greener environment for tomorrow. We welcome all the participants and appreciate their strong support to FAME ECO Drive which propagates the significance of conservation of energy and environmental benefits of hybrid and electric vehicles and promotes mass adoption of these vehicles. We appreciate Toyota to be the first manufacturer to locally make hybrid cars in India and support the government in sensitizing and popularizing the advantage of Hybrid vehicles. This year's event has more than 50 hybrids and electric vehicles from different automobile manufactures rallying through the 3 cities namely Delhi, Jaipur and Chandigarh. We hope the event touches the right cord with people and encourages them to invest in vehicles that will reduce the use of energy and cuts emission woes".
The 3-city drive took place in Delhi yesterday and will be taking place on 30th of this month in Jaipur and on 7th December in Chandigarh.
Also Read: Toyota Kirloskar Motor Provided Vehicles for the BBIN Friendship Rally 2015 2016 Toyota Innova: All you Need to Know 2016 SEMA Show: Toyota Showcases TRD Editions of Corolla and Camry
Source : CarDekho