For improving health and safety of its employees, Toyota Kirloskar Motor (TKM) has been bestowed with Golden Peacock Award for its excellence in Occupational Health and Safety (GPOHSA). The automaker with this award is recognized for taking commendable steps towards the concerns of employees safety which by far is neglected by most.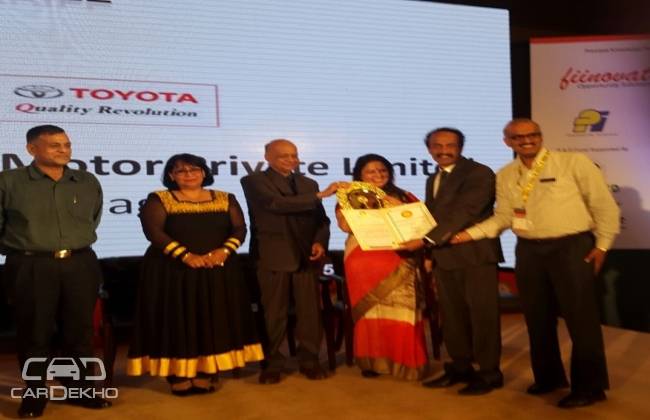 The award is considered as a benchmark in setting standards in occupational health and safety. Prior to this, in 2010, TKM has also won the Golden Peacock Environment Management Award for best practices in Environment Management.
Upon getting the prestigious award, Mr. Raju B Ketkale, SVP, Manufacturing Toyota Kirloskar Motor said, "This achievement comes as an inspiration for us, to keep on improving our processes and aim at delivering the best across the supply chain when it comes to safety. The win along with the feedback received from participation has highlighted our commitment towards setting higher standards in safety, health and environment. The recognition of being safety leaders in the industry is a result of Toyota becoming the first auto manufacturer in India to standardize airbags across all models.
Golden Peacock Awards (GPA) is a set of national and global awards given to improve productivity and quality in organizations. This award established by the Institute of Director in 1991 is now regarded as a benchmark of Corporate Excellence.
He further added, "Winning this award has further demonstrated that our safety practices are integrated both in our workplace as well as our products. We acknowledge the dedicated efforts of each and every team member. Such appreciation and recognition further motivate us to incorporate Toyota's global standards of Quality, Durability and Reliability – QDR in everything we do."
Source : Toyota Kirloskar Motor Grabs Golden Peacock Occupational Health and Safety Award 2015