To support rescue and relief work for the people affected by natural calamities, Hyundai Motor India has contributed 2 crores to the Prime Minister's National Relief Fund. According to the company, the contribution is done to provide rehabilitation for people affected by the flood and for restoration works in the area affected by the floods and landslides in various states.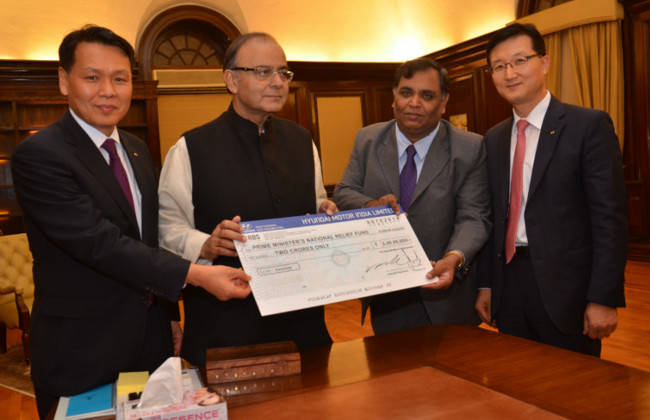 Mr. BS Seo, MD & CEO, Hyundai Motor India Ltd. said, "Hyundai Motor India applauds government's efforts to restore normalcy in the regions and express solidarity with the people who have faced the forbidding situations. As a responsible corporate, we are extending full cooperation to the Indian Government in all measures for rescue, relief and rehabilitation to those who have suffered from these natural calamities."
The company's top management presented a cheque of Rs. 2 crore to Finance Minister Arun Jaitley for the Prime Minister's National Relief Fund. The cheque was presented by Mr.B.S.Seo MD & CEO- HMIL to Sh. Arun Jaitley Honorable Minister of Finance. Dr.N.NR. Sharavanan, GM- Corporate Affairs- HMIL & Mr. Y.K.Lee- Director-Corporate Affairs- HMIL were also presented at the handover ceremony.
Furthermore, under 'Never Before November Bonanza' Hyundai India is offering lucrative discounts and bonuses on its selected models. The automaker is offering savings on Xcent, Grand i10 and Verna. The maximum saving is offered on Hyundai Verna - Rs. 58,000. The Grand i10 twins - Xcent attracts a total savings of Rs. 33,000 while Grand i10 gets Rs. 31,000 of saving.
Source : CarDekho