Tesla is trying to define itself as the epitome of exclusivity, which is why one has to be invited by Tesla Motors to book one of the very first Signature Series editions of the Model X crossover. The top secret specs of this car will only be revealed to these chosen few and include a zero to 60 time of 3.8 seconds, a driving range of 240 miles and a price $100,000 plus price tag.
Also read: 'Snakebot' Charges the Tesla Model S [Amazing Video]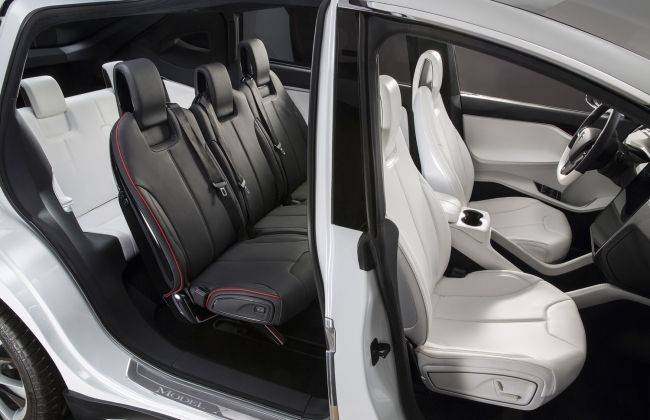 These specifications were revealed by a Tesla customer, who got a chance to configure the new car. The configurator is only available by invitation and comes with two driveline options: the standard 90-kWh setup, which sends 259bhp horses to the front wheels and 503bhp to the rear, and a EPA-verified range of 240 miles. In this setup the car is capable accelerating from 0-100kmph in 3.8 seconds and features a 155 mph top speed; if that doesn't tickle your fancy, then you can opt for the Ludicrous Mode upgrade, which costs around $10,000 and is an option that according to Tesla, can enhance the 0-100kmph acceleration to fall under 3.2 seconds. Considering that this is a seven-seater crossover, these statistics are immensely impressive.
Also Read: The Tesla Model S Went 'Ludicrous' after 'Insane'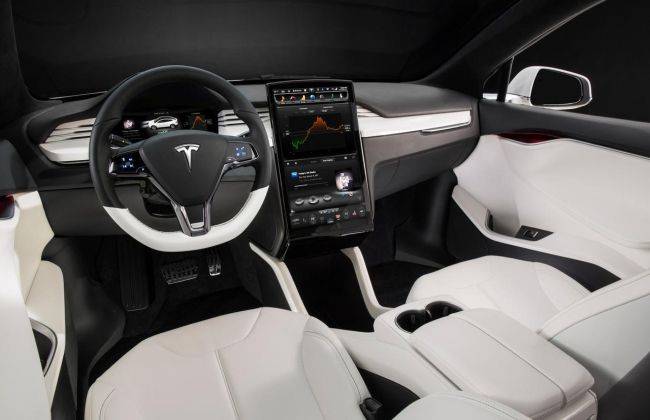 Other options also include - a $750 towing package, which includes towing mode to mitigate sway, the capability of lugging up to 5000 pounds and outfitting the Model X with a two-inch hitch receiver; A Subzero Weather option, which is priced at $1000 and comes with a heated steering wheel and washer nozzles, a wiper-blade defroster and extends the heated seating to the second and third rows.
Also Read: New Tesla Models S P85D 0-100kmph 3.2 sec, AWD, Zero Emission!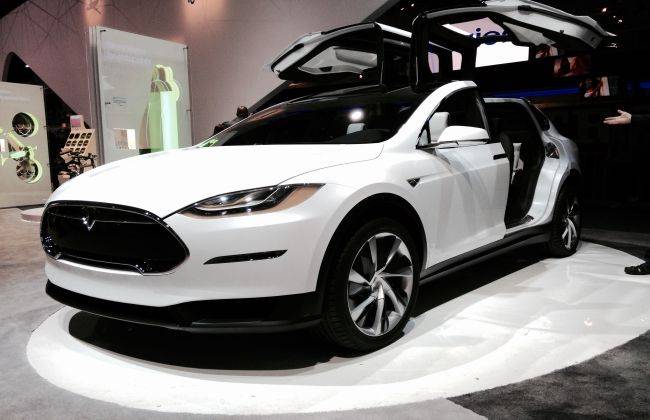 Other features of this limited-edition Model X include an Ultra High Fidelity sound system, Smart Air Suspension with GPS memory, a Premium Interior Package and Autopilot semiautonomous cruise control. This limited edition is priced at around $132,000 by Tesla, which will be roughly $25,000 more than the standard variant that is expected to hit the market soon. To book one of these limited edition beauties one would have to shell out a $40,000 deposit, while the "regular" customers get to put down a mere $5000 placeholder fee today for a delivery in the "early 2016".
The standard Model X, will come with Falcon Wing rear doors, which have built-in sensors for opening in garages of any height, folding third-row seats, a free charging facility on Tesla's Supercharger network and an eight-year battery warranty with unlimited mileage. The performance specs offered by Tesla are sure to give tough competition to its other gas-powered SUV rivals like the Porsche Cayenne Turbo and the BMW X5M.