Japanese auto major Suzuki today laid the foundation stone for its new vehicle manufacturing plant in Hansalpur, Gujarat. Spread over 640 acres, plant's foundation stone was laid down by Anandiben Patel, Chief Minister Gujarat in the presence of H.E. Takeshi Yagi, Japan's Ambassador to India, Rajnikant S Patel, Home Minister Gujarat, Mr. Osamu Suzuki, Chairman & CEO Suzuki Motor Corporation Japan, Mr. R C Bhargava, Chairman, Maruti Suzuki India and Mr. Kenichi Ayukawa, Managing Director, Maruti Suzuki India at the Hansalpur premises.
With a total annual capacity of 7,50,000 vehicles, the Suzuki Group will set up three plants at Hansalpur that will manufactured exclusively for Maruti Suzuki India Limited (MSIL). An investment of about INR 3,000 crore will be put in for the first plant, which is being scheduled to start production in mid-2017 and will have an annual capacity of 2,50,000 units.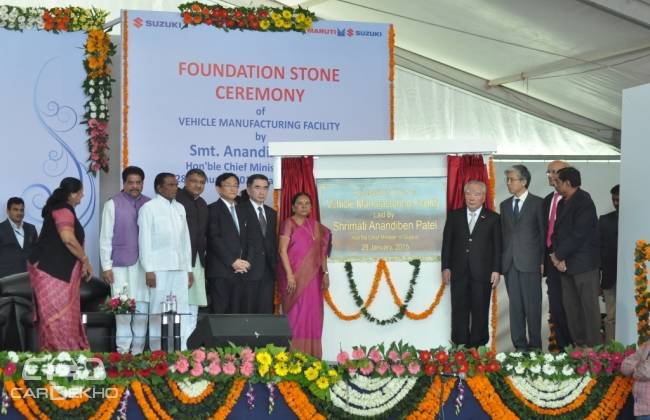 "For the Suzuki group, setting up of this new manufacturing facility in Gujarat is the start of a new era. Under the "Make in India" program proposed by the Prime Minister H.E. Mr. Narendra Modi, we will set up a state-of-the-art production plant here in Gujarat, with high focus on productivity and efficiency." Osamu Suzuki, Chairman & CEO Suzuki Motor Corporation, Japan said. "We want to manufacture vehicles together with you, which we can provide for the domestic and global markets. Your support and cooperation will be greatly appreciated."
"Thanks to this project, many more Japanese people will travel to Gujarat. Let us deepen friendship and mutual understanding between India and Japan," he concluded.
Source : CarDekho