In the regular huzz-buzz of life, we somehow forget to pamper our cars. But as-soon-as we realize it and start giving a wash to them, litres of water is flown into drains. Even though, this care and wash keeps your daily companion in a better health, but at the same time, it affects our very own environment. So, on the occasion of World Environment Day, Cardekho in collaboration with Ford India has brought some useful tips to make your car clean in a Eco-friendly way.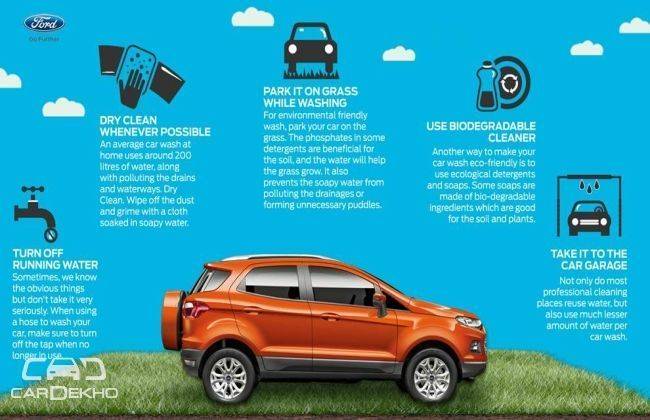 Dry Cleaning: According to a study, an average car wash at home uses around 200 litres of water, along with polluting the drains and waterways. Wasting that much water just to wash a car, isn't it unfair to the environment. So, go for dry cleaning whenever possible, wipe off the dust and grime with absorbent, clean rags or microfiber cleaning cloths soaked in soapy water.
Park it on grass : If your car is in ultra-messy condition and just dry cleaning won't be enough. Then, wash your car while parking it on the grass. With this method, you'll be able to wash the car in a eco-friendly way, as the phosphates in some detergents are beneficial for the plants and soil, and the waste water will help the grass grow.
Car garage wash: Taking your car to the car garage and giving it a professional wash once in a while, will help to maintain your vehicle inside out. Usually, the garages reuse the drained water and with their skills, even usage of water per car wash is also very less as compared home wash.
Use biodegradable cleaners: Using ecological detergents and soaps during your car wash, will prove out to be productive for the surroundings as biodegradable ingredients are good for the soil and plants as well. If you aren't able to find this type of detergents around easily, make your own biodegradable car wash by mixing one cup of liquid dish-washing detergent and 3/4 cup of powdered laundry detergent with three gallons of water. This technique will help you to save environment as-well-as money.
Turn off the tap: This is the most simple and easy way to save the wastage of water. While using a hose to wash your car, make sure to turn off the tap when no longer in use.
Most of us already knew about these tips, but implementation is where the change lies. So, by following these simple tips, you will be able to keep your car clean and at the same time, doing your bit towards the environment.
Source : CarDekho