Roaring Champions is India's first night-lit premiere drag racing event to be held in Mumbai!
India's leading motorsports group Elite Octane has come up with a new drag racing series - 'ROARING CHAMPIONS'. Yes, you heard it right, it's a drag racing event and that too India's first night-lit one! And this Elite Octane's 'Roaring Champions' is Federation of Motor Sports Club of India (FMSCI) sanctioned racing event. The venue of the event is Yashwant Smart City in Vasai East, Mumbai (Ameya Group) and would be organised in the month of June, 2015 - 6th and 7th from 3pm to 10pm.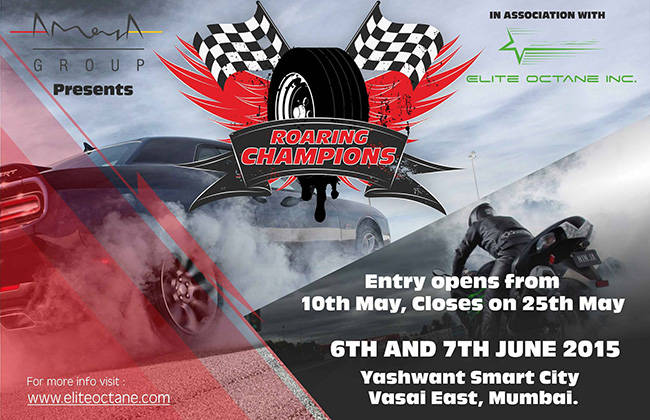 The event will take place on a newly constructed drag strip and will draw over 450 competitors, who are segregated into different classes according to engine displacement, make and modifications. Each participant will be given one practice run to get their launch & other aspects right before the final run. Moreover, Race America Professional Timing System & the only system in India will record the runs by capturing reaction time and elapsed time.
Various sportscar & bikes from brands like Lamborghini, Aston Martin, Harley Davidson, Ferrari, Porsche, BMW, Audi along with KTM, Honda, Yamaha will be raced by their respective owners to attain the ultimate quarter mile timing!
Source : Elite i20 - 'Roaring Champions' - Drag Racing Championship by Elite Octane - 6-7th June 2015!