The 2014 Paris Motor Show sees Renault take the wraps off the new Espace. This large, elegant and innovative crossover, which combines a strong design and seductive appeal, is based largely upon the concept car that was revealed a year ago at the Frankfurt Motor Show. This is another practical utility vehicle from Renault's stable and the company is now ready to introduce the new generation of the Espace. Renault has been strong in these kind of products and the new Espace also looks promising.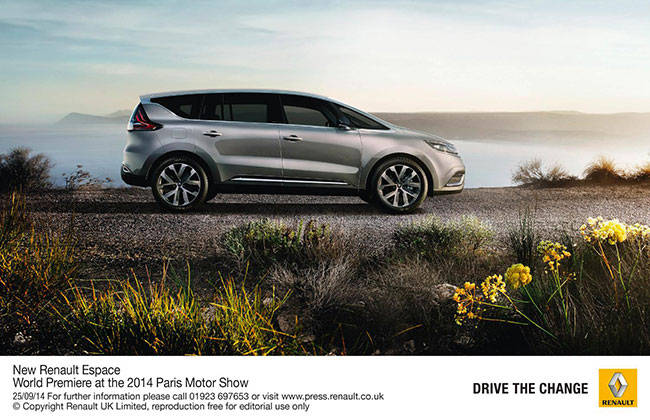 Like previous generations of the model in the course of its 30-year long career, a brightly-lit, comfortable and modular interior are the cornerstones of the new Espace which will also appeal thanks to fluid lines, as well as to its occupant-friendly cabin and floating centre console. Both the five- and seven-seat versions feature ingenious interior modularity and meticulous attention has been paid to detail with regard to the new car's design and build.
The new Renault Espace will make its world premiere at a press conference led by Mr.Carlos Ghosn, Chairman and CEO of the Renault Group on October 2nd, on the Renault stand at the Paris Motor Show. To mark the occasion, Renault and its partners Publicis Conseil and Digitas LBi have created an original digital presentation package which combines both video and 3D elements that will provide internet users with an immersive experience as they discover the new Espace's interior and exterior designs in successive phases. There are no plans for the New Espace to be sold in right hand drive markets. So, this means India and UK markets are out of contention. This is because the biggest market for this product resides in Europe and making a right hand drive for the UK market, might just increae the cost of production for the French auto maker.
Source : CarDekho