To let our viewers know more about Kwid, we bring to you all the stuff we have done so far on the vehicle which is bound to change Renault-India's fortune and for that matter the A-segment!
Renault is all set to launch the most anticipated car this year - the Kwid. It is a first-ever vehicle in the entry level segment with a crossover like stance, making it stand-out among its rivals. It is based on the Renault-Nissan's global CMF-A platform and is lightest in the segment - 660 kilos. The new 800 cc engine is one of the most powerful motor in the segment and also makes the Kwid, most fuel efficient petrol car in India. Let us take a look at all the stuff we have covered on the Renault Kwid since its global unveil earlier this year and stay tuned for tomorrow!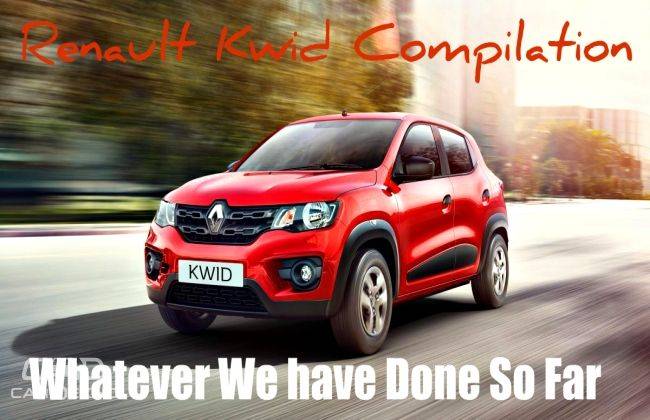 Renault Kwid Price - Where should it start?
What Kwid Means to Renault's Indian Portfolio
View Comparison: Renault Kwid vs Maruti Swift Tiny Temptation: Renault Kwid Photo Gallery at a Glance
View Comparison: Renault Kwid vs Datsun Go Renault Kwid Bookings Live Now!
Mumbai: Renault has unveiled it's compact car called the 'Kwid'. The Kwid shares its name with the concept Renault showcased at the Auto Expo back in 2014. While the Kwid concept was loud and in your face, this little Renault is rather subtle in comparison. Renault hinted at pricing this compact car between 3 to 4 lakh rupees. This pricing would make it the cheapest Renault on offer, in India. Renault aims to launch the vehicle during the festival season, around September or November 2015. Renault has been very bullish in the Indian market - opening 157 new outlets across the country in 2015. They aim to open 280 outlets across the country by next year. The Kwid remains an India-only offering for now, but may be exported to neighboring countries in the future. Renault calls the Kwid, it's 'Conquest Car'. What's all the fuss about? Read on
Also Check Out: Image Galley of Renault Kwid Videos of Renault Kwid