The Range Rover Evoque Convertible has been revealed ahead of its launch. The car is considered to be one of the most luxurious SUVs in the world. Initially the car was teased with the help of wire sculptures in London and now, ahead of its launch the company has revealed official pictures of the car that showcases the Evoque convertible in its open-top glory. This convertible SUV is also credited to feature the longest retractable roof on sale today.
The folding roof remains aesthetically similar to that seen on the 5-door hard top version and is capable of retracting completely in 18 seconds. The roof can also be latched in a matter of 21 seconds, as long as the vehicle is cruising under the speed of 30 mph i.e. 48 kmph. Compromised boot space and structural rigidity is always a matter of concern with a convertible version of a car, but even with the roof down the Range Rover Evoque convertible still manages to offer a boot capacity of 251 litres and maintains its structural integrity, relatively well.
Range Rover Evoques have always been revered for their off-road capability and to maintain the safety aspects offered by the car, the convertible gets a Roll-Over Protection Device, which deploys safety bars within 90 milliseconds of detecting a rollover. The interiors get a InControl 10.2-inch touchscreen infotainment system. All in all this convertible is a fairly impressive piece of kit and excitement beckons considering the fact that the car will eventually make its way to India.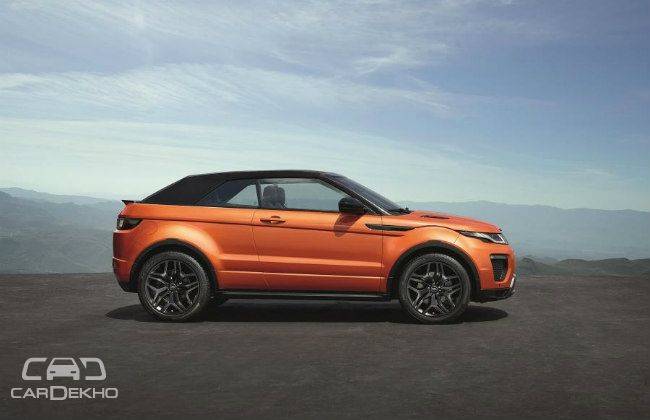 Also Read: Land Rover to Launch Range Rover Evoque Facelift on November 19th Range Rover Evoque Convertible to debut in November Chinese Copycats Exasperate Land Rover
Source : CarDekho