Honda will be launching the much-anticipated Mobilio MPV by the end of this month. After its arrival, the MPV will compete against the likes of Maruti Suzuki Ertiga and Toyota Innova. While the Innova is known for its comfort, reliability and spaciousness, the Ertiga stands for affordability, low cost of ownership and fuel-efficiency. So in this comparison, we pitch the latest entrant Mobilio up against the established players in the MPV arena.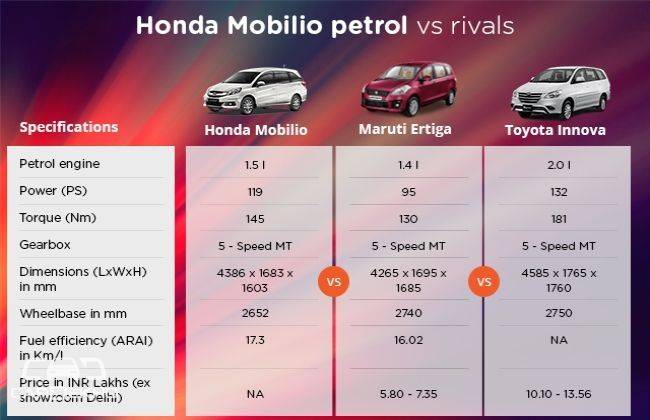 In terms of size, the two competitor stands no-where in comparison to the Innova. The Innova measures 4585mm in length, 1765 in width and 1760mm in height, along with the class-leading 2750mm of the wheelbase. Whereas Maruti Suzuki Ertiga is the most compact of three, with 4265mm length, 1695mm width and 165mm height, plus a good 2740mm of wheelbase. Now, coming to the new challenger, the Mobilio with its 4386mm length, 1683mm width and 1603mm height might look inferior in dimensions than the Ertiga on paper, but the MPV in real is more spacious. It follows the Japanese manufacturer's "Man maximum, machine minimum" philosophy, and has been so well that despite being a tad smaller in dimensions, the vehicle offers more space to its occupants.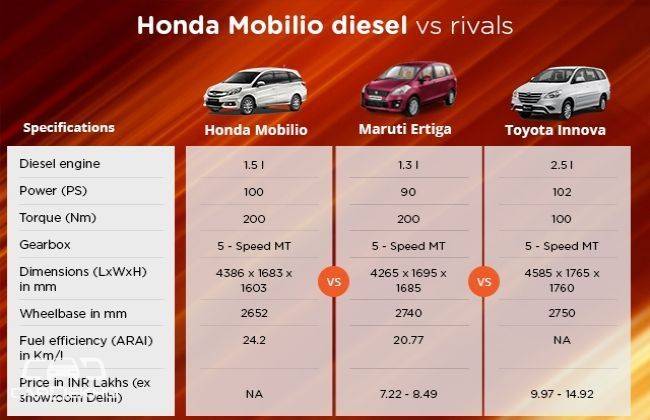 The same sequence continues here too, with a 2.0-litre petrol and 2.5-litre diesel engine options, Toyota Innova simply outshines its rivals. The 2.0-litre petrol unit pumps out an impressive 132 bhp and 181Nm of peak torque. While the mass-seller diesel variants comes equipped 2.5-litre oil-burner unit that churns out 102 bhp and peak torque of 200Nm. The Ertiga is the least powerful vehicle of the three. MPV's both engine options- 1.3-litre multijet diesel (Fiat sourced) and 1.4-litre K-Series petrol engine are very fuel efficient, but somehow remains behind when compared to the counterparts. The 1.3-litre multi-jet diesel engine of the MPV develops 90bhp and 200Nm, while the 1.4-litre petrol engine throws 93.7 bhp and 130Nm of peak torque. The latest entrant- Mobilio borrows both of its engines from Honda City. Both the engines are proven and potent, while the 117 bhp-1.5-litre i-VTEC petrol mill is known for its refinement and power, the 98 bhp- 1.5-litre i-DTEC diesel is the most fuel efficient engine in the country today. All three MPVs come equipped with a 5-speed manual transmission. The Mobilio and Ertiga send power to the front wheels while the Innova is rear wheel driven. The Toyota MPV is the only vehicle to be underpinned by a ladder-frame chassis while the rest adopt a monocoque frame.
To know more about the exciting 10 features of Honda Mobilio, click here.
Source : CarDekho