It seems like the Bajaj Auto India will not have to wait more to launch its Quadricycle RE60. The company has been waiting for the government clearance, as still there is no clear cut policy for quadricycles been announced. Meanwhile, Bajaj Auto is all set to export the quadricycles, a media report claims that from Quadricycles will be allowed to run on Indian roads from October, this year, one more reason for Bajaj to be happy about.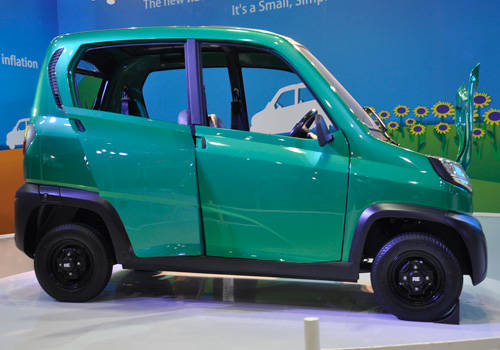 Quadricycles are four-wheelers, which are bigger than auto-rickshaw and smaller than the entry level small cars, and will only be used for commercial purpose or as public transports within the city or village limits. The draft notification for Quadricycles will be out soon, as the law ministry has considered the proposal of road transport ministry to include such vehicles as a new category of commercial vehicle in the Central Motor Vehicle Rules.
Quadricycles with a big "Q" badge at the front will be allowed to ply on the roads, and at a maximum speed of 70kmph. For the passenger vehicles category, the Quadricycles can accomate up to four passengers including the driver, while for goods transport it can seat up to two persons including driver and loads up to 550kg. The kerb weight of this quadricycles will also be different for both passenger and goods vehicles. The public transport version will have the kerb weight of 450kg, while Quadricycles for the goods will weigh 550kg. The quadricycles for goods transport will be longer than the passenger quadricycles.
The government would offer 30 days time span to register any suggestion and objections on the notification. If no suggestion or complaints registered, then the orders would be out. For instance, the homegrown Bajaj Motors is the only maker in India that has manufactured four-wheeled passenger carrier RE60, and is expected to launch it by the end of this financial year.
Displayed a day before 2012 Auto Expo, the Bajaj RE60 has been spotted a couple of times during its test runs. The RE60 derives its power from a 200cc, single cylinder, liquid cooled engine that is capable of developing 20bhp and delivering a fuel economy of 35kmpl, which will be the USP of Bajaj RE60. The top speed of the RE60 has a top speed of 70kmph.
Source : CarDekho - Quadricycles may ply on roads by October; Bajaj RE60 launching soon