The heavy rains experienced by Chennai has the citizens in great turmoil and in face of this adversity, many good Samaritans are coming forward to do whatever they can to help those in need. One such instances is backed by a body affiliated to the automotive scene, the Ola cab service operator which has generously offered ferry services to help those affected. Thousands of individuals are stranded because of the heavy rains being experienced by Chennai over the last couple of days. Along with the authorities and volunteering citizens who are making attempts to help rescue these people, Ola is offering ferry services with professional rowers manning the boats that are ferrying about 5-9 passengers on each trip.
Ola has identified 5 places to carry out these rescue operations, which will include providing emergency supplies like food and drinking water and escorting people to safety away from the affected waterlogged areas. The boats also have umbrellas on-board to help comfort the passengers that are being rescued from these areas, which include Thoraipakkam, Velachery amongst others areas in the IT corridor.
This initiative was carried out by Ola cab drivers of Chennai in affiliation with the Blue Waters, a Chennai based sport fishing company, which made the boats available for this noble cause.
Inflatable dinghies and catamarans were also called in for service. Preference is given to senior citizens and passengers are not being charged. Rescue operations are being conducted based on data sourced from the Fire and Rescue Department. The services will be available over the course next couple of days and will be extended if the weather conditions do not improve.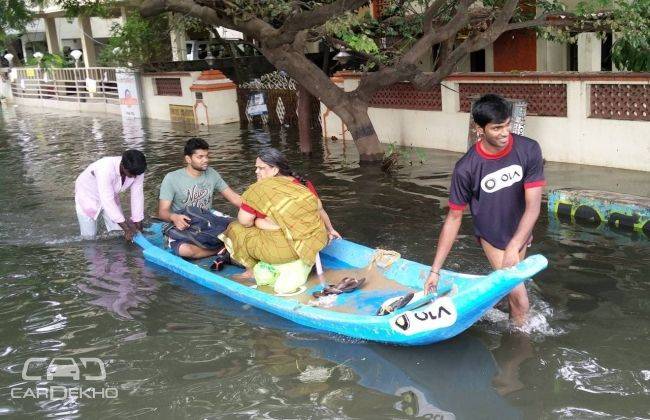 Source : CarDekho