Nissan India has opened its 189th dealer outlet, Surya Nissan, in Bengaluru. Surya Nissan is the second Nissan dealership in Bengaluru and Nissan is keeping up the momentum to increase its sales and service touch points to 300 across the country by end of FY-2016. Located on the Marathali Outer Ring Road near Whitefield, Surya Nissan is a 3S facility built over an area of 25,000 square-feet and is fully equipped to sell and service both Nissan and Datsun range of products.
Surya Nissan has an expansive showroom area, state-of-the-art workshop with 15 service bays and has an in-house mechanical shop, body and paint shop, spare parts store and a car washing facility. The outlet also has dedicated customer lounges at the sales and service areas, a spacious parking lot, an interactive bay, a conference hall and a training area. The dealer principal, Mr. K. J. Suwresh has invested Rs.10 crores on the inventory and Rs.3.5 crores on the facility, which employs 60 qualified and skilled personnel.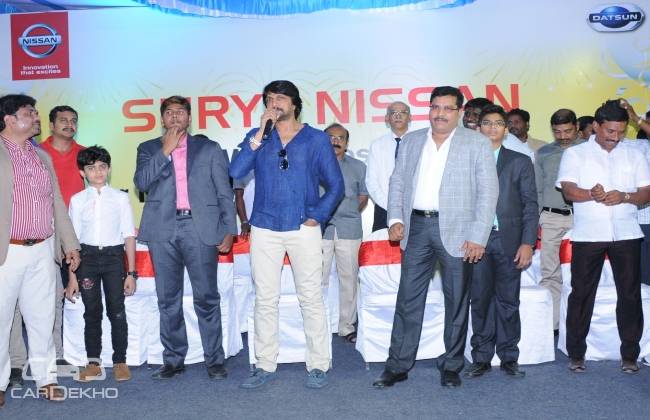 Speaking on the occasion, Mr. Arun Malhotra, Managing Director, NMIPL said, "We are happy to announce Surya Nissan as our 189th dealer outlet in India and the second one in Bengaluru. Nissan is present in 136 cities and we will continue to expand our reach across India. Network expansion is the key to taking our exciting products to customers across the country and we are relentlessly working towards having formidable presence across India. This dealership is a reiteration of our commitment to the customers, to provide them with an unparalleled buying experience."
Mr. KJ Suwresh Dealer Principal, Surya Nissan said, "We are very proud to be associated with a global manufacturer like Nissan and look forward to offering a great customer experience that current and prospective Nissan owners deserve. Our 3-S facility prides itself on great infrastructure which we are confident will ensure a smooth world class service experience to our customers."
Nissan sold over 47,474 cars in FY 2014-2015 registering growth of 24.2% over the previous financial year, making it the highest ever volume achieved by the company in India.
Source : Nissan opens its second dealership in Bengaluru