Tesla Motors have unveiled an all new range topping version of its flagship sedan - Model S. The new car features an all-wheel-drive set with dual motor placed on front and rear axles. Tesla has also introduced an auto pilot mode in the new Teslas, yeah you heard it right – insane! The P85D steals the crown to become the new flagship in the Model S range from P85 single motor variant. In an event held in LA, Elon Musk, CEO Tesla Motors apart from revealing the new P85D, throws light on Tesla's future - fully autonomous vehicles in the next 5-6 years!
Lets start with the new drive setup first, Tesla has incorporated two electric motors – at the front it gets a 221bhp motor which is coupled to a more powerful 470bhp at rear. This setup has a combined output of 691bhp and it chucks out 930Nm of sheer bliss. The electric power hums hard propelling the sedan from standstill to 60mph (96km/h) mark in mere 3.2 seconds (whole second up compared to P85) before hitting its top speed of 250km/h (massive up from the previous flagship P85's 210km/h). Moreover, there are two other dual motor AWD (All Wheel Drive) variants added in Model S range – a 60D and 85D both with a 188bhp front motor.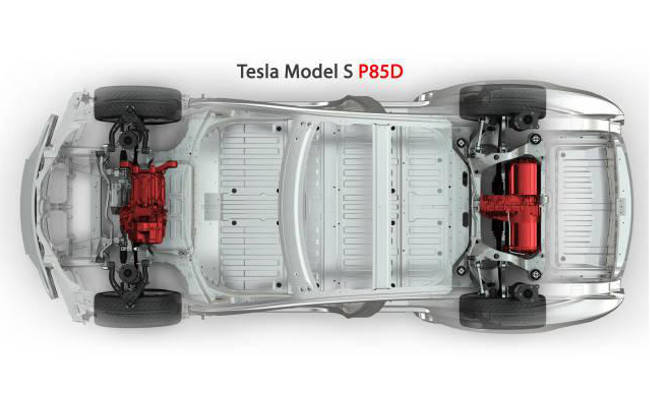 However, the weight has gone up by 132kg courtesy to the new electric motor at front making it to 239kg but it is distributed in 50:50 ratio. Visually, the new P85D is similar to P85, except the new red brake calipers and yeah the P85D badging at the back. And if you think the range has gone down, you are wrong, the new P85D range is up by 10 miles making it 443km - 275 miles. About the auto pilot, this semi-autonomous driving system features optical cameras and 360 degree sonar – the system detects traffic, barricades and brakes accordingly and will come to full halt if traffic ahead stops.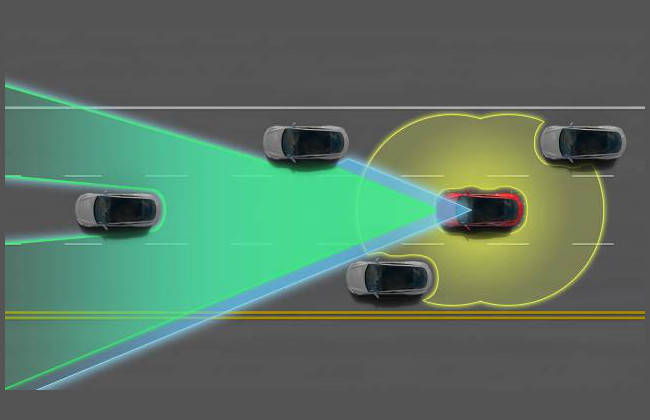 Source : CarDekho