Skoda has started the production of the new Octavia G-TEC at its main plant in Mladá Boleslav for the first time. To go on sale in the Czech market in June 2014, this will be the first time Octavia is fitted with natural gas drive and the car will come in both hatchback and estate body versions. With the Octavia G-TEC, Skoda now has three natural gas models, Octavia G-TEC, Octavia Combi G-TEC and the CNG version of the Citigo. Skoda has also inaugurated a new CNG testing facility and filling station with an investment of 5 million Euros to carry out mandatory safety testing of CNG powertrains.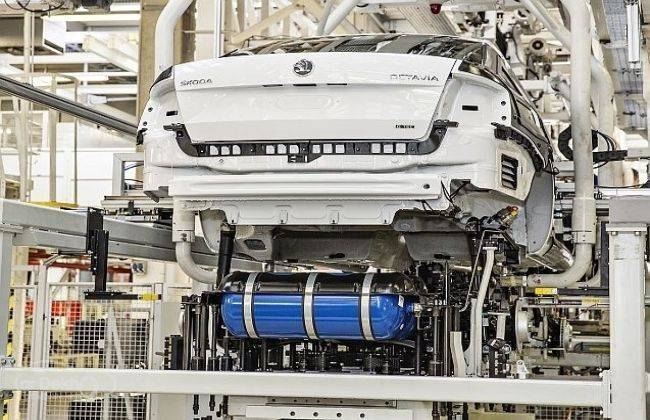 Both the versions of the Skoda Octavia G-TEC will be powered by a turbocharged 1.4-litre TSI engine that puts out an output of 110 HP and will run on both petrol and also compressed natural gas (CNG). The vehicles can accelerate from 0 to 100 km/h in 10.9 s and reache a top speed of 195 km/h. As standard equipment, the cars will get Green tec package that includes start-stop system and brake energy recuperation.
The powertrain of Octavia G-TEC meets EU 6 emission standard requirements that are coming into play from September 2014. The Octavia G-TEC and Octavia Combi G-TEC will travel up to 410 km on CNG power alone and with petrol only, the range is up to 920 km. With both fuel tanks full, the Octavia G-TEC offers a range of up to 1 330 km.
As the price of natural gas in Czech Republic and many other European countries is significantly lower than that of petrol or diesel, vehicles powered by natural gas offer mobility at a more affordable price. Now with the introduction of the new Octavia G-TEC and Octavia Combi G-TEC, Skoda is has expanded its range of cars powered by natural gas to three models. On sale since October 2012, Skoda Citigo with CNG drive consumes just 2.9 kg of natural gas per 100 km that equals to 79 g CO2 /km of emissions. The total range of Citigo is 620 km with 400 km on gas and 220 km on petrol.
Skoda now has a total of 22 cars that have emissions below 100 g CO2 /km and 112 models with emissions below 120 g CO2/km. The new Skoda Octavia GreenLine has set new standards in the compact category with low CO2 emissions of just 85 g/km. After the Czech market launch, the new Octavia G-TEC and Octavia Combi G-TEC will be gradually made available in 14 other countries across Europe. Though it will be highly unlikely for Skoda to launch Octavia G-TEC versions here, we can't help but hope so.
Source : CarDekho