Prime Minister Narendra Modi during his on going visit to the U.S. visited Tesla Motors yesterday. The visit comes at a time when India is vying for foreign investment and technology breakthrough. Mr. Modi and Elon Musk, CEO for Tesla Motors, discussed revolutionary battery technology and how it can be used for farmers' benefit.
Related Story: Tesla Reveals the Specs for its Invitation Only Model X: Are You Worthy?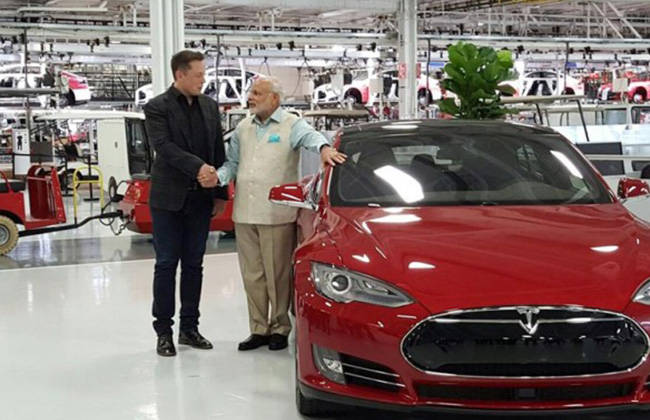 Battery technology which is eco-friendly is also important at a time when UN General Assembly is meeting and climate agenda is on top of SDGs (Sustainable Development Goals) list. They also discussed about bringing the "Powerwall" invention to India which can bring energy to hitherto un-serviced areas of India. Powerwall is a storage device which can store solar energy for a longer time. The company for now has not announced any manufacturing facilities in India and commercial viability of the batteries will also be a problem, but government is hopeful to break the impasse.
"Tesla CEO Elon Musk and Prime Minister Modi discussed Tesla's developments in battery technology, energy storage and renewable energy, and the positive implications of this innovation for India," Tesla spokesperson Ricardo Reyes apprised PTI after Modi had a trip to Tesla's headquarters.
Mr. Musk gave a presentation to Mr. Modi on the state of the art technologies being developed by Tesla, which is expected to change the face of the automobile industry and have greater impact on developing countries like India. The tech savvy PM took on to Twitter to thank the CEO for the visit.
Recommended for you: PM Modi Rides the Self-Driving Car in the World's Only 0-Carbon Smart City