Mitsubishi will say goodbye to the iconic Lancer Evolution X soon and to celebrate its legacy, the Japanese manufacturer has unveiled the Evo X Final Concept. The final rally-bred model is based on the existing Evo GSR and features a plethora of noteworthy upgrades inside-out.
In terms of styling updates, the model will get a matte black body paint, gloss black roof and rear spoiler along with new chrome details. The car will also feature a new set of black 19-inch forged aluminum wheels by Rays, shod with 19-inch Yokohama Advan Neovas tyres.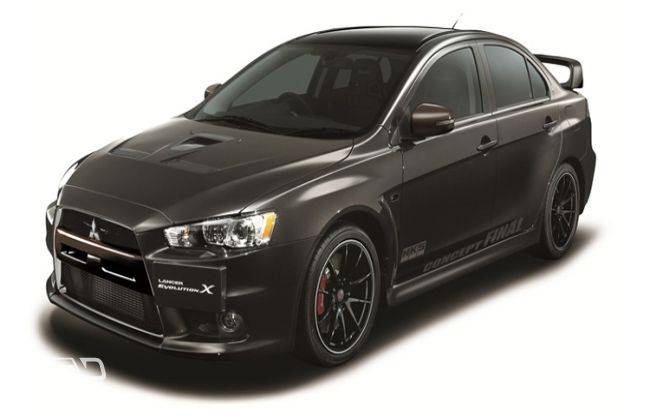 The most prominent change in the Evo X Final Concept comes under the hood, as it gets a significant engine upgrade including a HKS-sourced turbocharger, new intake and exhaust, revised cooling system as well as all-new ECU. All of which, will help the same four-pot, 2.0-litre turbocharged engine to deliver a whopping 473 bhp, whereas the output of the standard model stands at 291 bhp. This increased power is sent to the all four wheels via a five-speed gearbox. Beyond the engine upgrades, the car will also feature a height adjustable sports suspension from HKS.
Last month, VP Don Swearingen, Head, Mitsubishi Motors North America had notified that the "outgoing EVO won't be phased out without a proper bang," and this all-new Evo X Final Concept totally lives up to that promise.
Stay tuned to the space for full details over the Lancer Evo X Final Concept, which will be fully revealed during the Tokyo Auto Salon next month.
Source : CarDekho