Just a few months after the market launch of the new MINI, the British brand has expanded its model range with the addition of an entirely new body variant - the MINI 5-door - for the first time in its history. The characteristic exterior design of the original premium small car is authentically transferred to the specific proportions of the new body, with the addition of two rear doors.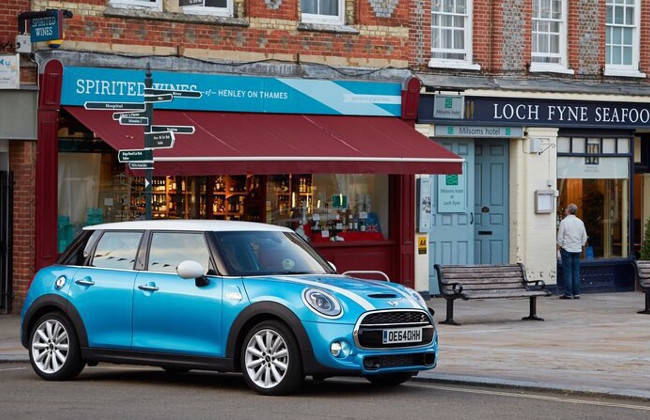 With the wheelbase expanded by 72 millimetres and a longer body when compared to the MINI 3-door, the 5-door model provides greater freedom in terms of interior use and of course flexibility. To begin with, it isn't very long either. In the back are three separate seats, and passengers using them benefit from increased headroom of 15 millimetres and interior width increased of 61 millimetres at elbow height. In addition, the luggage compartment space is 67 litres larger than in the new MINI 3-door, with a total of 278 litres. The car's high level of versatility is also supported by the 60:40 folding split in the rear backrest. It enables the luggage compartment volume to be increased to 941 litres.
There are four engines with MINI TwinPower Turbo Technology to choose from. A 3-cylinder petrol engine with a peak output of 136bhp powers the MINI Cooper 5-door. The output of the 4-cylinder petrol engine in the MINI Cooper S 5-door is 141 kW/192 hp. The new MINI Cooper D 5-door is powered by an 116bhp 3-cylinder diesel engine. In addition, the MINI Cooper SD 5-door is presented for the first time with a new 2.0-litre 4-cylinder diesel power unit that has an output of 170bhp. All model variants of the new MINI 5-door meet the EU6 exhaust emission standard.
As with every other MINI, the latest generation of engines ensures an exceptional balance between driving fun and fuel consumption. This is supported by the newly developed 6-speed manual and 6-speed Steptronic transmissions, as well as extensive MINIMALISM fuel-efficiency technology.
Source : CarDekho