With big plans in place for the year 2015, Mercedes Benz today inaugurated yet another dealership in the city of Jamshedpur to strengthen its network. Tristar Motors, the first for the city is located at A-10, IInd Phase, Adityapur Kandra Main Road, Jamshedpur.
Speaking at the launch, Eberhard Kern, Managing Director & CEO, Mercedes-Benz India said, "Tristar Motors Jamshedpur which is the city's first luxury car dealership is a reiteration of our commitment to the customers in this important emerging market. The luxurious ambience coupled with the outstanding service of Tristar Motors Jamshedpur will ensure that, we delight our customers with an experience parallel with our global standards. We are increasingly focusing on tier II and III cities as we believe these markets will be the next growth drivers for the luxury car industry. The growing number of affluent and high aspiration customers in markets like Jamshedpur and their preference for the Three Pointed Star makes us confident of our aggressive growth path. Ably supported by our partners who are investing in creating such luxury destinations, Mercedes-Benz is bullish about the India growth story and are committed to our customers".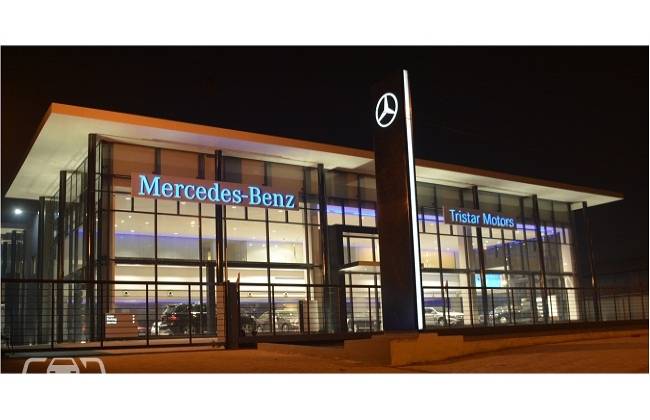 Spread over an area of 40,000 square feet, this particular dealership attracted an investment of Rs 100 million and took a period of 15 months to build. In order to provide customers unmatched experience, the Three Pointed Star automaker as ensured that this new dealership offers a lounge with Café Mercedes, kids corner, boutique display items along with a separate delivery area. Having a team of 25 personnel, this new dealership will cater to the demands of Jamshedpur. Besides the showroom, there is also a service facility that offers 12 bays for servicing vehicles.
Ravi Parikh, Director, Tristar Motors commented, "This is a momentous occasion for us as at Tristar Motors, as we reinforce our partnership with a global icon like Mercedes-Benz. We are also very proud to present to the customers of Jharkhand, the first luxury car dealership in the city. The foundation of our partnership is based on the philosophy of 'Best or Nothing' which is Mercedes-Benz's core brand philosophy. With this state-of-art dealership we are committed to provide the best of product and services experience to our discerning customers. There is an increasing preference for Mercedes-Benz products in Jamshedpur and adjoining markets and we are delighted to see the customer base for Mercedes-Benz growing here."
With 69 outlets to its name already in 38 cities, Mercedes look to shake up a few things when it comes to reach and it's after sales services. Apart from car launches, the company plans to widen its network to 80 outlets by the end of year 2015.
Source : CarDekho