Mercedes-Benz India has opened a new world class dealership of Sundaram Motors in Madurai. This is brand's fourth outlet in Tamil Nadu and 14th outlet inaugurated by Mercedes-Benz in 2014. The new dealership is located at South Veli Street, Madurai and was inaugurated by Mr. Eberhard Kern, Managing Director and CEO, Mercedes-Benz India and Sharath Vijayaraghavan, Executive Director, Sundaram Motors.
Mr. Eberhard Kern, Managing Director & CEO, Mercedes-Benz India said: "Mercedes-Benz India has successfully pursued its 'Year of Excellence' strategy in 2014 and the inauguration of this 14th outlet this year is a testament of this success. We have launched 10 products this year and also further extended our presence across India and the results are showcased through our growth. We look to end the year on a high and look to take the momentum to the next year."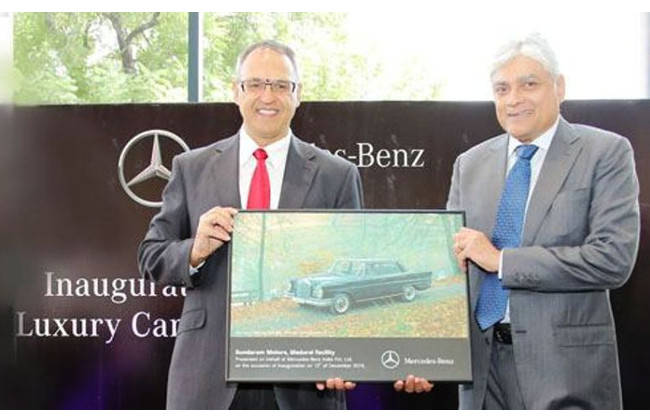 "Sundaram Motors has been associated with the brand for over a decade and are committed to the brand's pledge of creating unparalleled luxury experience for our discerning customers. In our endeavor to reach closer to our customers both in metros as well in tier II and III cities, our dealer partners play a very important role, by investing in facilities like these. We are confident that Sundaram Motors will create more value for our ever increasing customer base in Madurai and adjoining markets." Mr. Kern further added.
The dealership is spread over 10,000 sq. ft and has a 5 car display, a luxurious Customer Lounge, a Cafeteria, a Boutique Display with a qualified and experienced team of 21.
Sharath Vijayaraghavan, Executive Director, Sundaram Motors, said, "Our association with the iconic Three Pointed Star makes us proud and we are only delighted to take this association further with the inauguration of this state of art dealership. It gives us immense pleasure to present this world class dealership to our patrons in Madurai and provide them the unique attributes that brand Mercedes-Benz stands for globally. Over the years we have grown along with Mercedes-Benz and managed to create excellence in all our areas of operation. This new outlet is a reiteration of the pledge of providing an experience of excellence to our growing customer base in the region."
Source : CarDekho