Mercedes-Benz India has opened its first showroom in Kanpur with the launch of Smart Hoops Kanpur. With this, Mercedes-Benz India has now extended its network to 67 outlets in 37 cities across India. The Smart Hoops showroom is located at The Mall, PPN Market in Kanpur and is spread over 4,000 sq.ft. to display 5 cars. The showroom will sell the complete range of cars from Mercedes-Benz and was inaugurated by Boris Fitz, VP Sales and Network Development, Mercedes-Benz India and Neeraj Agarwal, Managing Director, SRM Smart Hoops Pvt. Ltd.
Speaking on the occasion, Boris Fitz, VP Sales and Network Development, Mercedes-Benz India said, "Mercedes-Benz India is committed to the Indian market and inauguration of a new dealership in Kanpur underlines this commitment. We are creating benchmark in modern luxury across markets and our first-ever outlet in Kanpur is a reiteration of our pledge of extending the luxury automotive experience to the growing customer base in emerging markets."
He also added, "Mercedes-Benz's strategic network expansion caters to customers who aspire to own the Three Pointed Star. 2014, our 'Year of Excellence' has been exciting for us, as we continue to fascinate our customers and bring the Mercedes-Benz brand even closer to our discerning customers in newer markets. Our strategy is on track and is paying off well and we are confident of ending the year on a strong note."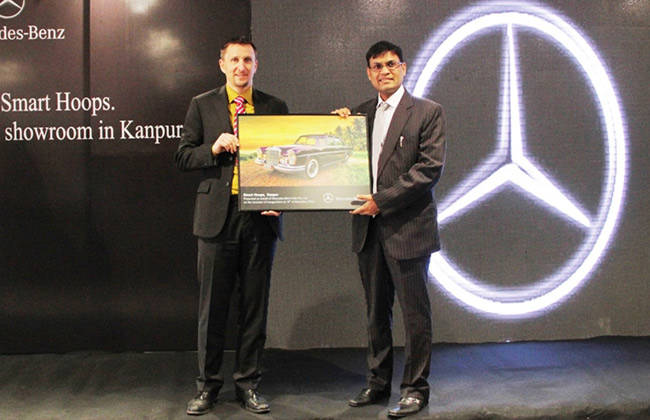 Neeraj Agarwal, Managing Director, Smart Hoops Pvt. Ltd. commented: "With the new outlet in Kanpur we are extremely proud to further expand our association with the prestigious global icon -Mercedes-Benz, which has been redefining luxury motoring across continents. This strategically located showroom will enable us to fulfill the rising demand of luxury cars in the region and be a part of Mercedes-Benz India's growth story. We are excited about the immense opportunities in Kanpur and confident to provide an unparalleled luxury car ownership experience to our customers."
The Smart Hoops Kanpur is the third outlet of Mercedes-Benz in Uttar Pradesh and underscores the brand's dominance in creating the most qualitative network reach of any luxury car maker in India. With 67 outlets in 37 cities in India, Mercedes-Benz has the densest network for any luxury car maker in the country.
Source : CarDekho