With Lewis Hamilton taking the top spot and Nico Rosberg coming second in the 2014 Formula One World Championship, Mercedes-Benz has decided to celebrate the victorious season with a pair of special edition SL63 AMGs developed under the assistance of the star drivers. Hamilton was in charge of the black one taking into account the gold accents, whereas Rosberg's white one comes with silver touches and his signature on the dash. Individual numbering will be given to each car, as well as the name and layout of the specific race track it represents.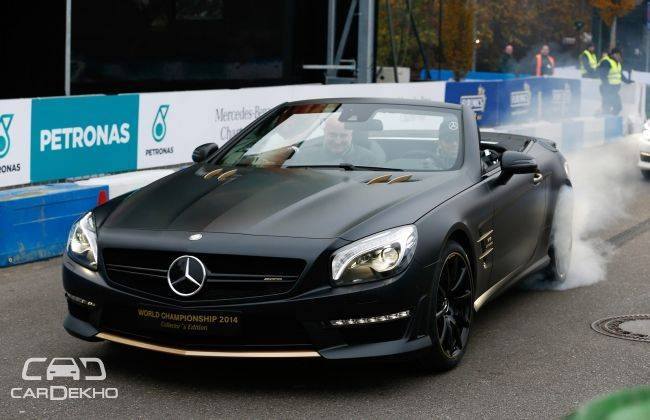 The special SL63 AMGs are christened as the 'World Championship 2014 Collector's Edition,' and just 19 examples of each car will be built, representing the number of races held in this triumphant season. The special edition cars were presented on Saturday at Mercedes' end of season Stars & Cars event in Stuttgart, Germany, which was attended by Hamilton and Rosberg as well as more than 50,000 visitors. The event marked the end of one of the most successful years in company's motorsport history. On top of a record-breaking 16 Grand Prix poles and wins and 11 one-two F1 finishes, they claimed 18 wins from 43 races in DTM and the FIA European Formula Three championship.
Powered by a stock twin-turbocharged 5.5-liter V-8, which for the latest 2015 model was upgraded to deliver 585 bhp and 900 Nm of peak torque. The unit is mated to a seven-speed automatic transmission, transferring power to the rear wheels.
Source : CarDekho