Mercedes have taken the wraps of their DTM (Deutsche Tourenwagen Masters) race series car, a heavily modified C63 Coupe. The car has been revealed alongside the C63 Coupe Edition one.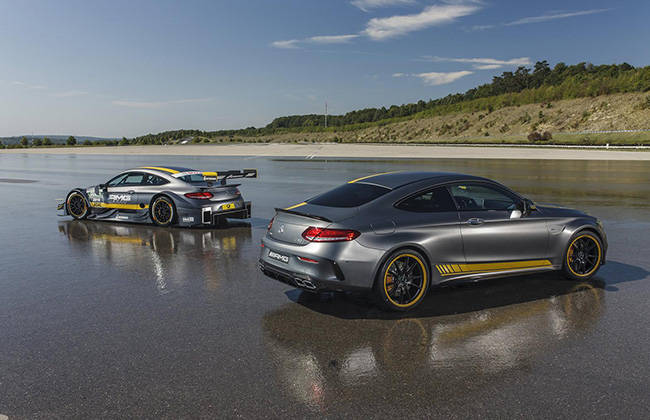 As said, the car was initially a C63 Coupe and customised to be lighter and faster than the original one. It features extended wide body featuring larger front splitter, prominent fenders to accommodate big race-spec tyres that are 300/680R18 upfront and 320/710R18 at the rear. There is a plethora of spoilers and splitters on the car at the sides and the back for aero-optimized performance.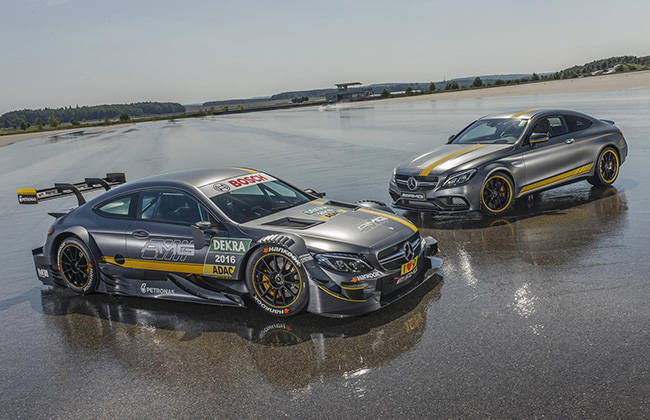 This DTM machine weighs only 1120 kg, thanks to a carbon fibre monocoque along with carbon fibre doors, side panels, hood, wings, driveshaft, brakes and the three-plate clutch operated by foot pedal.
Also Read: Mercedes Benz C63 S AMG Launched at Rs. 1.3 Crore!
A 4.0-litre V8 will be the powerhouse in action and is good for 490 PS of power at 7,500 rpm and a peak torque 500 Nm. All of this will be sent to the rear wheels via a 6-speed transverse mounted gearbox, therefore, no 4MATIC.
Also Read: 2015 Mercedes S 63 AMG Sedan Launched at Rs 2.53 Crore
Just to indicate the seriousness of this car, the standard C63 AMG Coupe is powered by the same engine, but it produces around 464 PS, not less by much, but it weighs around 1730 kg, a whole 610 kg more than the DTM race car. This is the result of heavier 4MATIC unit, heavier transmission, interior's comfort feature that the DTM car is deprived of.