As we reported earlier, Daimler AG, through its Mercedes-AMG performance brand, was seeking for a share in Italian motorcycle manufacturer MV Agusta. Well, it's been confirmed and Mercedes-AMG has officially announced to acquire 25 percent share in MV Agusta. The two companies have signed a cooperation agreement on a long-term partnership, mainly in the area of marketing and sales. According to the deal Mercedes-AMG will be also able to appoint a member of MV Agusta's board of directors. While no details have been disclosed about the price to be paid for the stake.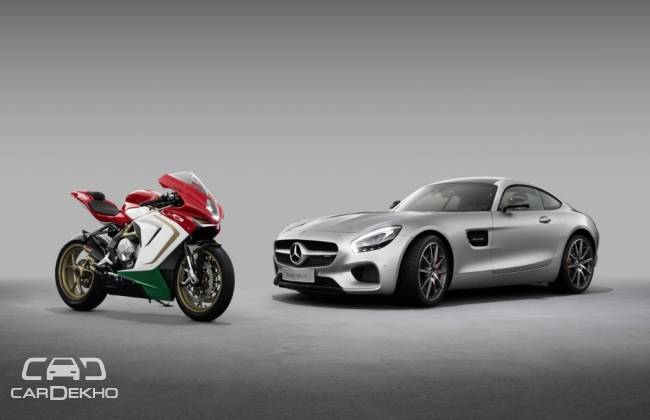 Tobias Moers, Chief Executive of Mercedes-AMG GmbH: "In MV Agusta, we have found the perfect two-wheel partner for Mercedes-AMG. This manufacturer with a long tradition and Mercedes-AMG are connected not only by a long and successful racing history, but also by shared values and goals for the future – allowing the experience of utmost perfection, optimal performance and motorsport technology for the road. The cooperation with MV Agusta also underscores the importance of AMG as the sports-car and high-performance brand of Mercedes-Benz Cars. The partnership provides us with an entry into a world of additional high-performance enthusiasts."
The deal with MV Agusta now provides Mercedes-AMG and its parent company Daimler, to compete against BMW's Motorrad and Audi's Ducati. With this tie-up, Daimler would like to get MV Agusta's high-performance three-cylinder engine know-how, very much similar to what Volkswagen Group did with Ducati.
Giovanni Castiglioni, President and CEO of MV Agusta Motor S.p.A., commented: "MV Agusta and Mercedes-AMG are a perfect brand fit: Two complementary companies that stand for design, high performance and excellence. Mercedes-AMG will help MV Agusta to further expand globally and to accelerate our growth. The uniqueness of MV Agusta will further enhance Mercedes-AMG's leadership in the high-performance segment."
Source : CarDekho