McLaren has unveiled its second model in the Sports Series, the McLaren 540C Coupé, at the 2015 Shanghai Motor Show. The 540C Coupe will be the most attainable McLaren yet and completes the Sports Series along with 570S Coupé. The 540C Coupe delivers 540 PS and 540 Nm and can sprint from 0 to 100 km/h in 3.5 seconds on to a top speed of 320km/h. The 540C Coupe is priced from £126,000 and can be pre-ordered now with deliveries scheduled to being in early 2016.
The 540C Coupé shares its DNA with the Super Series and Ultimate Series models and gets a light weight carbon fibre chassis and race-derived technologies. The unique carbon fibre MonoCell II chassis has been newly designed with a greater focus on day-to-day usability, offering improved ingress to and egress from the cabin, along with class-leading occupant protection and safety. The 540C's lightweight structure, along with the use of aluminium body panels, has resulted in a dry weight of as low as 1,311 kg, almost 150kg lighter than its closest competitor.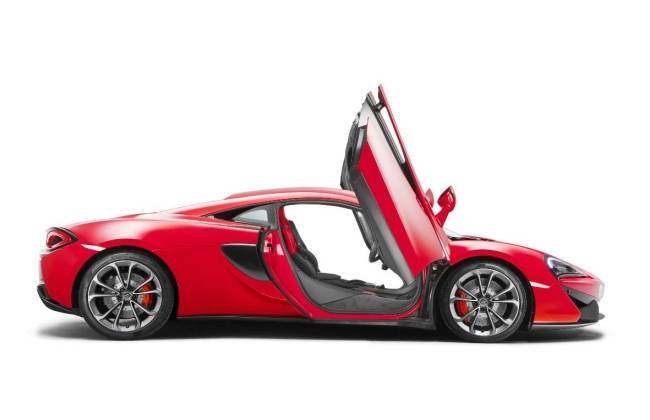 Fitted with a mid-mounted 3.8-litre twin turbocharged V8 engine, the 540C Coupe produces 540 PS at 7,500 rpm and 540 Nm of torque at 3,500-6,500 rpm. With stop-start technology, it offers optimised levels of efficiency and a longer range suited to the typical usage of cars in this segment. Power is delivered through the rear wheels via a seven-speed seamless shift gearbox (SSG).
The 540C Coupé gets large LED headlamps, distinct new cast alloy wheels (19-inch at the front and 20-inch at the rear fitted with Pirelli P Zero tyres as standard), Formula 1 derived Brake Steer system, newly-developed suspension system and more.
Source : McLaren 540C Coup unveiled in Shanghai; second model in McLaren Sports Series