The automobile world is becoming more volatile day by day as new cars are raining and updates become more frequent than ever. However, most of the action is limited to the designing and cosmetics and changes under the boot only happen once in a while. The reason behind this is the high cost of R&D in developing an engine. The same was the case with 2014, the numbers of new engines were limited. Ford's EcoBoost engine, which is a compact sized petrol charged engine have sparked the development of petrol turbo engines, therefore many of the engines introduced in 2014 were of the said type. Let's have a look on engines introduced in 2014.
Tata 1.2L Revotron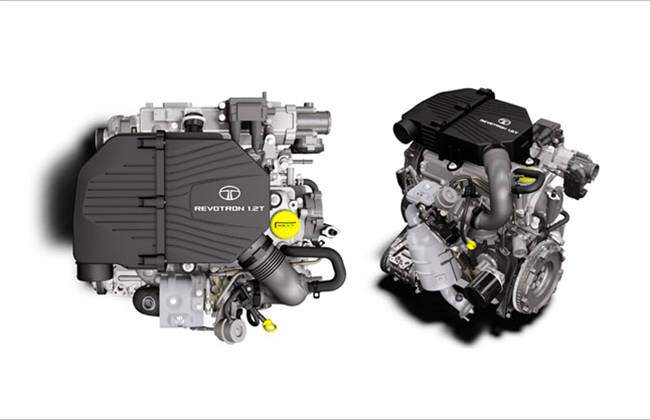 The home grown manufacturer has proved its mettle by launching its 'Lakhtakiya' car Nano. After it, the Zest is the second biggest launch by the manufacturer and it came with a new technical marvel – the Revotron engine. The turbo-charged multi-point fuel injected petrol engine has been developed in house at Tata's Coventry, UK R&D centre. The engine displaces 1,193cc and develops a peak power of 90PS coming in at 5,000rpm and 140Nm maximum torque available from 1,750 to 3,500rpm. The refinement level of the engine is quite high, for instance the turbo kicks in at 1,700rpm though there is barely any perceptible turbo lag and the power delivery feels linear throughout.
The engine is quite advanced and comes with different driving modes namely Eco, City and Sport mode of which City is the default setting. The engine management system has been designed in association with Bosch Technology. The latest generation microprocessors manage the driving modes as well as the fueling and delivery. AVL has also helped Tata to design the intake system, while Pune-based ElringKlinger who worked towards developing the asymmetric pistons with PVD coated piston rings to help reduce frictional losses, thereby improving combustion and as a result, efficiency.
Ford 1.0L ECOnetic Ti-VCT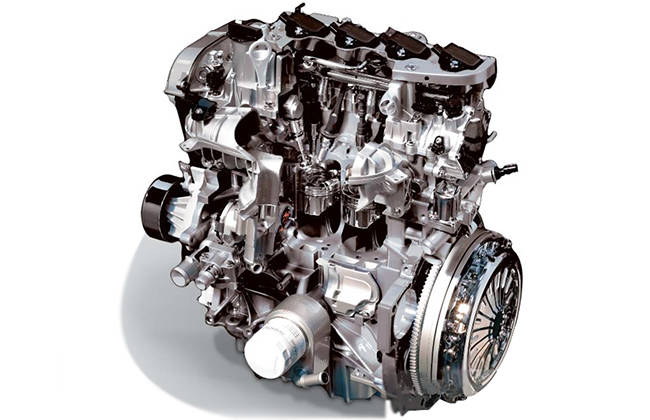 Ford EcoBoost was first of its kind turbocharged petrol engine to run a small passenger car, which initiated the trend of petro-turbo engines. Ford also introduced all-new 3-cylinder 1.0 liter ECOnetic petrol engine. Ford ECOnetic Technology targets better fuel economy, reduced emissions and overall lower cost-of-ownership. The company has already started the production of the 1.0 liter ECOnetic motor that incorporates dual-command TiVCT (Twin Independent Variable Camshaft Timing). The motor will be used in the nex-gen Ford KA/Figo and Figo compact sedan. The petrol motor is flex-fuel enabled (Brazil has flex-fuel options) and is expected to produce 85bhp at 6,500 rpm and 105 Nm at 4,500 rpm when driven with petrol-ethanol. The new ECOnetic engine range has definitely inherited properties from the big brother EcoBoost powerplants.
Hyundai 1.0L, 1.4L T-GDI Engines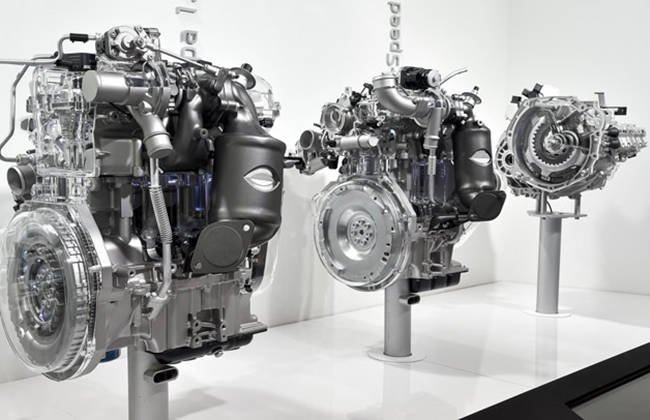 The South-Korean manufacturer also introduced its own compact turbocharged petrol engine named as T-GDI. The manufacturer has developed a 1.0-lire and a 1.4-litre. The new Kappa 1.0-litre T-GDI is the first of a new generation of small turbocharged petrol engines, offering enhanced performance, driving pleasure and efficiency. The 998 cc three-cylinder unit is based on the established Kappa 1.0 litre MPI engine, carrying various enhancements and new technologies, including direct petrol injection and a small, single-scroll turbocharger. The 1.0 litre T-GDI engine, which was developed at Hyundai's European Technical Centre in Rüsselsheim, Germany, is able to produce up to 120 PS and 172 Nm of torque and will enhance the New Generation i20 engine line-up in 2015.
The new engine comes with an electronically-controlled waste-gate to optimise flow and improve low-end torque and throttle response. The unit features a six-hole GDI injector, pressured to a higher-than-average 200 bar, securing a clean combustion and improving fuel economy and emissions to fulfill Euro 6c emission standards, three years ahead of their introduction in 2017.
The Kappa 1.4-litre T-GDI unit is also newly developed 1352 cc four-cylinder turbocharged petrol engine, which is significantly lighter than its predecessor, the Gamma 1.4-litre engine. At only 87 kg, the engine's base weight has been reduced by 14 kg compared to the Gamma 1.4-litre unit. As well as being lighter and smaller, it features greater efficiency and power. The new 1.4-litre T-GDI engine incorporates a sophisticated high-pressure single-scroll turbocharger integrated within the exhaust manifold to improve operational efficiency. The relocated and re-engineered turbo means throttle response time and low-end torque have improved. The new design injects fuel directly inside the cylinder, improving combustion rates for better power and fuel efficiency. Showcased in the i30 CNG concept car displayed on Hyundai's Paris Motor Show booth, the Kappa 1.4-litre T-GDI engine provides 117 PS in CNG mode, delivering 206 Nm of torque.
General Motors 'Chevrolet' EcoTec engine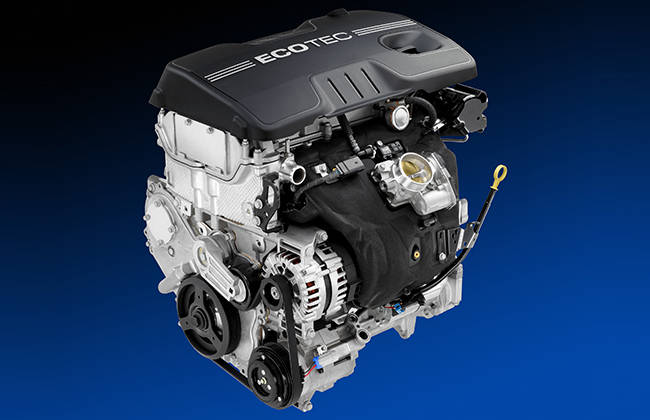 Another American Biggie, GM has introduced its compact turbocharged petrol engine named as 'EcoTec'. It will be a whole series of engines, and a 1.0 litre three pot, direct injected, turbo petrol will be the range starter. GM showcased the engine at the Vauxhall Adam rocks at the motor show. The engine musters power in two state of tunes 90PS and 115PS and produces similar torque figure of 166Nm in the range of 1800 to 4700rpm. The engine sports similar setup like the Ford's EcoBoost engines such as continuous variable valve timing, counter balance shaft dipped in oil sump and exhaust manifold integrated in the cylinder head. Owing to all aluminum construction, the 1.0 litre mill weighs just 37 kgs. The claimed mileage figure stands at 23kmpl. To keep the NVH level minimal, the manufacturer placed 'acoustically optimized' engine covers for intake manifold, camshaft housing and for engine. The company developed a new six speed manual transmission specifically for this powertrain. The powertrain also boosts engine start-stop feature. The engine will be used in GM's compact passenger vehicles throughout the globe.
Audi 1.0L TFSI Petrol Engine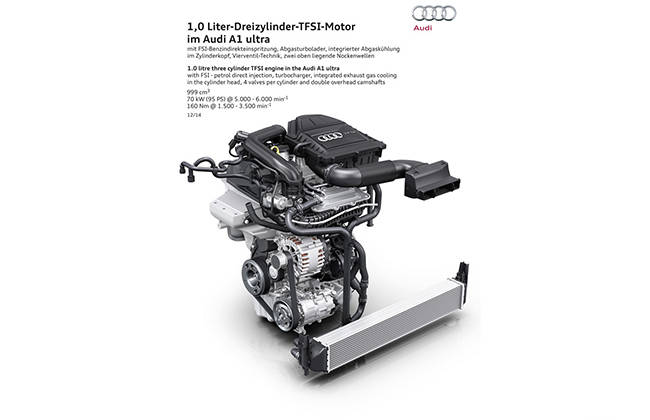 The German premium car manufacturer Audi also introduced its first 1.0-litre, 3 cylinder engine. The new turbocharged and directly injected petrol engine will be available in the UK. The 1.0 TFSI will be capable of returning at least 21kmpl with CO2 emissions of 99g/km. The tiny engine is quite powerful and puts 95PS – a 6PS increase over the 1.2 TFSI that it replaces – will also deliver suitably peppy performance.
Volkswagen 2.0L Diesel Engine with Electric Turbocharger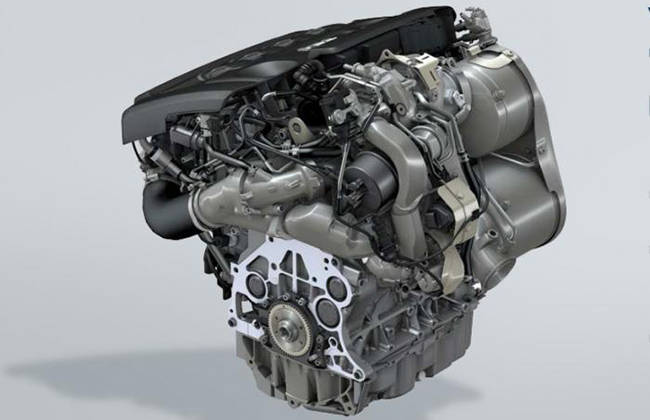 Volkswagen has introduced a high-powered four-cylinder 2.0-liter turbodiesel engine at its headquarters in Wolfsburg, Germany. The engine is based on the same 2.0-liter TDI bi-turbo 240bhp engine of the Passat, but it now gets a two-stage electrically operated turbocharger, which results in more power. The engine now develops 272bhp, however, VW hasn't revealed the torque figures yet but it might be a bit higher than the 500 Nm available in the Passat. Apart from the electric turbocharger, a new variable valve timing system and a Piezo common rail injection system has also been installed. There are possibilities that the engine will come with VW's upcoming 10-speed DSG transmission which will be able to cope with up to 550 Nm (405 lb-ft) of torque. Codenamed DQ551, the box is actually an evolution of the six-speed unit and will feature a coasting function to save fuel along with a new brake energy recuperation system which promises to be more efficient than before.
Mercedes-AMG 2.0L Turbo- M133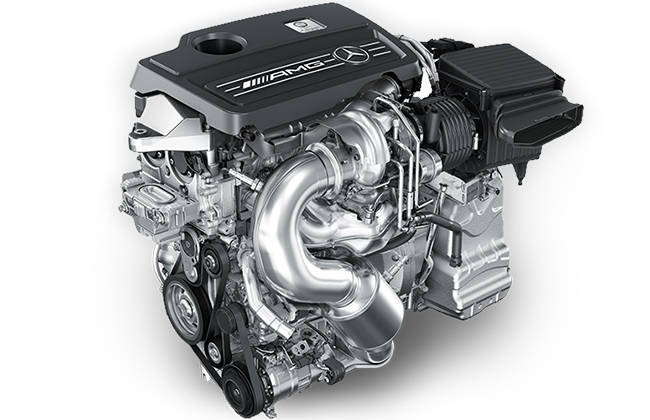 Mercedes-AMG, the Ace performance car manufacturer has developed the most powerful series production four-cylinder engine in the world. With a maximum output of 360bhp and peak torque of 450Nm, the AMG 2.0-liter four-cylinder turbo engine is miles ahead than its competition. The sensational power density of 133 kW (181 hp) also provided its name the M133. The engine also boasts supreme efficiency and complies with the EU6 emissions standard. The A 45 AMG also leads its segment in terms of fuel consumption, running on 6.9 liters per 100 kilometers in NEDC combined mode. The performance-oriented AMG 4MATIC all-wheel drive onboard of A 45 AMG sets new standards in the car's segment. The substance of the new Mercedes-Benz vehicle architecture for front and all-wheel drive provides the perfect basis for A 45 AMG.
Jaguar Ingenium Engines
Jaguar Land Rover has developed its own new family of advanced technology, low-friction, high-performance petrol and diesel engines to meet growing customer demand for lower fuel consumption and cost of ownership. The engines have been developed at JLR's Whitley and Gaydon development facilities.
The engine uses extremely strong and compact aluminium blocks for both diesel and petrol versions. These lightweight blocks share the same bore, stroke, cylinder spacing and 500cc cylinder capacity. This helps to give Ingenium the configurability and flexibility around which smaller or larger engines can quickly and efficiently be developed to meet future regulatory and competitive requirements. Jaguar Land Rover has invested £40 million to expand and enhance its Powertrain Engineering facility at its Whitley Technical Centre. All diesel and petrol Ingenium variants will be equipped with state-of-the-art turbochargers that improve performance, particularly at low speeds, and that help reduce consumption and C02 emissions. Ingenium's modular design enables both petrol and diesel engines to share many common internal components and calibration strategies. This reduces complexity, raises quality and simplifies manufacturing, and allows Jaguar Land Rover to react more quickly to changes in global demand.
Source : CarDekho