Lexus LF-C2 Concept made its global debut at the 2014 LA Auto Show and points to the future of the company's styling themes. The LF-C2 concept is a design study in the form of a 2+2 roadster and being a concept doesn't have any kind of top covering the cabin. The exterior of LF-C2 is influenced by the surface shapes as a result of different types of light. The golden yellow exterior paint is produced by a multi-layer paint process with primer as the first coat, followed by a clear coat of silver and then the yellow that reflects off the silver with a final top coat to finish off.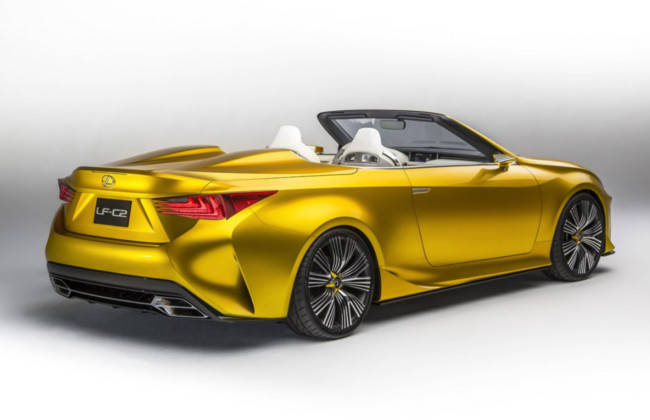 "The LF-C2 concept shows what's in store for our brand's future design direction," said Jeff Bracken, Lexus group vice president and general manager. "This concept shows consumers around the world Lexus' devotion to emotional designs as well as our passion for an exceptional driving experience."
"We've been instinctively drawn to and inspired by those things that capture the beauty of light," said Yasuo Kajino, chief designer LF-C2, Lexus Design Division. "When you put something in the right light, people see it in a way they never have before."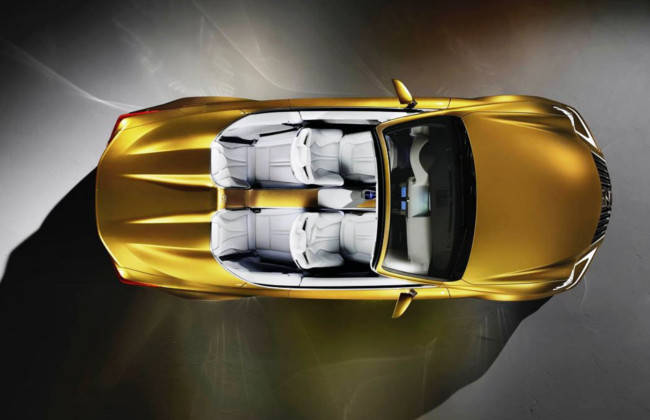 The LF-C2 gets typical Lexus design characteristics in the form of the signature spindle-shaped grille sitting between triangle shaped LED headlamps. A character line flows along the car's arrow shaped body ending at the abbreviated rear deck. There are vents in the front bumper to send cool air to the brakes as well as to help manage airflow through the body to help keep the front end stable at high speed.
To the side, the LF-C2 gets a swooping line from the car's front bumper fin to the steeply-angled A-pillar. Small vents are also present to direct air to the rear brakes and out the fin-like rear diffusers. The rear end is highlighted by Lexus L-shaped taillights, chrome-covered quad exhaust tips and a new rear diffuser design with five-spoke 20-inch alloy wheels finishing off the stance.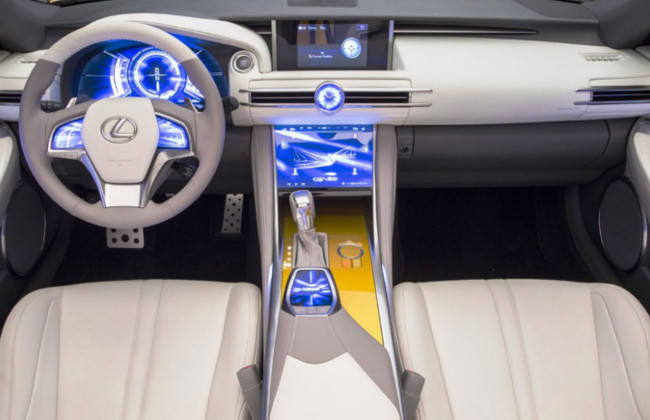 Inside, the LF-C2 gets white-and-gray soft touch leather surfaces with LED lights running along the length of the interior below the windows. The center console flows from the rear deck and runs down the length of the cabin all the way to the dashboard. The dashboard is fitted with an instrument cluster, a central video monitor controlled by a Remote Touchpad on the center console and a classically-styled analog clock placed between the central air vents. The thick leather-wrapped steering and form-fitting seats add style and comfort to the interiors.
Source : CarDekho