Bajaj is all set to launch the RE60 today, the country's first quadricycle. The vehicle is equipped with a 216 cc triple spark water cool single-cylinder DTS-i petrol engine mating with a 4-speed manual gearbox. The vehicle will be delivering 17-20 bhp of power and will give mileage of 35 kmpl.The car is poised to have low CO2 emission rate of 60 g/km and will be available in LPG and CNG variants. Given the vehicle will be used as a taxi, specified average is something on which the buyer can compromise on.
Also Read: Spied Bajaj RE60 ready to launch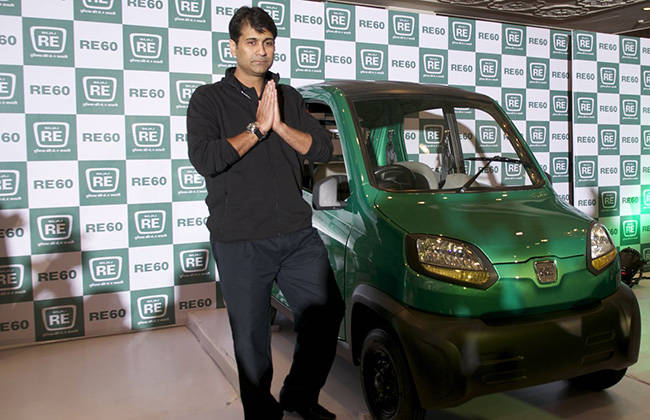 The launch of the vehicle will be hard earned as the company had to contest various PILs claiming the vehicle is not safe. The company somehow managed to get the vehicle listed under the urban commercial vehicle category after marathon efforts. The launch will be a bad news for three wheeler manufacturers and drivers as RE60 clearly looks to have an edge over them. RE60 is surely prepared to provide more safety to the commuters who till now had to trust upon the unstable three wheelers. The vehicle is expected to launch at a price of INR 2 lakhs (ex-showroom). The quadricycly will be coming to India after passing the European Whole Vehicle Type approval. The company is also expected to reveal details of the private version of the model on the launch today. Though it is going to be a hard earned occasion for manufacturer of this vehicle but they are a little wary about the launch of Tata Magic which will be done in some time and is expected to face stiff competition from it.
Related Story: Tata Magic Iris ready to lock horns with Bajaj RE60 The Specs:
Engine: 216cc triple spark water cooled DTS-i, available in CNG and LPG variant
Horsepower: 20 BHP
Gearbox: 4-speed Manual Transmission Price: 2 lacs (Expected price)