Lamborghini has launched its RWD only, Huracan LP580-2 in India post its 2015 Los Angeles Auto Show world debut. The Lamborghini Huracan LP580-2 has been launched with a price tag of Rs 2.99 crores (ex-showroom Delhi). The car made its debut couple of days ago, as the Italian automaker attempt at addressing the concerns regarding the compromise on driving exhilaration caused by the AWD system in the standard Huracan.
Pavan Shetty, Head, Lamborghini India, said."We are delighted to be unveiling the Huracán LP 580-2 in India within just three days of its global launch, we strongly believe that India has customers who enjoy intense driving with maximum fun, which the new offering will deliver seamlessly. This is the purist expression of Huracan till date with class leading technological refinements designed to deliver sheer performance."
Aesthetically, the LP 580-2 features a redesigned font and rear that highlights the company's traditional aeronautic styling. At the front, the car flaunts new air intakes, designed to direct air and headwind to improve the down pressure on the front axle. The Huracan does not come with a movable rear spoiler, as the rear spoiler lip improves airflow around the rear of the car working in coordination with the rising diffuser in the underbody. Interiors of the LP 580-2 also get bells and whistles like the latest Lamborghini Infotainment System II, which features a 12.3" high resolution TFT instrument panel.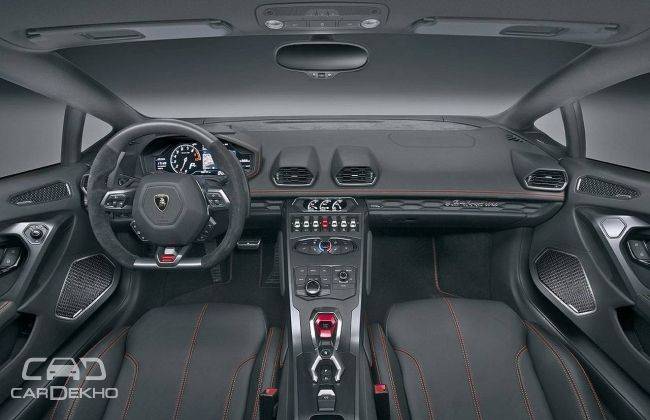 In terms of powerplant the car features a 5.2-litre naturally aspirated V10 petrol engine that delivers 580 PS and 540 Nm of torque, which is 30 PS less than the Huracan LP 610-4 that offers 610 PS and 560 Nm of torque. This decrease in power also reflects in the car's acceleration, which is 0.2 seconds slower than the LP 610-4 and stands at 0 to 100 kmph in 3.2 seconds. The RWD Huracan also offers a top speed of 320 kmph, however the new car is also comparatively eco-friendlier than the standard unit and features a system that can shut down upto 5 cylinders to deliver a fuel economy of 8.4 kmpl.
Also Read: Rear-wheel-drive Lamborghini Huracan to debut at LA Auto Show Lamborghini Huracan Vorsteiner Novara Revealed! Carbon Fiber laden Lamborghini Huracan: Mansory's Dark Knight
Source : CarDekho