Lamborghini has been subjected to global criticism which was raised because of its Audi-derived all wheel drive system. Enthusiasts of the raging bull brand claimed that the cars have compromised on one of their most attractive USP which was the exhilaration that drivers experience while attempting to control these powerful beasts. In addition to this, the recently launched Huracan was also accused of being too subtle in terms of its design which breaks from the company's tradition of pinup poster looks. Now it seems that the Italian automaker is not wasting any time in addressing these concerns and its first attempt at doing so, is the introduction of the Lamborghini Huracan LP 580-2 RWD supercar. The car discards the AWD system in favor of a tail happy RWD configuration.
This overhaul was no piece of cake, as one can imagine. The variant received a revised suspension, which includes a reconfigured springs setup and anti-roll bars. The new car also comes with LPI (Lamborghini Piattforma Inerziale), which is an an inertial measurement unit that measures the vehicle's yaw, pitch and roll. The system also sends the gathered information to the optional Magneto Rheological Suspension, stability control modules, and the steering system in real-time.
In terms of powerplant the car features a 5.2-litre naturally aspirated V10 petrol engine that delivers 580 PS and 540 Nm of torque, which is 30 PS less than the Huracan LP 610-4 that offers 610 PS and 560 Nm of torque. This decrease in power also reflects in the car's acceleration, which is 0.2 seconds slower than the LP 610-4 and stands at 0 to 100 kmph in 3.2 seconds. The RWD Huracan also offers a top speed of 320 kmph, however the new car is also comparatively eco-friendlier than the standard unit and features a system that can shut down upto 5 cylinders to deliver a fuel economy of 8.4 kmpl.
Aesthetic updates for the Huracan LP 580-2 include a spoiler lip, 19-inch Kari alloy wheels wrapped in specially formulated Pirelli P Zero tyres and larger front air intakes. The car does not feature a rear moving wing, as Lamborghini claims that the LP 580-2 Huracan doesn't require one. Huracan LP 580-2 is available across Europe with a price tag of 150,000 euros i.e.around Rs. 1.05 crore (Excluding taxes).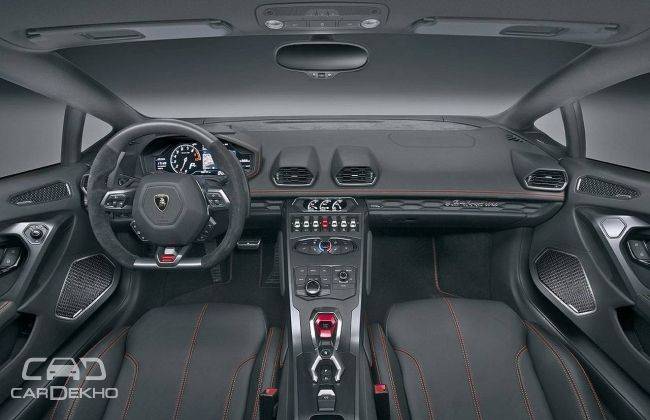 Also Read: Rear-wheel-drive Lamborghini Huracan to debut at LA Auto Show Lamborghini Huracan Vorsteiner Novara Revealed! Carbon Fiber laden Lamborghini Huracan: Mansory's Dark Knight
Source : CarDekho