JK Tyre & Industries Limited has strengthened its national presence by launching a new Steel Wheels showroom in Noida, Uttar Pradesh. Spread over an area of 1500 square feet, this showroom showcases JK Tyre's new retail identity for its exclusive stores and is located at AB-65, Sector 16, Central Auto Market. To make buying new tyres, alloys and accessories a convenient experience for consumers, the showroom has a display and information kiosk that help consumers choose the most suitable product for their vehicle.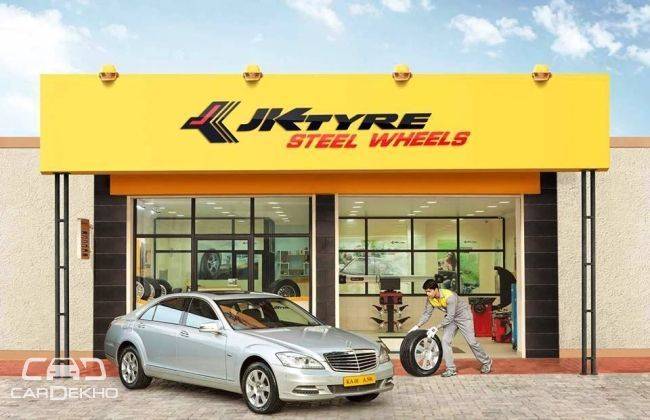 Inaugurating the showroom, Mr. Vikram Malhotra, Marketing Director, JK Tyre & Industries Ltd. said, "JK Tyre, a pioneer and market leader in the tyre industry, has striven to provide complete tyre solutions. Driven by our dedication and commitment to offer products and services of quality and service, our latest showroom in Noida we will offer our customers a one-stop shop and make their tyre buying experience, a convenient and pleasant one."
Also present at the inauguration, Mr. Arun Khanna, Proprietor, Khanna Trading said, "Our partnership with JK Tyre & Industries Ltd., a brand of high repute in the country, will enable us to reach great heights. We are certain our endeavour to partner with the company will enable the two entities to do exceedingly well."
JK Tyre Steel Wheels is the company's exclusive retail chain started in 1996 and acts as a one-stop shop with tyre solutions and will offer a complete umbrella of tyre-specific services. All JK Steel Wheels showrooms are equipped with modern features such as wheel servicing equipment, computerized wheel alignment & wheel balancing, automated tyre changing, nitrogen inflation and air care in addition to offering the complete suite of JK Tyre products.
JK Tyre has also undertaken a major expansion at an outlay of Rs.1430 Crores, to add capacities in the TBR and PCR categories at Chennai Tyre Plant slated for completion in phases by early 2016. The company had recently reported 12% higher turnover of Rs.2081 Crores in the Q4 (ending January - March 2014). Operating Profit was at Rs. 199 Crores and Net Profit for the Quarter was Rs.45 Crores.
Dr Raghupati Singhania, Chairman & Managing Director of JK Tyre & Industries Ltd. said, "the Company has performed well, in the face of the challenges during the year 2013-14. Commercial vehicle production declined and even Passenger Cars recorded a negative growth, first time ever in the decade. This led to subdued demand for tyres. To combat the sluggish market conditions, JK Tyre undertook several strategic actions by renewing its thrust in the replacement market as also adding new OEMs. The Company widened its network of customer touch points which enabled it to deliver better service to its customers. Aggressive efforts resulted in export recording a 23% increase during the year".
Dr Singhania added, "JK Tyre continues its focus on innovation and introduced several new higher value added products both in the commercial as well as passenger tyre categories, which received enthusiastic customer response. JK Tornel, Mexico continues to perform well, which has added to the bottom line of JK Tyre."
Source : CarDekho