After much controversy and speculation, it is now finally official that the trio- Jeremy Clarkson, Richard Hammond and James May have signed a deal with Amazon Prime streaming service to present their latest motoring show. The show as of now remains unnamed and will be telecasted from next year. The presenting trio has signed a deal for three seasons of the show and are expected to start shooting this August.
No further details of the deal have been released by Amazon but an insider said "We have made a significant investment." The show is being produced by Andy Wilman, former Top Gear producer and Jeremy Clarkson's old friend.
This deal finally cleared the air on what venture will the three friends embark on now after Clarkson's sudden release from BBC after 27 years which was followed by Richard Hammond and James May.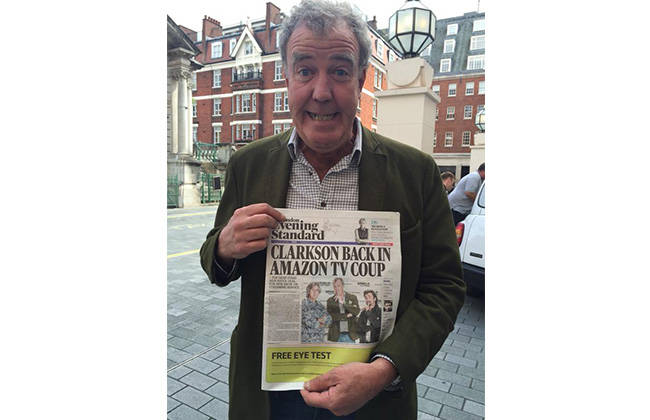 Jeremy Clarkson, who was earlier sad and in regret to leave BBC, now seems to be in a rather good mood and tweeted "I feel like I've climbed out of a biplane and into a spaceship."
Richard Hammond, who also seems to be thrilled with this new adventure added: "Amazon? Oh yes. I have already been there. I got bitten by a bullet ant."
James May or 'Captain Slow' said: "We have become part of the new age of smart TV. Ironic, isn't it?"
Apart from the financial aspect, the presenters are more thrilled to be on the show as Amazon has pledged to give them freedom to use their own unique creativity and make the show as they want.
Jay Marine, vice president of Amazon Prime Video EU, said: "Customers told us they wanted to see the team back on screen, and we are excited to make that happen. He added "Millions of Prime members are already enjoying our ground-breaking original shows. We can't wait to see what Jeremy, Richard, James and the team will create in what is sure to be one of the most globally anticipated shows of 2016." Mr Marine also said : "This is a golden age of television, a great time for TV makers and storytellers. Our approach is to give programme makers creative freedom to be innovative and make the shows they want to make. This is just the start, you should expect to see more world-leading talent and the biggest shows on Prime Video."
Amazon Prime can also be accessed on a mobile app called Amazon Video.
Source : Jeremy Clarkson, Richard Hammond and James To Be On Amazons New Car Show