With one manufacturer after the other releasing teasers after the other as a preview to the Geneva Motor show, there is a indirect competition brewing as to whose teaser goes viral and enthralls the audiences. Nissan, McLaren have already showcased their show-stopper teasers for the Geneva Motor Show and Infiniti is not far behind either. Infiniti has also released a teaser of its QX30 concept ahead of the Geneva Motor show next month. The preview of this concept was first displayed at the Frankfurt Motor Show in 2013 in the form of the Q30 concept.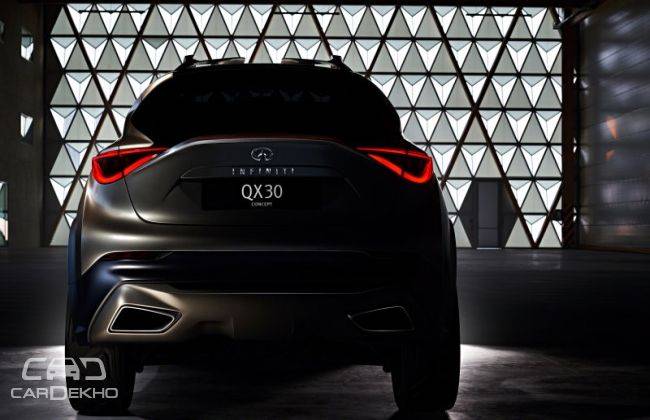 Infiniti has not revealed any technical specifications or other details about this concept, except for a rear profile picture which reveals a shapely backside and trapezoidal exhausts that are integrated into the bumper. The bumper is slightly raised and it looks like this concept will be a hatchback given the space between the LED lights and the slim ribbons.
The QX30 has quite a few similarities with the Q30 concept. The taillights are similarly shaped and so is the tailgate, there is also the inclusion of dual exhausts, though they are shaped different form the Q30. Infiniti is aiming to target the QX30 as an urban week and weekend getaway car which feels at home on the busy city streets as well as on the open highway. The QX30's design has elements from different design forms, and as Infiniti says, it has borrowed inspiration from a coupe and a crossover, ensuring the concept fulfills the requirements of the urban commuter. We wait in anticipation to see how many heads does this concept turn.
Source : CarDekho