"Renault Mega Service Carnival" starts today in Jaipur, the event was inaugurated by Mr. Sumit Sawhney, Country CEO and Managing Director, Renault India Operations. On this occasion, we got an opportunity to have a discussion with Mr. Sawhney about Renault India's future plans. Excerpts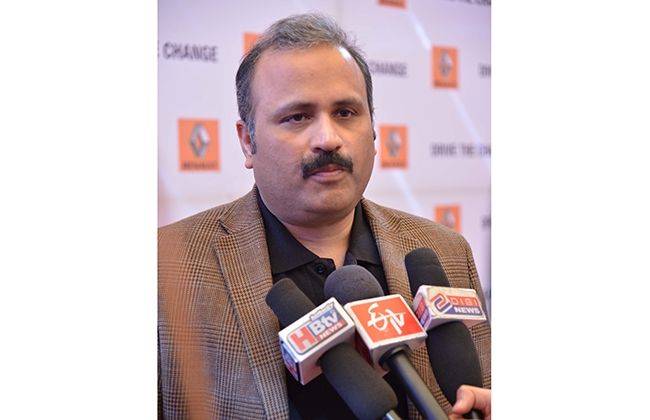 Q.1 After a long sluggish period, The Indian automobile industry is now showing some positive growth. All the major manufacturers post positive growth in 2014, how was it for you?
Renault India is the youngest brand in the country, so we are still working on our strategy. However, last year was fairly decent, in 2013, we were the no. 1 European brand and in 2014 we hold that position. Our position among automobile manufacturers is No. 9 and we are holding it for last 2 years. Now, we are planning to launch two new products including Lodgy MPV and upcoming small car, which will be a sub-4 lacs car. So, we are looking forward for better sales this year. Q.2 How is the response for Renault Duster AWD?
The response for the AWD has been awesome. The 4X4 system, which we are using on the Duster AWD is pretty advanced, it comes with an Eco mode, so the fuel economy hasn't suffered at all, even ground clearance has also been improved than before. Q.3 Excise duty cut was on the major contributing factor of the positive growth industry achieved in 2014. Now, as it has been discontinued, do you think it will hamper the growth.
We have to wait and watch as the sales numbers for January haven't arrived yet. The industry was still coming out of challenges and I personally believe that it should not be discontinued and it was surely a premature decision. In this scenario, no manufacturer can absorb a margin of 4 per cent and we had to pass it to the customers. A hike in price always dents the sales. Q.4 With Renault Lodgy, you will be entering into the rapidly growing MPV segment. What kind of numbers are you expecting from the MPV?
I can't share the exact number at this moment, however it will be a big launch for us and definitely a big volume pullar. The market has got enough potential for MPVs and looking to the geographical coverage and road conditions in the country, we are quite excited for the launch of the MPV. Q.5 The 1.2-litre TCE engine, which is on sale with Lodgy in Eurpoe, will it be available in India as well?
The MPV segment is largely driven by diesel engines and as MPVs do interstate commute, the diesel will always be the first choice. However, we monitor the market quite closely and depending on market requirement we decide our power-train strategy. So, if there will be any demand for turbocharged petrol engine we can consider the option, but for now, we won't be considering it. Q.6 By when Renault Duster will be getting a facelift?
We are not planning a facelift for Duster right now, as it is a fairly fresh product and we recently made some important changes in the car. Renault updates its product in its 3rd or 4th year and by that scale, there is still time for a Duster facelift. Q.7 Datsun RediGo also shares the same platform as your new small car codenamed XBA. Will there be any similarities in these two products?
We have already announced that Nissan and Renault won't be launching cross badged products anymore and the new small car will be a completely different car and won't have any similarities with the RediGo. Q.8 By when we can expect the Lodgy and your new small car?
The Lodgy will be launched in the first quarter, most probably by end of this quarter. While, the new small car will be launched in the second half of the year. Q.9 Currently you are selling two SUVs in India, Duster in C segment and Koleos in the D segment, So there is still a scope for a C+ segment SUV, which can compete with the likes of XUV500 and Safari Storme?
We are expanding our portfolio and willing to enter in new segments. However, it will be a step to step process and right now we want to focus on the two new segments we are entering in. Q.10 Global NCAP tests created quite a stir and now Indian Govt is making frontal crash test mandatory. What is Renault's stand on it?
Renault strongly believes in customer safety and Renault complies to all the safety norms, which are regulated by the Government and in future also we will be complying with all the new norms. Renault welcomes the move as it works in favour of the customer safety.
Source : CarDekho