Indians have established a strong penchant towards 5-seater compact crossover SUVs and undoubtedly, it all started with the Renault Duster. Duster along with the EcoSport enjoyed quite a lot of time alone, but this space will soon be flooded with plenty of options one of which is the Hyundai Creta which looks promising!
Hyundai has become very smart with new product launching, indeed they were smarter when they introduced Santro with some of the never heard features in that segment. What usually they do is, they offer features which are new to the buyers of a particular segment. What they do now is, they still offer things like these, but in a sharp head-turning design, so it comes out as a complete package!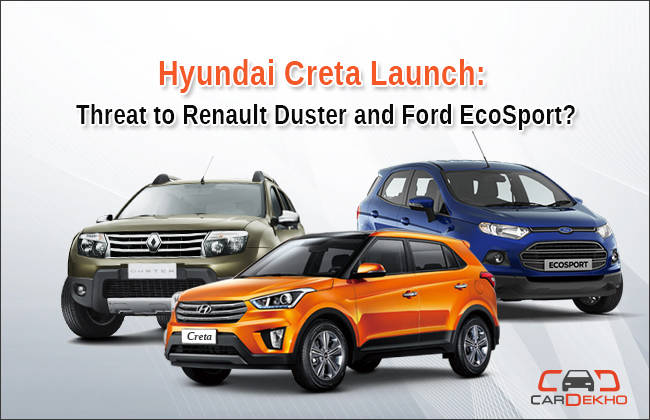 Out of the three cars we are talking about, EcoSport is sub-4m offering and courtesy to it, the starting price is the lowest of the trio (assuming that Hyundai Creta's price would be higher in the vicinity of Duster, as it is over 4m). And due to this, the top-end variants of EcoSport are heavily loaded. Renault Duster is also over 4 meters in length.
Renault Duster looks more like a mainstream SUV and has its own charm. However, after the launch of EcoSport, people liked this flamboyant Ford crossover and it surpassed the sales of the Duster. If looks are considered, Hyundai will take the lead as Creta borrows its styling cues from the Santa-Fe, which indeed is the best looking SUV in its segment.
As Creta is expected to borrow engines from the Verna it will be the most powerful crossover among the three. Also, it's most likely to offer an automatic transmission option for diesel and petrol, just like the Verna. So there'll be more options mechanically compared to the rest two. This said, only EcoSport offers the most fuel efficient and powerful petrol engine - 1.0-liter turbocharged EcoBoost; it is also the only car to have a dual-clutch automatic option. 5-Individual USPs of Hyundai Creta - Ford EcoSport - Renault Duster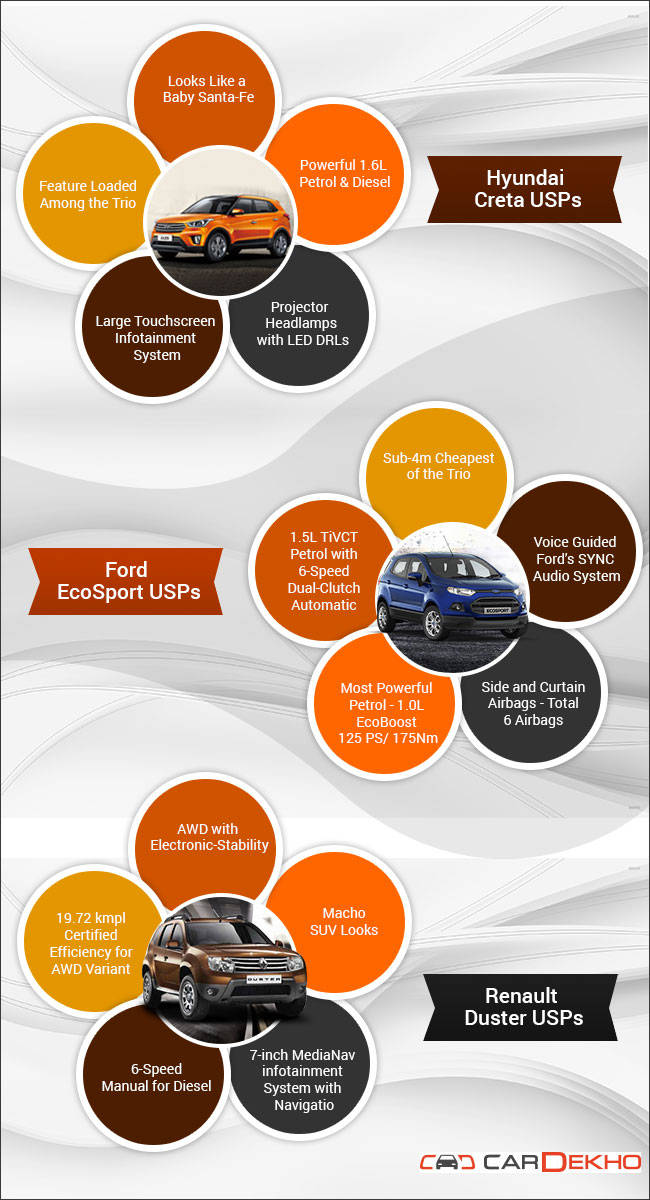 In terms of features, Creta will borrow most of the features that Hyundai offers in Verna & Elite i20, and both of these cars are pretty well loaded. Ford EcoSport also comes with plethora of features that come at a lower price compared to the rest two.
Renault Duster, on the other hand, offers less features, however, it offers what is required with these type of vehicles - AWD! Duster offers shift-on-fly AWD with 210 mm of ground clearance along with added goodies like ESC (Electronic Stability Control), ASR (Anti-Slip Regulation) along with Hill Ascend. Creta is expected to come in AWD setup but most likely at later stages.
In a nutshell, looking at the anticipation Creta is creating in the market and the expected features it will boast, Creta is most likely to eat sales numbers of EcoSport and Duster. Lets see how things unfold in coming months.
Also read: Hyundai Creta - 5 Things You Must Know About Hyundai Creta Ford EcoSport Renault Duster Engine 1.6L/1.4L Diesel & 1.6L Petrol 1.5L Diesel & 1.0L Turbo and 1.5L Petrol 1.5L Diesel & 1.6L Petrol Drivetrain FWD/ AWD (Expected) FWD FWD/ AWD Transmission 6-Speed MT (diesel)/ 5-Speed MT (Petrol) 5-Speed MT (Petrol &Diesel)/ 6-Speed DCT Petrol 5/6 - Speed MT diesel / 5-Speed MT Petrol LxWxH (mm) 4,270 x 1,780 x 1,627 3,999 x 1765 x 1708 4,315 x 1,822 x 1,695 Wheelbase 2590 2520 2673 Ground Clearance (mm) 183 (Similar to ix25, Expected) 200 205 (FWD)/ 210 (AWD)
Source : Duster - Hyundai Creta Launch: Threat to Renault Duster and Ford EcoSport?