Hyundai Creta has bagged the Indian Car Of The Year 2016 (ICOTY) award, making it the third consecutive ICOTY win for Hyundai after Grand i10 and Elite i20 winning the 2014 and 2015 ICOTY awards respectively. Hyundai Creta has found an overwhelming response from the customers and the award is the gem in the crown, especially after beating out Maruti Suzuki Baleno and Renault Kwid in the top three.
Dr. Raghupati Singhania, Chairman & Managing Director, JK Tyre & Industries Limited, Bob Rupani, Chairman ICOTY 2016 and Aspi Bhathena, Chairman, IMOTY 2016, presented the Indian Car of the Year trophy to the team of Hyundai Motor India Ltd.
Congratulating the winners, Dr. Raghupati Singhania, Chairman & Managing Director, JK Tyre & Industries Limited said, "The automobile and auto-ancillary sector in India is growing at a fast pace. The consumer is ever-discerning and automakers seek to outperform each other. In such a competitive environment, JK Tyre and ICOTY & IMOTY Awards endeavour to recognise those who break the clutter with their innovation and deep understanding of the Indian consumer. Congratulations to Hyundai Creta and Yamaha R3 for sailing through the rigorous judging process and emerging victorious."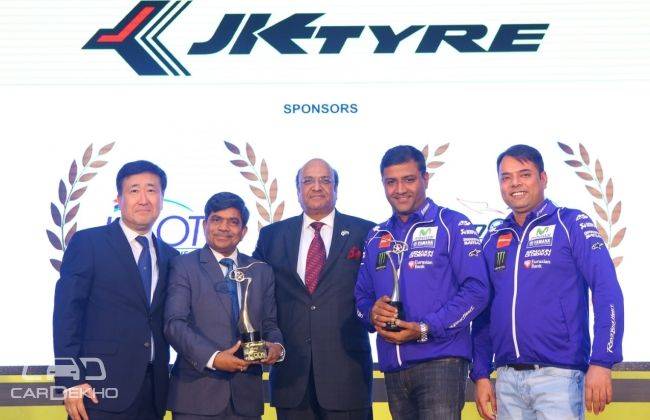 Commenting on the occasion, Mr. Y K Koo, MD & CEO, HMIL said, "We are honoured to win the most prestigious automotive award - The Indian car of the Year 2016 for our make in India, made for the world product- the Perfect SUV- Hyundai CRETA. The CRETA is a true expression of 'New Age' Hyundai setting new benchmarks in the industry. Winning the third successive ICOTY award symbolizes the trust and faith of customers in the Hyundai brand. We thank all our customers, partners, media and jurors who have chosen CRETA as the Indian Car of the Year and made Hyundai the most loved and trusted car manufacturer. With innovation at its core, Hyundai will make global quality products with cutting edge technologies and fortify the Hyundai brand, caring for our customers in India and global markets."
Recommended Made in India Hyundai Creta Scores 4/5 in Latin NCAP [Video] Can't Decide On A Variant While Buying Creta? Try This! Hyundai Creta Review | 1.6 VTVT and 1.6 CRDi Driven!
Source : CarDekho