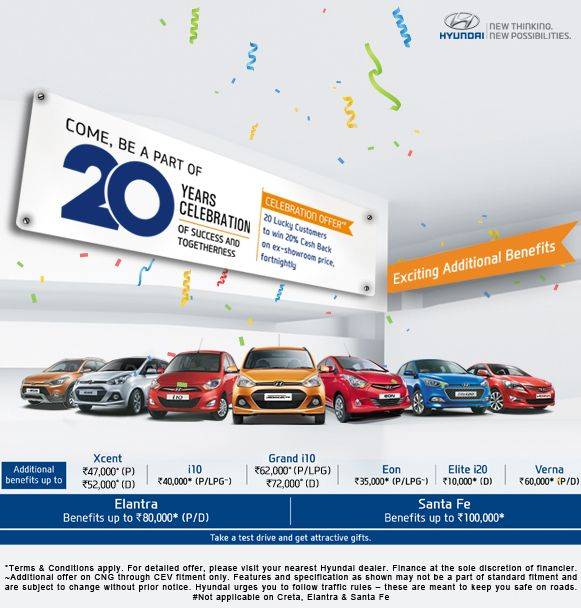 Hyundai, the second largest carmaker within India has added another feather to its cap. Having won the India Car Of The Year (ICOTY) award thrice in a row, it has now completed twenty years in India. At the commencement of the 20th Foundation Day celebrations, Hyundai Motor India Limited's managing director Mr. Young Key Koo announced that Hyundai aims at acquiring the "market leadership position in the Indian automobile market becoming the most beloved and trusted auto brand in India." He further added that Hyundai is on a path of improvement and will now present itself as a modern premium brand with products and services beyond customer expectations.
Hyundai has also lined up some discounts and gifts in which twenty customers will get twenty per cent cashback and benefits up to INR one lakh on the entire Hyundai India range.
The foundation for the first factory of Hyundai was laid on 6th May, 1996,and began operations in September 1998. The largely successful Santro hatchback was the first Hyundai in India. Hyundai has said that the Santro was India's first car with the MPFI (Multi Point Fuel Injection) technology when all its rivals were using carburetor based engines.
Mr. YK Koo also promised the launch of launching two new products every year, to expand Hyundai's footprint across the country. More GDSI & digital showrooms, automated workshops, introduction of 'Experience Hyundai' programmes for brand & product, sponsorships, etc. are in the offing. Hyundai Motor India Limited (HMIL) manufacturing facility is being upgraded. Currently, the investments stand at 3.1 billion USD with vendor investment at 1.5 billion USD.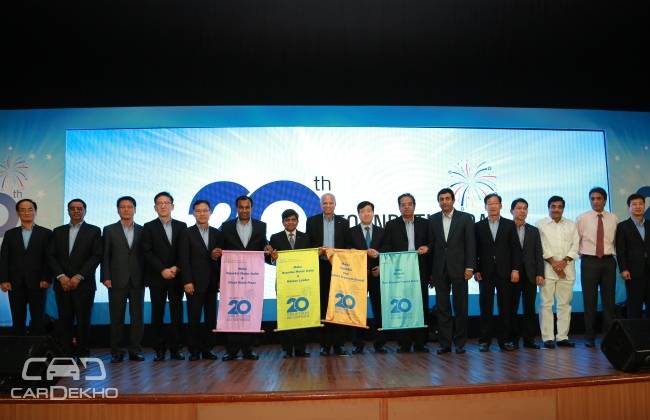 Speaking on the occasion, Mr. YK Koo, MD and CEO, HMIL said "This is a very important milestone for us. 20 years ago we only had a dream of transforming the Indian auto industry by introducing contemporary products and today that dream has come true. We were also the first proponents of "Make in India" and showcasing India's manufacturing prowess to the world. That vision is validated with HMIL and India remaining at the heart of HMC's global operations and a key hub for exports. We have received tremendous support from the Indian customer and I am confident that this support and co-operation continues, going forward".
Hyundai is trusted by a lot of Indian car buyers. Achieving this milestone will reassure the faith of the customers within the brand.
Also Read: Hyundai India 20th Anniversary. 5 Moments That Defined Its Journey
Source : CarDekho