With the increasing number of road accidents in India, it is necessary to educate the upcoming generation of motorists about safe riding and road safety. Taking forward the same ideology, Honda Motorcycle and Scooter India Pvt. Ltd. (HMSI) took an initiative and organised CRF 50 Fest in Delhi. More than 500 kids from all over Delhi participated in the event. After Delhi, the event will also be taken to several other cities across the country.
For the first time ever, these many CRF 50 bikes were seen in the same vicinity together. These bikes are specially designed to train children about safe riding. Unlike other awareness programmes, this was a fun event for children in which they were taught traffic rules through puzzles and quizzes. Other than this, actual riding conditions were provided for the participating young riders so that they can learn and implement the riding techniques and road safety.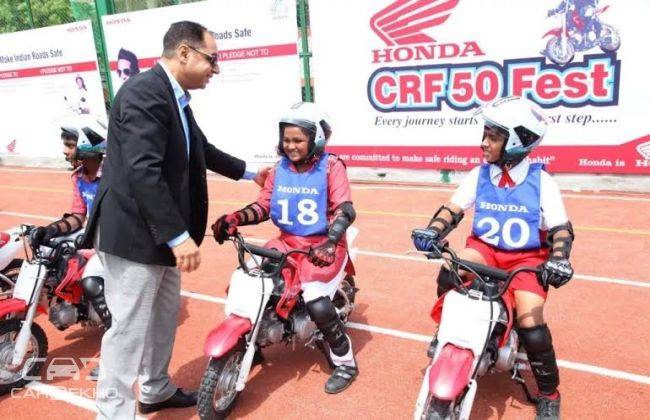 Y.S. Guleria, Senior Vice President, Sales and Marketing, HMSI said, "Under our 'Catch Them Young' approach, we believe in cultivating safe-riding habits from an early age. We want the future riders of India to be responsible citizens on the road and lead to a safer road environment. CRF 50 Fest is a small step towards creating safety advocates for the society helping us achieve our dream of – Making safe riding an everyday habit."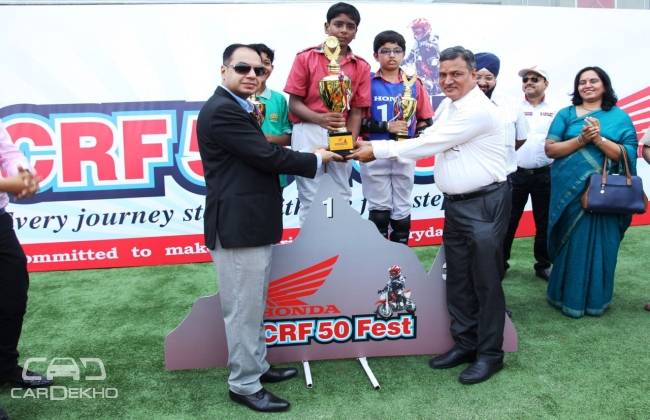 The event will be conducted in twelve more cities including Ahmedabad, Bhubaneshwar, Bengaluru, Chandigarh, Chennai, Cochin, Hyderabad, Indore, Kolkata, Lucknow and Pune. HMSI is working on educating different riders on road safety through these activities, we think this a responsible initiative by them as it will increase the road safety awareness amongst youngsters and will gradually result in reducing road accident count in India.