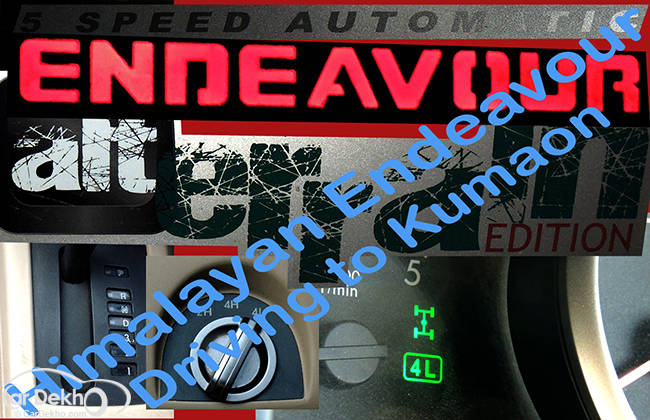 Second half of November happens to be a very good time to travel to destinations in North India. Usually, by this time the holiday crowd is on the way back home and many resorts begin their version of garage sale by offering substantial off-season discounts.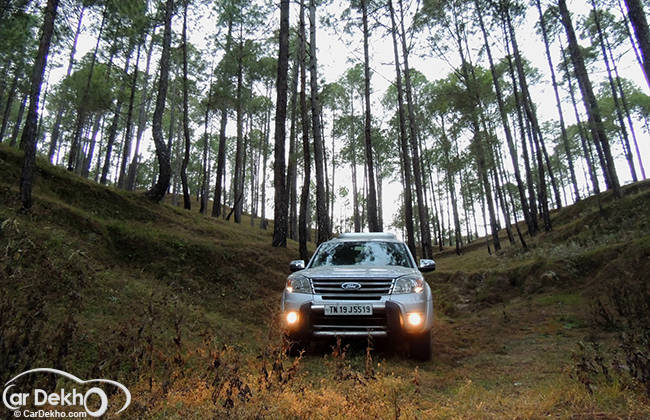 Weather conditions during this period remain amenable as it is just the beginning of the winter season and one is able to enjoy the chill without it becoming too bothersome. This is a very important consideration if the destination happens to be in the high altitude areas of northern Uttarakhand where the temperature drop during the winter months can be too much to endure for people coming in from areas which enjoy balmy climes.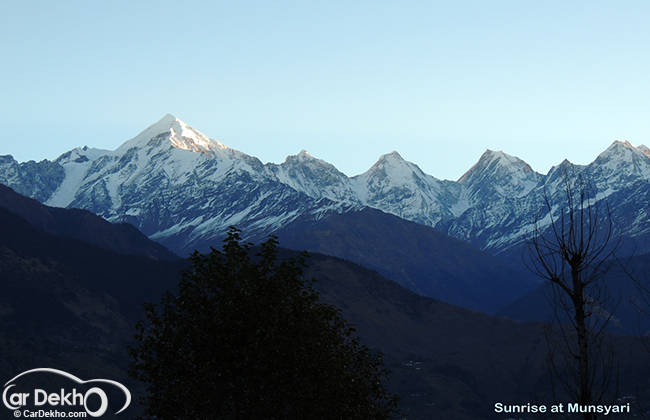 Another important consideration, especially when one plans to drive in the northern part of India during the winter months is the problem caused by lack of visibility due to fog. The month of November is eminently suitable for driving holidays in this part of India as fog related problem is much less compared to December and January. So, it was in this backdrop that we decided to proceed on a driving holiday to view the mighty Himalayas.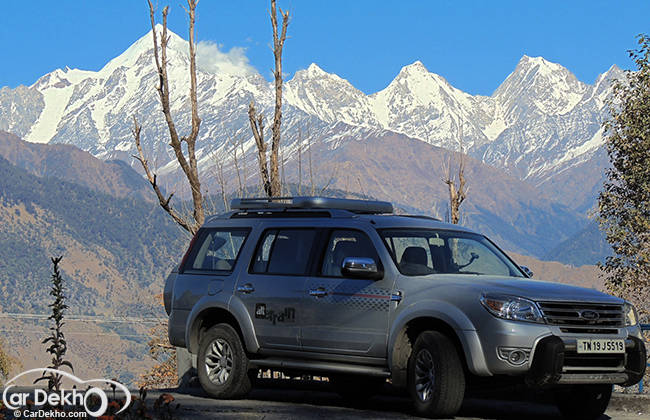 While looking for a suitable destination for a driving holiday in the Himalayan region of Uttarakhand there were several factors to be looked into. Accessibility was one of them but the route had to be challenging enough to check out the capability of vehicle and above all else the destination had to have something special. Finally we happened to select northern Kumaon as it is much less crowded and we expected to have a relatively peaceful communion with nature.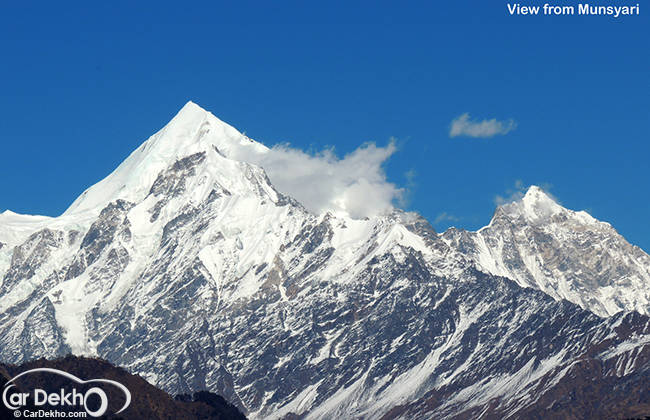 The plan was to drive north till the terrain permitted and the vehicle coped. After much research and some valuable advice from a travel expert from the area - Mr Manish Mehra who runs eco-tourism camps in Uttarakhand - we decided that Munsiary would be the destination and then we would attempt to drive on the Munsiary-Madkote-Jaulajibi- Pithoragarh road to check out the rugged terrain and the vehicle's ability to cope with it.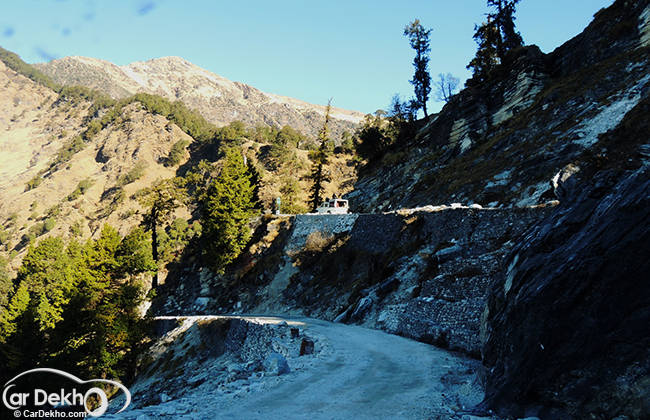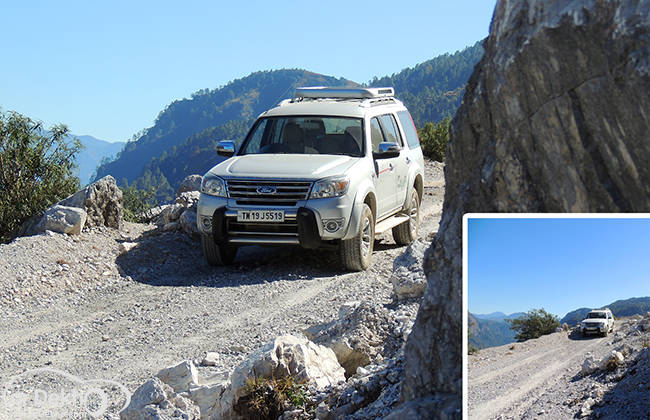 Uttarakhand has been a tourist hot-spot for a long time but having suffered tremendous environmental and infrastructural damage due to the natural calamity that had struck the area in June 2013, tourism related economic activity is yet to recover. Although the whole of northern Uttarakhand was affected by the sudden flooding, media attention was focused primarily on the Garhwal region and the adjoining Kumaon region, to a large extent, remained bereft of the media spotlight. The reason is simple, Garhwal region - in the western part of Uttarakhand is host to hordes of tourists thronging to popular destinations and places like Gangotri, Yamunotri, Kedarnath and Badrinath which have considerable religious significance. This popularity, in due course, led to creation of expansive infrastructure to cater to ever increasing tourist inflow and as it is common also led to mindless construction related developments which in turn led to heavy damage when the nature struck back. Presence of large number of affected tourists from all over the country magnified the media attention and so on and so forth it was.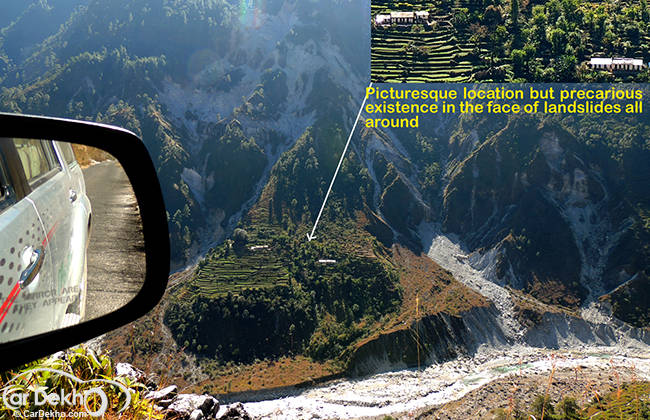 Unfortunately, Kumaon region - eastern part of Uttarakhand-comprising of six districts of Udham Singh Nagar, Nainital, Champawat, Almora, Bageshwar and Pithoragarh had also suffered on account of the devastating floods but fortunately loss of lives was much less and
too an extent this could have been the reason behind lack of media attention vis-a-vis Garhwal region.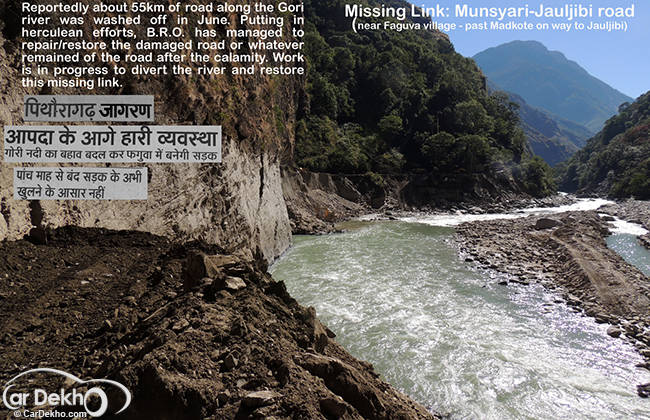 We planned to drive in unforgiving terrains where going off-road was expected so it was necessary to have a strongly built powerful vehicle with 4X4 capability.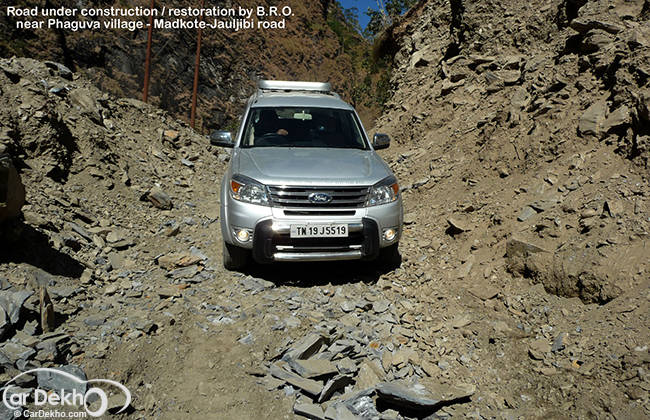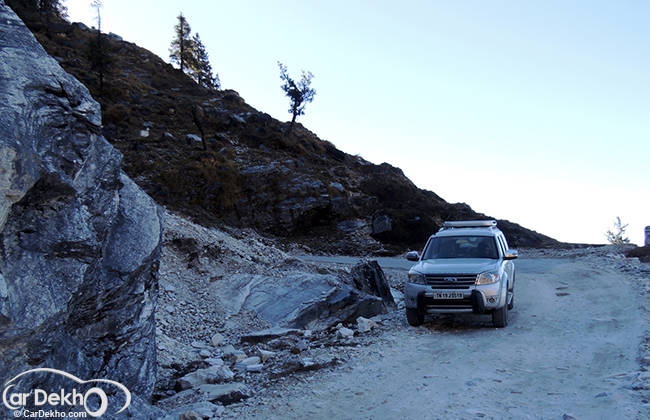 At high altitudes, there is considerable power loss on account of rarified air. This is less conspicuous in modern ECU (Electronic Control Unit) managed direct injection turbo-charged diesel engines as the forced aspiration/induction compensates for the reduced atmospheric pressure but this happens only when the turbo gets the time and opportunity to spool up. At off-idle and low RPMs usable power is diminished and turbo lag can become much more noticeable. Still the fact remains that a turbo-charged engine is definitely better than a normally aspirated engine for high altitude operation. Considering all these factors we selected Ford Endeavour as our steed for the Himalayan ride.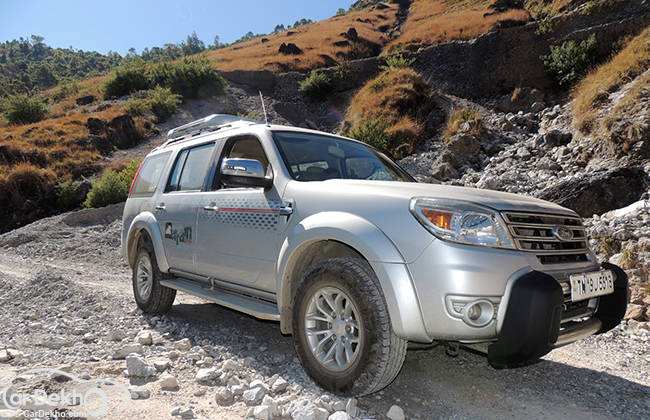 Starting from Mumbai in the wee hours, we made good time on NH - 8 (Mumbai-Ahmedabad-Delhi part of Golden Quadrilateral) and reached Bhilwara (in Rajasthan) in late evening hours after covering about 1000km. Driving 1000km in a day was possible due to Golden Quadrilateral. And that was despite loss of precious time at toll collection centres, a huge traffic jam at Bharuch and a detour into Ahmedabad.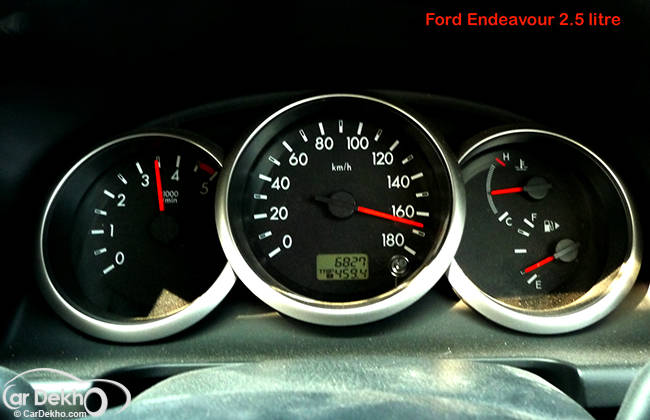 Mitigation of problem caused by slow progress of vehicles passing through the toll collection centres is definitely the need of the hour. In this day and age, it should not be a huge technological challenge to implement automated payments at toll collection centres. This can be done through the use of mobile phone based applications or any other technology based solution. Otherwise, with increasing traffic load, manual road usage fee collection mechanism will always lag behind and cause unnecessary delays with huge economic costs in terms of wastage of time and fuel as well as increased environmental pollution that the idling and crawling vehicles will certainly cause.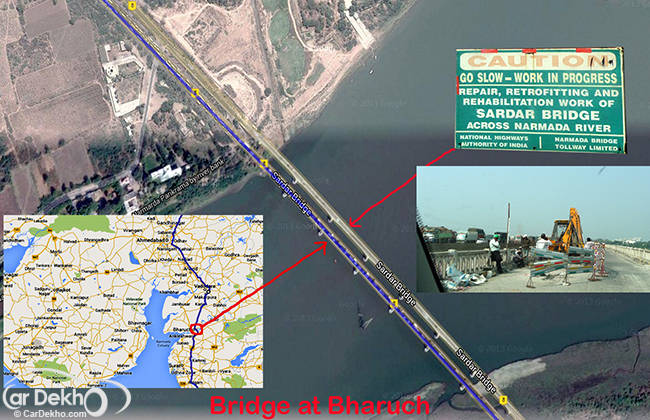 The combo of Sardar Bridge and Golden Bridge continues to be a sore point in the Mumbai-Ahmedabad section of the Golden Quadrilateral. Repair and rehabiliation of Sardar Bridge has been continuing for years and the resultant traffic jam is a disgrace which NHAI must wipe off as soon as possible. Similar problem but with a much lower intensity crops up at Udaipur as the link between NH-8 and road going to Chittaurgarh bypassing the city of Udaipur is yet to be expanded into a multi-laned divided carriageway - it still remains a basic two laned road. This leads to slow moving traffic eating up a lot of time. It is high-time that the proposed expansion (upgrading to six lanes) of the existing Golden Quadrilateral between Kishangarh and Ahmedabad is executed without further delay.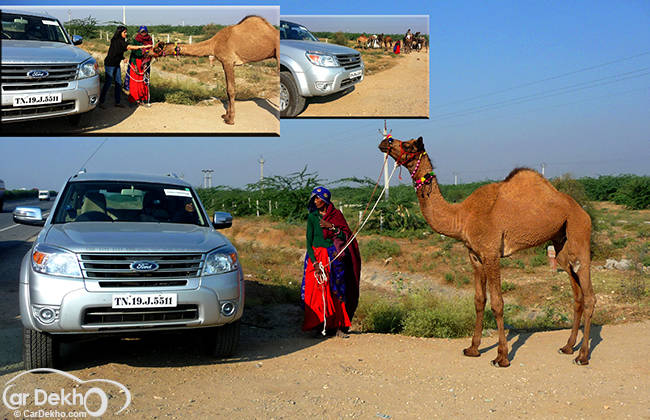 Reaching Delhi from Bhilwara was a relatively fuss-free venture except for a couple of impromptu breaks for photo shoots and the customary hassles due to ongoing road expansion work between Jaipur and Gurgaon. Although the road expansion project between Jaipur and Gurgaon is much delayed, we could see that work is in progress at some locations albeit at a slow pace.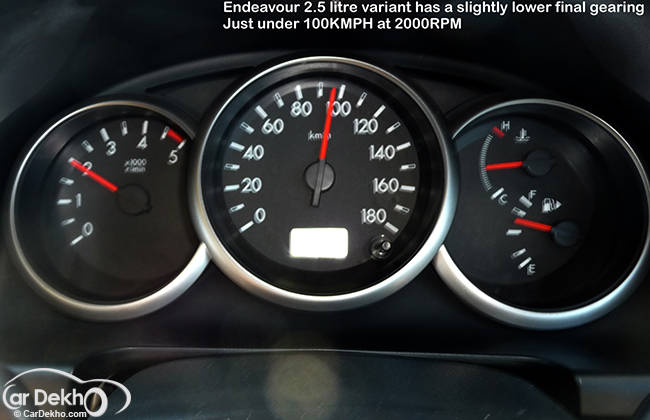 For the Mumbai-Delhi leg of the journey, we had driven a rear wheel drive Ford Endeavour powered by 2.5 Litre turbo-charged direct injection diesel engine mated to a five speed manual transmission. The 2.5 Litre diesel powered beast with about 141 bhp @ 3500RPM (max power) and 330 Nm @ 1800RPM (max torque) is adequately powered to handle the highway and did the Mumbai-Delhi run without any drama. It returned fuel efficiency of 11 kmpl (approx.), which is quite good considering the size and weight of the vehicle and the fact that it was driven in metal to pedal mode which definitely ups the fuel consumption.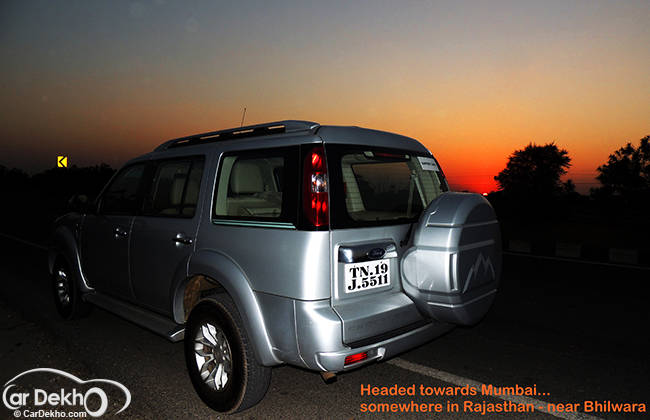 As the drive into the remote northern parts of Kumaon was expected to be difficult and tricky, a Ford Endeavour All Terrain Edition was utilised for this part of the drive. All Terrain Edition of Ford Endeavour is differentiated from the regular one by the bigger and more powerful 3.0-litre turbo-charged direct injection diesel engine and five-speed automatic transmission. The 3.0-litre engine develops 154bhp @ 3200rpm (max power) and 380 Nm @ 2500rpm (Max torque). Addition of a two speed transfer case providing drive to the front wheels is supposed to transform the Endeavour into a competent mud plugging, rock climbing and sand dune bashing All Terrain Edition. We had this variant of Ford Endeavour in our hands and we expected to come across situations where the All Terrain driving capability of this humungous vehicle could be put to test.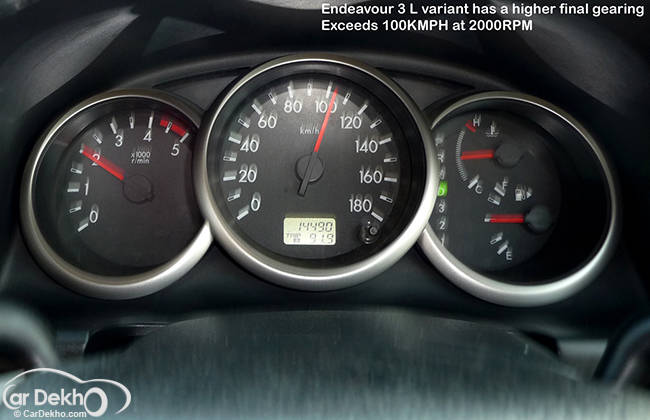 The automatic transmission equipped Ford Endeavour All Terrain Edition proved handy during the day that we spent at Delhi. Automatic transmission plays a big role in reducing driving stress in city traffic especially when the driver is not exactly familiar with the city. Automatic transmission, apart from removing the stress related to clutch usage in bumper to bumper slow moving city traffic also frees up a part of brain activity which is better utilised to decipher signages indicating directions and the GPS based navigation system. Coming to navigation system, Ford Endeavour All Terrain Edition comes equipped with an in dash entertainment system with GPS based navigation capability and rear parking camera. A roof mounted LCD screen with external inputs is part of the package but as we were just two persons occupying the front seats this particular feature was not of much use to us. The in dash Navigation system meant that henceforth the smartphone that had been doubling up as a GPS based navigator could be allowed some rest from this important piece of multitasking that it had been performing.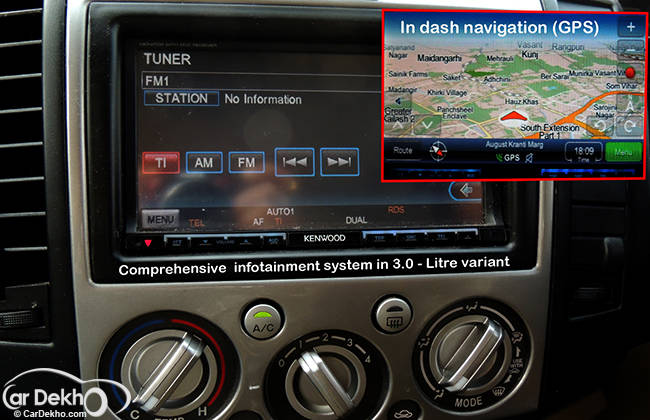 Moving from Gurgaon to Delhi and then east from Delhi, we passed through dense traffic till Ghaziabad. Thereafter progress was quite rapid up-to the outskirts of Moradabad. Turning northwards from thereon, we moved through Kashipur to Ramnagar in the vicinity of the famous Jim Corbett National Park and on to Ranikhet. Driving speed had reduced considerably after turning northward from Moradabad but once past Ranikhet, it became agonizingly slow. A large section of road going from Ranikhet to Kausani was completely devoid of metalled surface and then the twisty bits added to the pain. Finally we could reach the beautiful hill station of Kausani by 1930hr after a hard drive but the sight of the mighty Himalayan peaks glowing faintly in moonlight was a treat for the eyes. Sunrise was awaited as it promised the beautiful sight of snow clad Himalayan peaks taking on a delicate orange hue when the sun inched over the mountain range.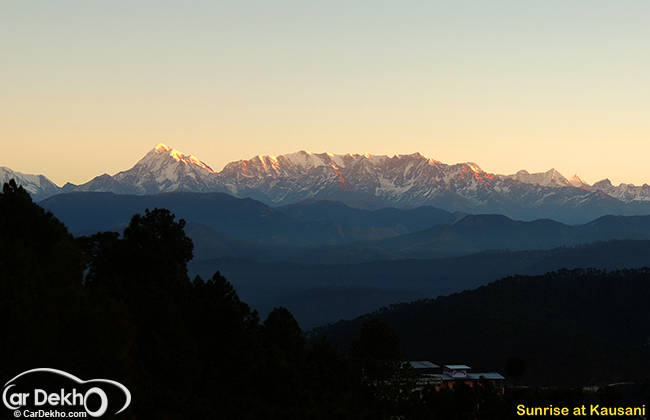 Next destination was Munsyari. It is a small town situated at about 2200 metres altitude in the northeastern part of Uttarakhand. It is a staging point for several trekking routes in the Himalayas. Milam glacier is one such popular trekking destination situated about 70km from Munsyari.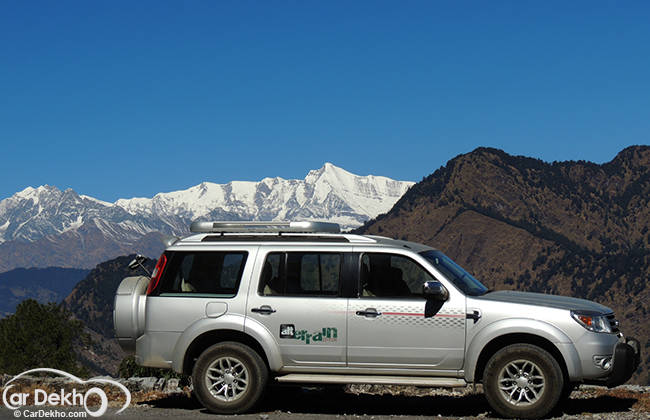 There are two routes to approach Munsyari from Kausani. One is a slightly longer route through Bageshwar,Thal and Tejam and the second route is through Bageshwar, Kapkot, Shama and Tejam. The route through Thal comprises of proper paved roads and is popular with tourists but the one through Kapkot and Shama is quite difficult. It is predominantly used by local inhabitants who do not have any option but to travel through it. In the maps Shama-Tejam section is simply classified as motorable track.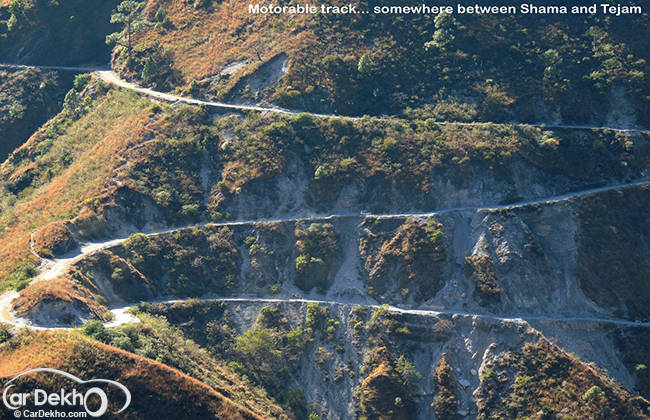 As the idea was to have some adventure with the All Terrain Edition of Ford Endeavour, we decided to drive through Shama-Tejam route. Apart from being quite narrow with steep gradients and unpaved surface, large sections of this route has suffered land-slides and the resulting mess has made it difficult to drive on.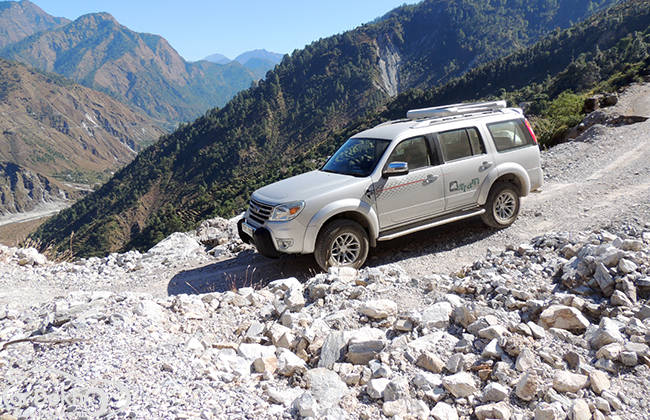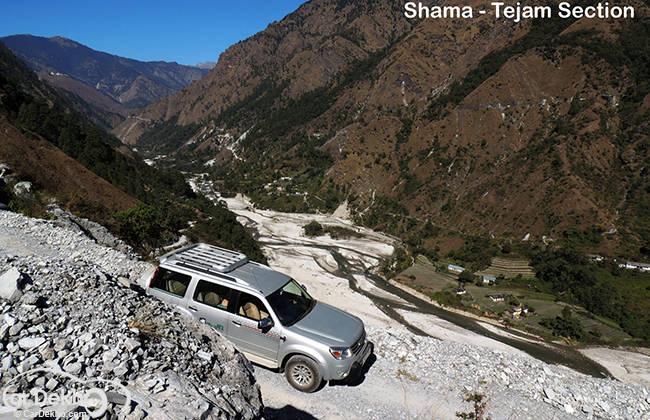 There are several very tight hairpin bends where the vehicle needs to be backed up to get through. At some land-slide affected areas driving on unpaved surface degrades into full-fledged off-roading.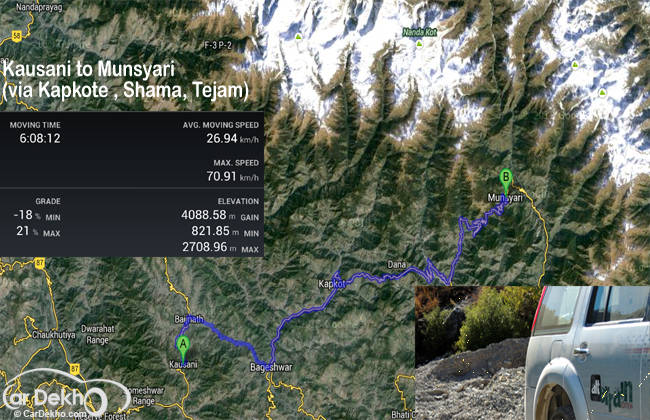 The distance of about 160 kms (Kausani to Munsyari via Kapkote and Shama) consumed more than six hours of driving time and we landed at Munsyari in late afternoon.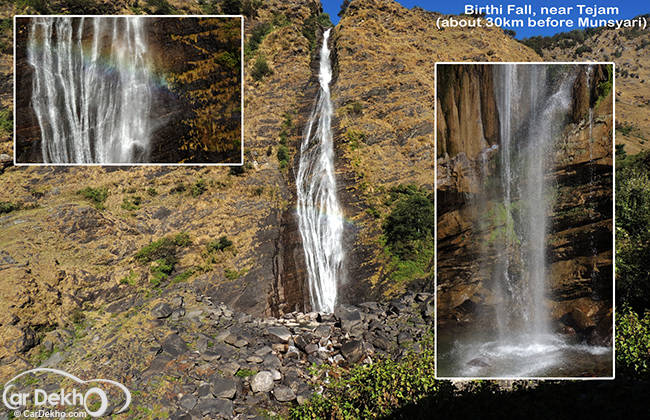 Change in climate was drastic, being much closer to the snow covered peaks, Munsiary turned out to be much cooler than Kausani and to our unaccustomed body it felt extremely cold. We were pleasantly surprised at the tourist infrastructure available at such a remote location. In addition to the admirably maintained and run KMVN (Kumaon Mandal Vikas Nigam) guest house, several private properties are available for tourists. We stayed at the KMVN facility and were lucky to get accommodation in the room (Room No. 301) with the best view.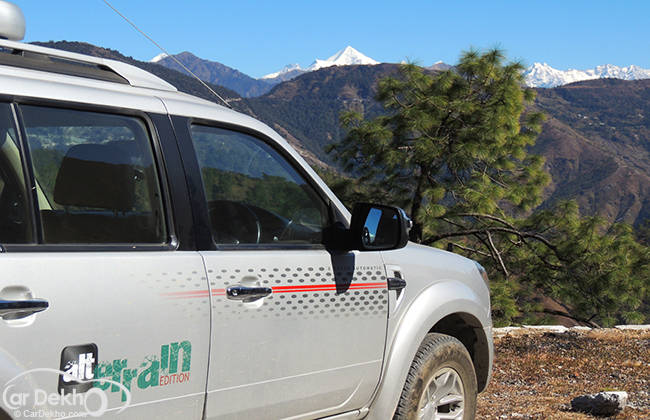 After a hearty lunch, it was time to await the magic that was due at sunset. Well, it was sheer magic which lasted a good ten minutes or so. The snow white Himalayan peaks of Panchachuli range got transformed into a deep golden colour as the sun prepared to vanish behind the mountains. The breathtaking sight was worth much more than the hard drive to Munsyari.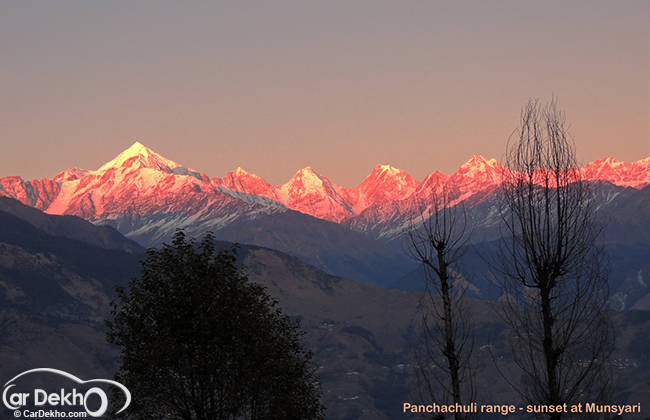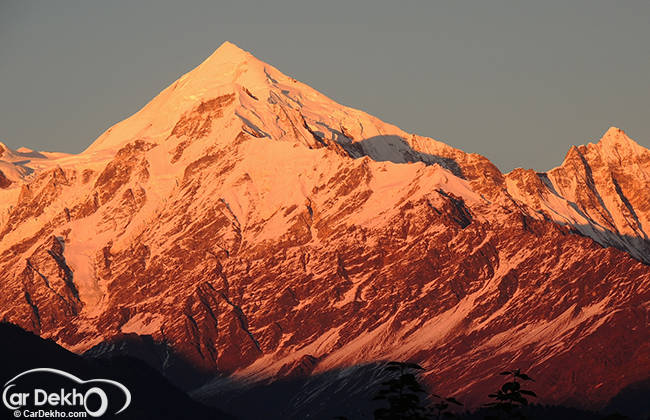 Another set of magic was on the menu as it happened to be a full moon night. The rising moon created its own magic in tandem with the Himalayan peaks and finally at around midnight the silver glow of the peaks reflecting the cool moonlight was the bonus.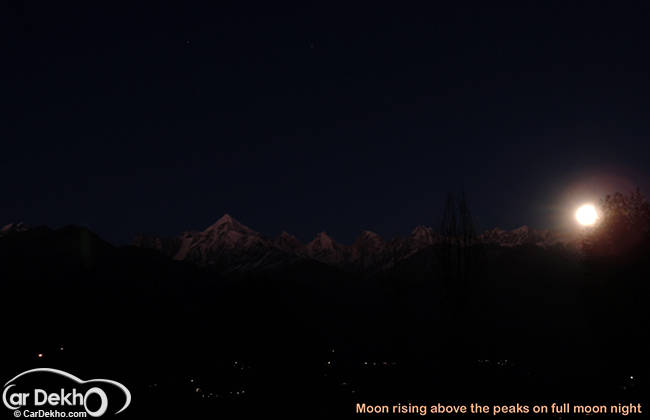 I rued the fact that I wasn't carrying a camera with faster lens and sensor having higher ISO rating. Having no other option available equipment was utilized to the hilt to capture the cool moonlight reflecting off the snow covered peaks. This necessitated standing in the balcony outside the cozy confines of the room and enduring the biting cold in windy condition with temperature hovering around the zero degree Celsius mark.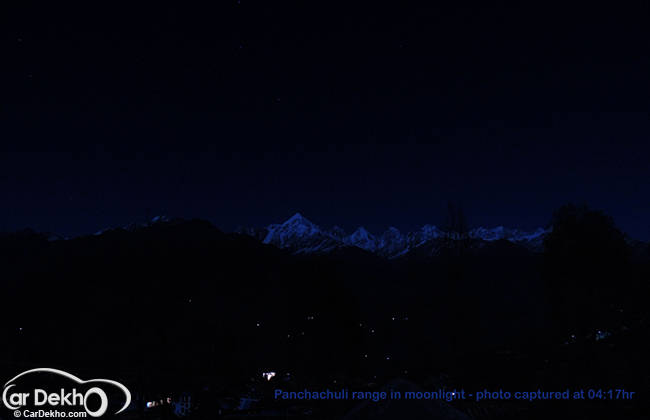 Next day we decided to check out the hot water springs at Madkote and then proceed further towards Jauljibi till the road permitted.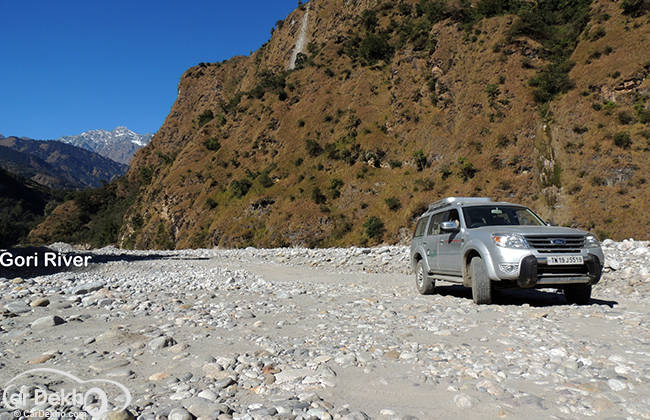 From Munsyari, the road descends down the hill into the valley of Gori river and then follows the southerly course of Gori river past Madkote to Jauljibi which is located close to the Indo-Nepal border.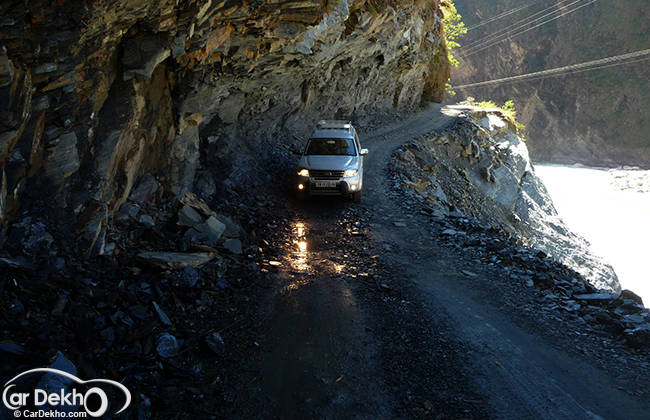 Jauljibi is famous for the mela (fair) that takes place at the confluence of Gori and Kali river on the full moon day after Deepawali. This mela is a business and cultural hotspot due to its location and heritage as people from across the border are also known to assemble during the fair. Unfortunately we couldn't reach Jauljibi due to lack of road connectivity.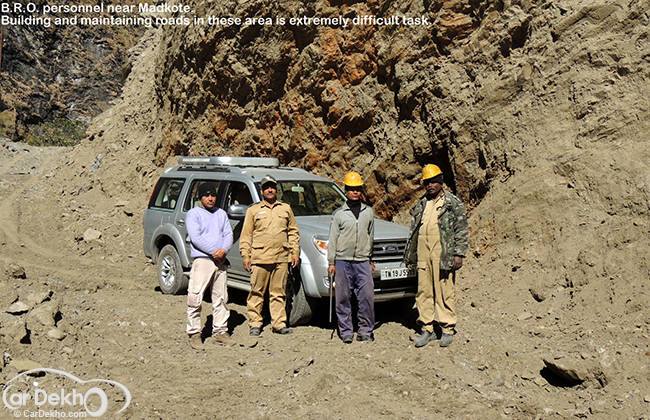 The road from Munsyari to Jauljibi was washed away by the massive inflow of surging water in the Gori river. Reportedly, over 50KM of road was washed away in June. With great efforts BRO (Border Road Organization) has somehow made it motorable but there is a stretch of about 20 metres or so which has proved troublesome and is still to be repaired / restored. This was the reason that we couldn't drive down to Jauljibi. Absence of road connectivity for this 50metres stretch has meant that the local inhabitants are forced to climb up the hill for three km and then climb down another three km.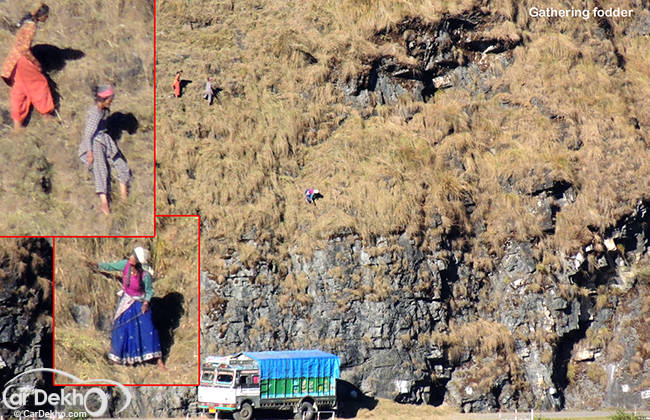 Even getting a superficial acquaintance with the life-style of local inhabitants of these remote areas is a supremely humbling experience. Walking several kilometers over steep gradients for attending school is a routine activity for even small children.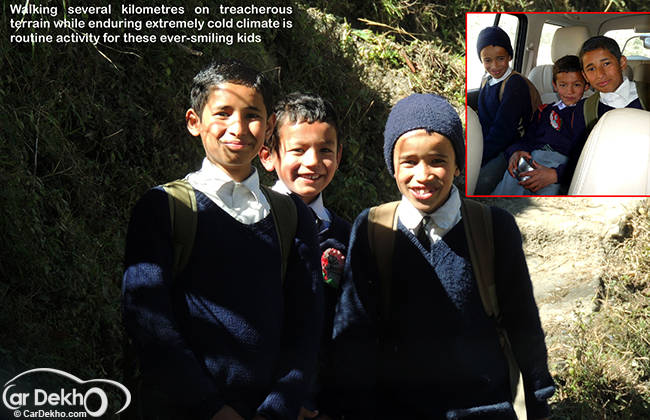 Lugging around massive loads of fire wood and fodder can never be a pastime but the teenagers and womenfolk doing it make it look like one with their effervescent smiling faces.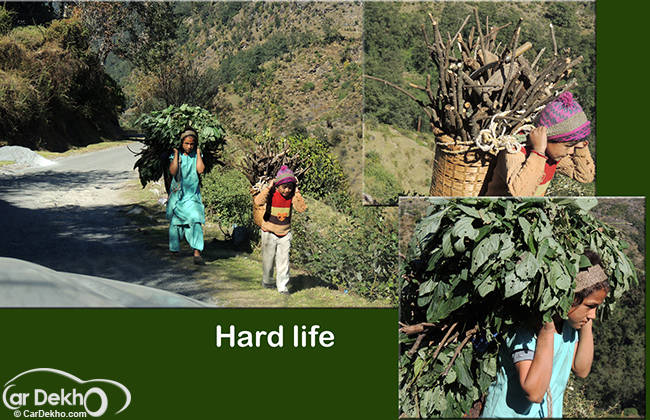 The biggest problem seems to be lack of proper medical facilities. While travelling from Shama to Tejam, we came across a local woman who was on her way to collect grass (fodder) from one of the steep hillsides. We offered her a lift and during the course of the informal chat that we had, she told us of a relative who had been attacked by a bear when he had gone in the woods to collect fire wood. The bear had chewed the hand and arms of this unfortunate guy and he had to be transported to Haldwani – a good seven-eight hour drive – for medical treatment. Later, we gathered that this lady had undergone a heart surgery to rectify some valve related problem but still had the gumption to ascend and descend hills with a load of fodder. The best part is the spirit displayed by these people even when faced with such adversity.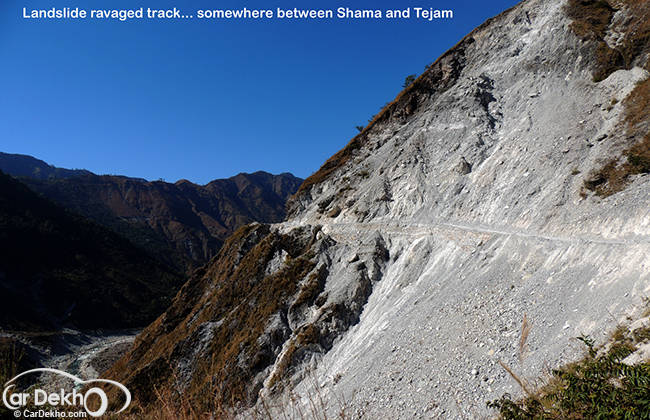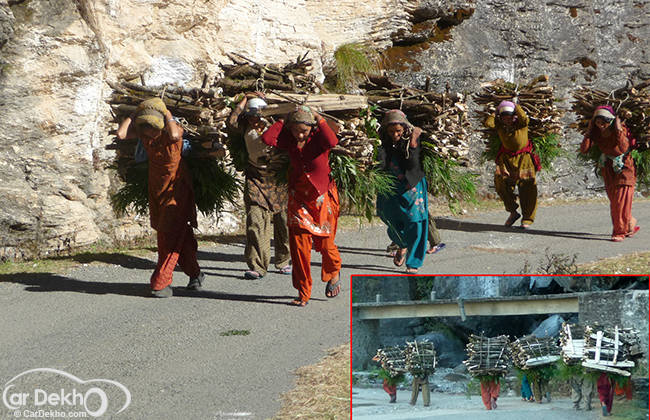 The return journey from Munsyari was through the popular route which goes past Tejam, Thal, Almora and Kathgodam on way to Haldwani. This happened to be a smooth transit as the road is well paved and despite the tight curves we could reach Kathgodam (about 290km) in a shade over nine hours of driving time.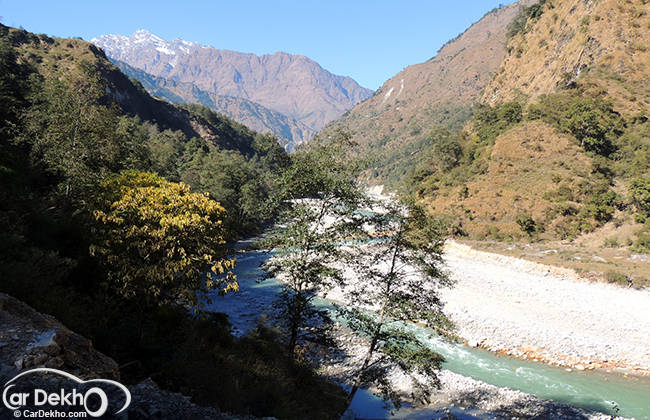 Driving to Delhi from Kathgodam was a humdrum activity, especially when contrasted against the kind of terrain that we had covered in the upper reaches of Kumaon. After the change of vehicle from the All Terrain Edition of Ford Endeavour to the regular Endeavour, the Delhi-Mumbai part of the return leg was a simple activity of driving on the Golden Quadrilateral and was performed with clinical efficiency by the Endeavour.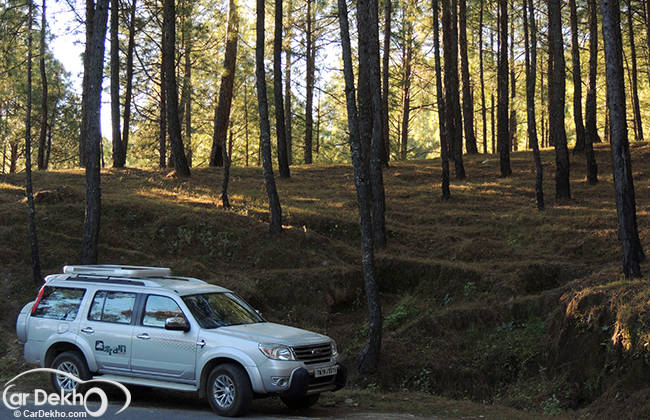 Ford Endeavour happens to be a hard-core SUV based on the very successful
and competent but conventional truck - Ford Ranger. Being built on a conventional chassis suspended with leaf springs at the rear and torsion bars at the front end and equipped with a two speed transfer case to transmit drive to the front axle it was a given that it would be competent off-road but it was to be seen how it would cope with the twisty bits and steep gradients at high altitude locations.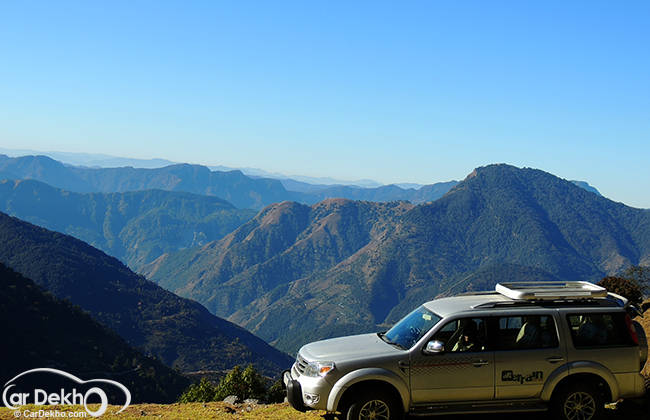 It should come as a testimonial to Ford's chassis tuning skills that despite having a primarily rear wheel drive configuration of live axles and leaf spring combo, Endeavour does not execute the usual hop-skip-jump routine when faced with rough and uneven surface.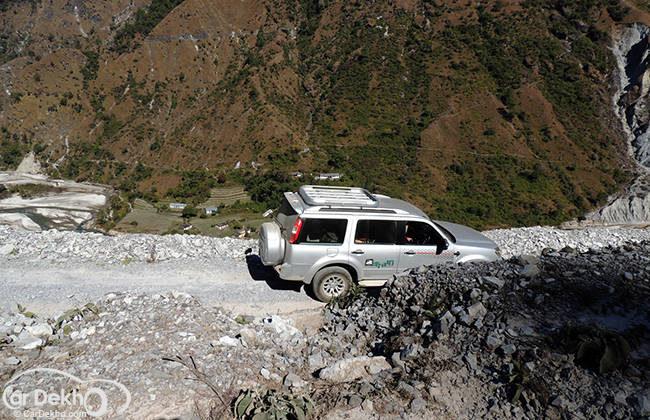 Somehow, Ford has managed to ensure that Endeavour, despite its bulk and size handles competently, although the leaf spring set up has definitely played its role in somewhat degrading the ride quality by inducing unwanted harshness. Turbocharged Direct Injection Diesel engines employed by Ford are smooth and tractable, pulling strongly across the rev-range. Road presence of this hulk of a SUV is great and it helps on our roads where might is considered right. The moment a trucker happens to see the Ford Endeavour looming up fast in his rearview mirror, more often than not, he eases up and veers to the side of the road to let the Endeavour vroom past it. This may sound trivial but on a long drive these moments which save precious seconds have the potential of saving considerable time over a full day of high-speed driving.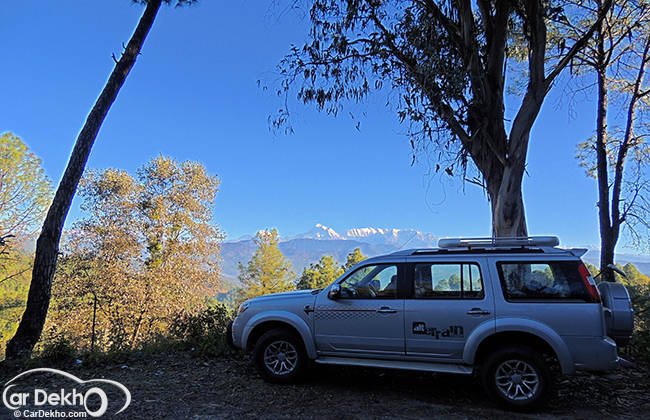 Source : CarDekho