In a first-of-its kind investment in the Indian auto space, CarDekho.com announced an investment in the company by HDFC Bank. This investment comes on the heels of a Series B funding of USD 50 million from Hill House Capital, Tybourne Capital, Sequoia and Mr. Ratan Tata.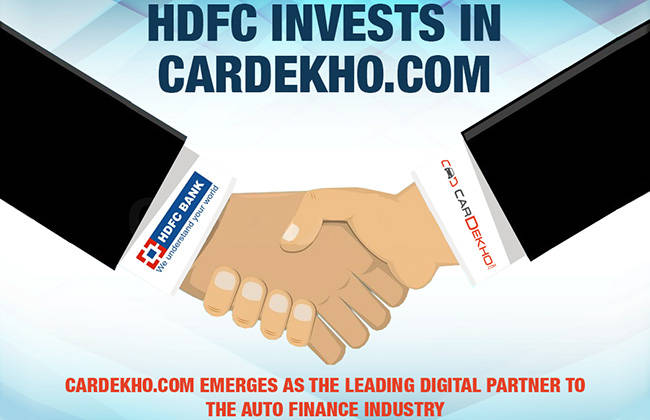 The total size of the Indian car loan market is Rs.80,000 crore & HDFC Bank is a clear leader with 35% market share. CarDekho trumps the online car research market with over 17 million visits on its portal every month which constitutes 10 million unique buyers. Further, close to 75% of the car buyers on CarDekho opt for a financing option. With nearly 5000 dealer partners, CarDekho & Gaadi have the largest pan-India car dealer footprint amongst all auto portals.
" Our vision is for every car buyer in this country to have a pre-approved loan before they even finalise the vehicle that they are seeking. We hope to work with HDFC Bank to re-define how consumers avail new and used car loan finance," said Amit Jain CEO, Girnarsoft.
"We expect digital to have a 25% share of auto loan financing within the next four years and are looking to facilitate a billion dollar of auto loans through CarDekho. Used Car Finance is a classic blue ocean market and CarDekho & HDFC Bank can together build that market. This investment by HDFC Bank is a validation of CarDekho's leadership as a destination for car buyers and the enabling role we can play in transforming online auto finance," said Umang Kumar, President, CarDekho & CEO, Gaadi.com.
"At HDFC Bank, customer convenience is central to our concept of Digital. We are always looking at new ways to leverage technology and digital platforms to provide customers with the best solutions at the time and place most convenient to them. Increased internet and mobile phone penetration is overhauling the purchase cycle for the Indian car loan consumer, and as market leaders in the auto financing space we want to ensure that we adapt to meet these changing needs. In Car Dekho and Gaadi, we see an integrated business across new cars and used cars. It is led by a passionate team, determined to provide one stop car purchase solutions to Indian car buyers," said Rakesh Singh, Group Head, Investment Banking, Capital & Commodity Markets, HDFC Bank.
Source : HDFC Bank invests in CarDekho.com