Lewis Hamilton raced to a scintillating victory at the Singapore Grand Prix leading the championship battle ahead of teammate Nico Rosberg. The latter missed pole position by just 0.007 seconds and it was well anticipated that the race will witness an intense battle between the two Mercedes drivers.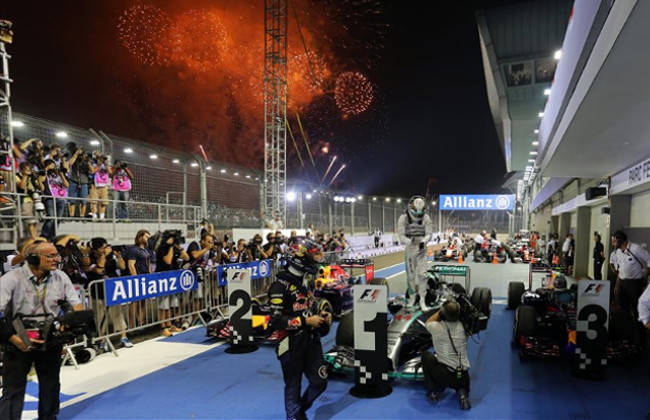 Nico's woes started before the race when an electrical issue required his steering wheel to be changed. Nico had to start the race from the pitlane where he couldn't pull away from the grid for the formation lap unaided. This gave Hamilton the opportunity to sprint to pole and lead the race while being hounded by RedBull racing's Sebastian Vettel and Ferrari's Fernando Alonso.
Alonso briefly moved up second but outbraked moving on the run-off area to control his machine in process giving Vettel the second spot. Meanwhile Rosberg faced issues with his DRS, energy recovery system and gearbox eventually retiring after lap 13.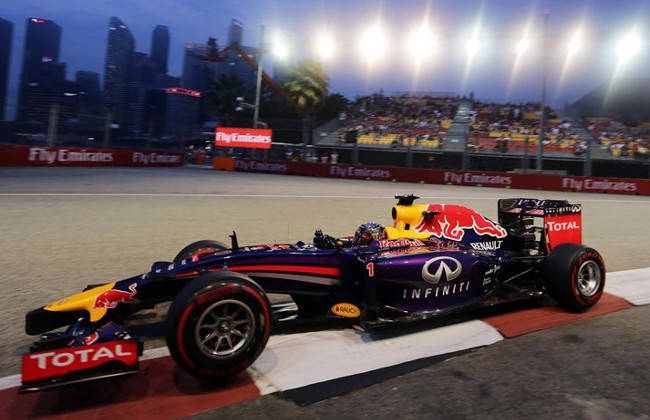 With Rosberg out of the race Hamilton had a clear path ahead of him until the deployment of the safety car joepardised his position. Team ordered him to continue racing though he was on soft compounds. Hamilton started hammering fastest laps till he built a lead of nine seconds over Vettel so as to get ample window for a pitstop.
As Vettel claimed the lead, Hamilton fended Ricciardo to take lead again as the fresh set of tyres helped him gain a margin of 13.5 seconds.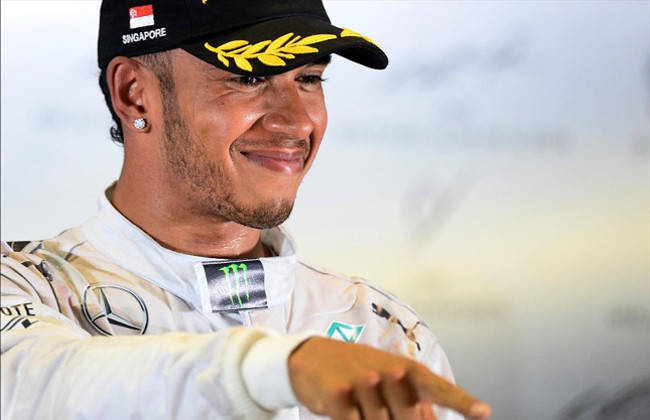 Alonso jumped Vettel at the second round of stops conceding his position behind the safety car. He patiently waited for the Redbull's tyres to degrade, however the Austrian bulls put up a fight to finish on the podium.
Felipee Massa repassed Kimi Raikkonen to end at a lonely fifth while Jean Eric Vergne finished his season's best by coming in at a seventh inspite of being penalized for five seconds twice for exceeding track limits.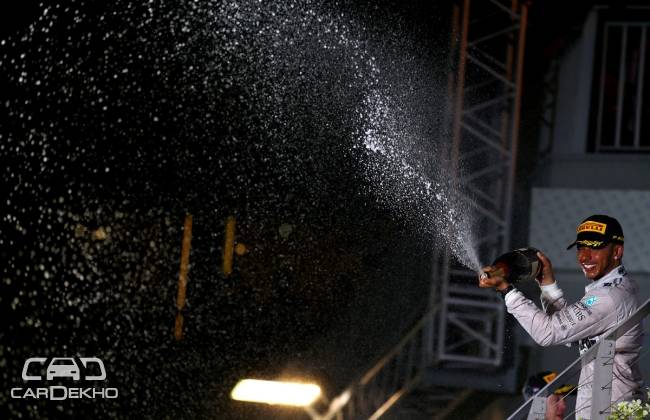 Results
Pos
Driver
Car
Gap
1
Lewis Hamilton
Mercedes
2h00m04.795s
2
Sebastian Vettel
Red Bull/Renault
13.534s
3
Daniel Ricciardo
Red Bull/Renault
14.273s
4
Fernando Alonso
Ferrari
15.389s
5
Felipe Massa
Williams/Mercedes
42.161s
6
Jean-Eric Vergne
Toro Rosso/Renault
56.801s
7
Sergio Perez
Force India/Mercedes
59.038s
8
Kimi Raikkonen
Ferrari
1m00.641s
9
Nico Hulkenberg
Force India/Mercedes
1m01.661s
10
Kevin Magnussen
McLaren/Mercedes
1m02.230s
11
Valtteri Bottas
Williams/Mercedes
1m05.065s
12
Pastor Maldonado
Lotus/Renault
1m06.915s
13
Romain Grosjean
Lotus/Renault
1m08.029s
14
Daniil Kvyat
Toro Rosso/Renault
1m12.008s
15
Marcus Ericsson
Caterham/Renault
1m34.188s
16
Jules Bianchi
Marussia/Ferrari
1m34.543s
17
Max Chilton
Marussia/Ferrari
1 Lap
-
Jenson Button
McLaren/Mercedes
Electrical
-
Adrian Sutil
Sauber/Ferrari
Water leak
-
Esteban Gutierrez
Sauber/Ferrari
Electrical
-
Nico Rosberg
Mercedes
Steering wheel
-
Kamui Kobayashi
Caterham/Renault
Not started
Drivers' championship
Pos
Driver
Points
1
Lewis Hamilton
241
2
Nico Rosberg
238
3
Daniel Ricciardo
181
4
Fernando Alonso
133
5
Sebastian Vettel
124
6
Valtteri Bottas
122
7
Jenson Button
72
8
Nico Hulkenberg
72
9
Felipe Massa
65
10
Sergio Perez
45
11
Kimi Raikkonen
45
12
Kevin Magnussen
39
13
Jean-Eric Vergne
19
14
Romain Grosjean
8
15
Daniil Kvyat
8
16
Jules Bianchi
2
17
Adrian Sutil
0
18
Marcus Ericsson
0
19
Pastor Maldonado
0
20
Esteban Gutierrez
0
21
Max Chilton
0
22
Kamui Kobayashi
0
Source : CarDekho