The American automaker announces Mexico as major export market
Chevrolet India rolled out debutant Beat for export to Mexico from its manufacturing facility in Talegaon, Maharashtra. The sales of the Beat in Mexico are scheduled to begin in December 2015, while the vehicle shipment from India to Mexico will start from next month onwards. Moreover, Chevrolet Beat is available in more than 70 markets around the world, primarily known as the Chevrolet Spark. Chevrolet has sold more than 1 million Sparks and Beats worldwide. GM India began vehicle exports to Chile from its Talegaon facility in September 2014. It exported approximately 1,000 vehicles last year and is targeting exports of 19,000 vehicles this year.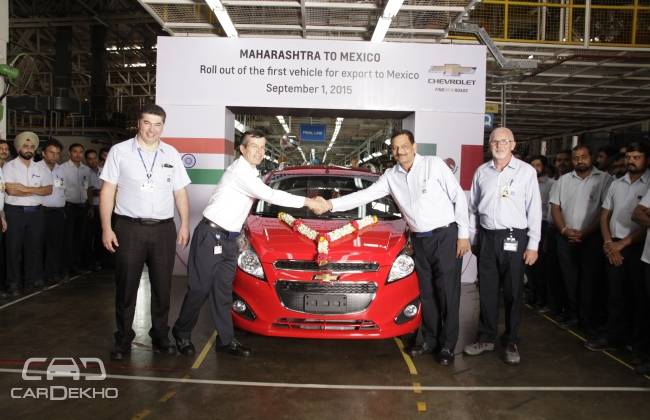 "In keeping with our commitment to the Make in India program, we are proud to produce exciting Chevrolet vehicles for the Mexican market," said Arvind Saxena, president and managing director of GM India. "Exports will be an important and ever-growing part of our business. This is part of GM's strategy to make India a global export hub."
"We are looking to identify additional export markets," said Saxena. "This will help drive capacity utilization at our Talegaon facility." Speaking of the company's upcoming launches, recently they have showcased Trailblazer SUV and Spin MPV in an event in Delhi. Trailblazer SUV will go on sale next month, and the Spin MPV will reach here by early 2017. Also during the event, GM CEO Mary Barra announced $1 billion as new investment in the domestic market (Chevrolet India). Currently, this Talegaon facility has a production capacity of 130,000 vehicles annually, will increase its base capacity to 220,000 vehicles by 2025. It will also become a global export hub for GM, with up to 30 percent of its annual production planned for markets outside India.